Garnier @ Luminato Experience: Take Care of You!
This year's Father's Day, I did not have any plans with my family because they're 7000 miles away. So I went to the Garnier pop-up tent at Luminato. It's not the first year that Garnier had participated in the Luminato festival. This year, they were offering hair colour diagnostics, skincare analysis, and hair styling!
Hair Colour Diagnostics Station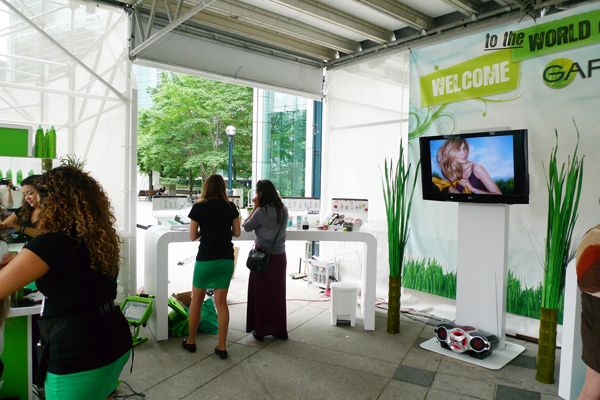 Skincare Analysis Station
Hair Styling Station
Nathalia from Garnier showed me around the tent. My first stop was the Hair Colour Diagnotisc station. Everyone who visited the tent was given a pamphlet to help them take notes and see what Garnier products would suit them.
The hair colour specialist used the hair colour diagnostic tool that you can also find on the Garnier website to help you identify which colour would go with your skin tone and eye colour. For me, my natural hair colour is Level 200, and the lady told me I can go up one or two level (that's level 300 or 400) if I want to see result with semi-permanent hair dye. Of course, if I was looking into permanent hair dye, I could go a little higher too. However, I would like less damage done to my hair, so she recommended me to try the HerbaShine ones.
Hair colour diagnostic tool! You can try it out here
Garnier hair dyes are my go-to when I used to dye my hair every 6 months. I need to try their semi-permanent ones!
Our next stop is the Skincare Analysis Station. The skincare specialist would ask about your skin concern and recommend products that are most suitable for you. If you have been reading my blog for a while, you might know that I have acne-prone oily skin. It has calm down a bit now, but I still get breakout every month around
that
time, and my oily skin is still oily =(. Nathalia recommended that I try out their pure line because it is formulated to treat acne and control sebum production. She said that the star product of this line would be the
PURE 3 in 1 Wash + Scrub + Mask
. As the name suggested, you can use it as a face wash, scrub, or mask. This is definitely the most interesting product of this line.
For anyone who needs extra moisture, which, believe it or not, I actually do, the MOISTURE RESCUE line will keep you hydrated, but not oily. Their
Lightweight UV Lotion SPF 15
is 99.9% oil-free (probably because of the sunscreen, but don't quote me), whereas their
Refreshing Gel-Cream
is completely oil-free. I have tried a lot of different type of gel cream, the one I'm using currently is
Laneige Water Sleeping Pack_EX
, which is an excellent product with a hefty price tag of $40 per tub. The
Refreshing Gel-Cream
feels a lot like the Laneige one, so when I run out of my current one, I'll definitely give it a shot.
Most people would be familiar with the Garnier SKIN RENEW line because of the infamous eye roller (original or tinted), and their new BB Cream ala
Miracle Skin Perfector
. I have been a long time user of their
Anti-Puff Eye Roller
and
Anti-Dark Circle Eye Roller
. It is my morning pick-me-up whenever I look extra tired but too lazy to do actual makeup. Nathalia says it will help to reduce puffiness even more if you store your eye roller in the fridge so the metal ball will be cold and it'll be extra soothing! This line is targeted to people who wants to improve the skin texture and dullness.
For more matured skin, Garnier is also famous for their LIFT line, which is a whole line of anti-aging/repairing products for the skin. The newest addition to this family would be the
Ultra-Lift 2-in-1 Wrinkle Reducer Serum + Cream
. After applying the serum and cream mixture to my hand, it immediately feels smoother and more moisturized. It also doesn't feel oily at all, which is always a plus! But the star product of this line has to be their
Lift Gravity Defying Cream
. Nathalia told me that in multiple blind tests with other luxury brand anti-aging creams, the
Gravity Defying Cream
always win.
My last stop was the Hair Styling Station, which I was most excited for! My hair stylist of that day was Sasha. She said that my second day hair would be perfect for beachy, wavey curls (yay!)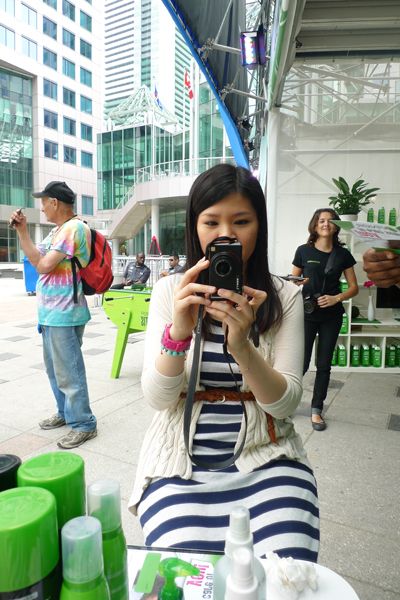 Me waiting at the seat, and hey, Nathalia is at the back (HI!!!)
Hair product Galore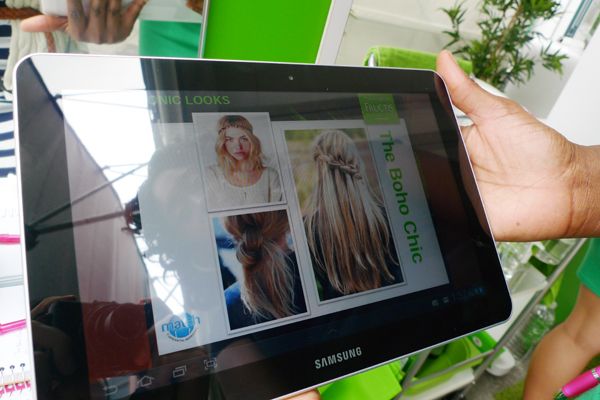 Sasha showing me what options I have for my hair styling session
Sasha curled my hair by section, and she prepped each section of the hair with the
Frutis Crystal Resist Volume Spray
to ensure that my hair holds the curl! For the hair to not get crunchy, she combed it out right after spraying it. Then she went ahead and curl my hair from the roots, and slowly releasing it to curl to the ends.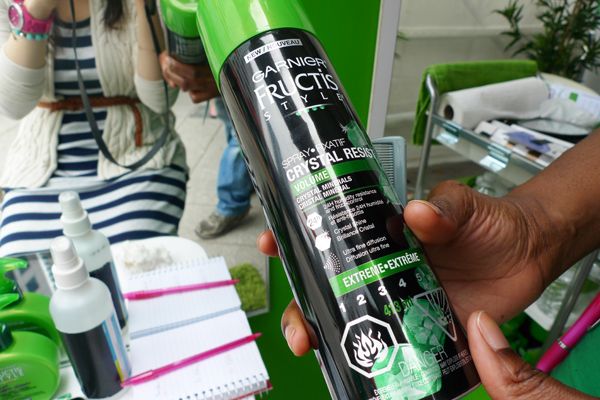 Garnier Fructis Style Crystal Resist Volume Spray
Sasha in action!
The magic product that gave me relaxed curls is the
Fructis Style Curl Calm Down Cream
. After curling the hair, Sasha used run this cream through my hair and stretched our the curls!
Fructis Style Curl Calm Down Cream
We're almost done!!!
And voila...
My Take Care of You Picture!
I absolutely love the hairstyle Sasha had created! Now I will need to practice and recreate it myself! It was such a fun experience to get advice and get styled at the Garnier Pop-up Tent. All the ladies at Garnier are super helpful and sweet. They made me feel very welcome there! And here are more pictures of the event.
Thank goodness I arrived early, because there's a long waiting at the tent after I was done lol
Lots of PURE CLEAN shampoo that I don't think one person can finish this within 5 years lol
Hello BB Ad and Skincare Diagnostics Station!
Hair Colour Diagnostic Station
They even had a foosball table to keep guests entertain while waiting in line! How thoughtful!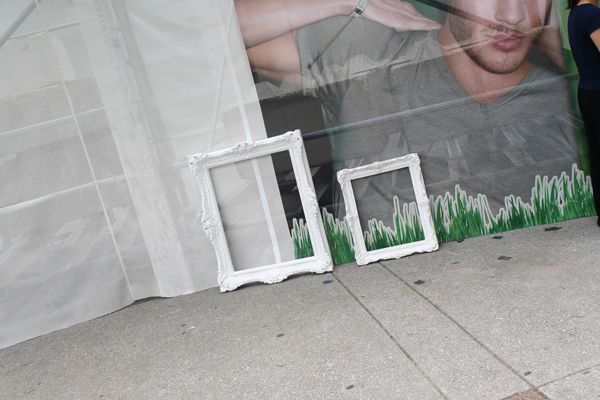 Loved this idea of a picture frame in a picture =D
The gorgeous Sasha. I swear she is not selling this tablet. She thought she should hold something and a random dude told her to hold the tablet... It was hilarious though lol
Luminato was so much fun for me. If you missed it, I also
went to the Maybelline Pop-up Tent to learn about some Summer Trends
! I'm definitely going to check it out again next year! I also got some goodies from the Garnier booth that I can't wait to try out and share my thoughts with you!
Until next time!
x Rica