Maybelline Summer Trends at Luminato with Grace Lee
If you live in the GTA, it's very likely that you have heard of or been to Luminato. Luminato is a Festival of Arts and Creativity that happens every year in June for 10 days in Toronto, Ontario. This year is their 6th anniversary and it is happening right now (June 8 to June 18)
Maybelline Pop Up Tent at Luminato
This year, Maybelline has set up a tent offering touch ups, an instant photo booth, and a free lipstick for everyone who stopped by!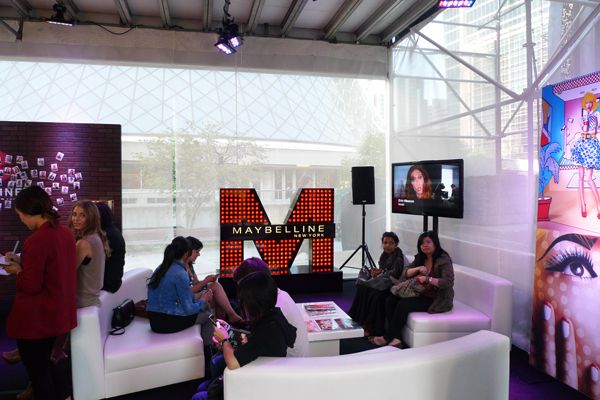 Waiting lounge
Pretty editorial!
Another one! Look! It's Doraemon =D
A free lipstick and a coupon for everyone who stopped by
The beauty blogger in me told me I should swatch all the colours!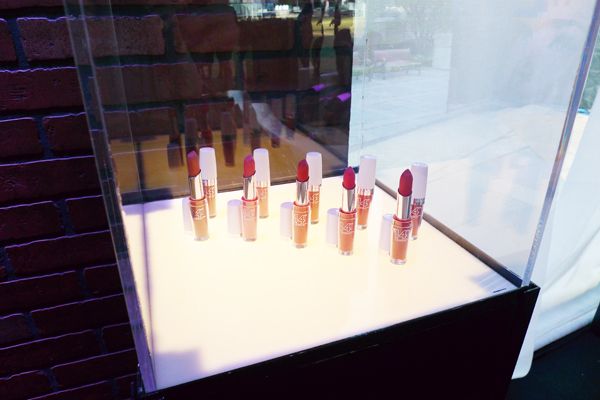 Kiss N Tell Wall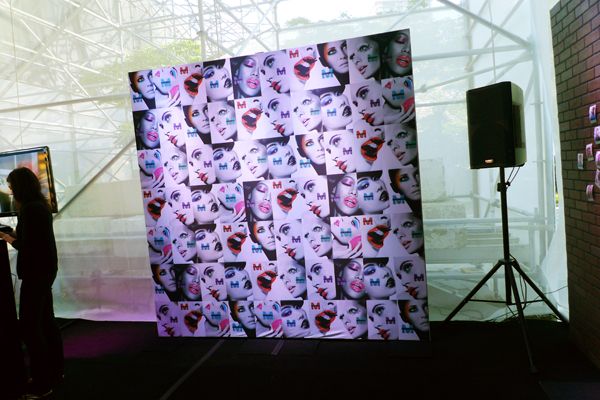 Maybelline MUA in action!
That's the kind of vanity I want lol
I headed down there on Thursday after work to catch the Maybelline Summer Trend workshop by the one and only Grace Lee! Grace is the Maybelline Lead Makeup Artist in Canada. She did two demos on two beautiful girls form ROI relations. First, Grace created, as one of the beauty editors there like to call it, the mermaid look...
Grace first mixed some
Maybelline Baby Lips
with
Eyestudio Color Tattoo 24Hr in Edgy Emerald
(the teal one) and used it as a based for the look. She said the because she wanted to keep on blending, so by adding the Baby Lips, it gives a more emollient texture for her to work with. She then apply
Eyestudio Master Drama Cream Pencil in Sapphire Strength
to the model's bottom lash line. This liner is so creamy and pigmented that I said it right there I want to get one myself! To contour the eyes, Grace used the darker side of
Eyestudio Color Pearls Marbleized Eyeshadow in Navy Narcissist
. She brought it all up to the brow bone to give it more depth to the look. To give the look a more multidimensional look, she added the teal shade in
Sapphire Siren
from the
Eyestudio Color Plush Silk Eyeshadow
line from the outer corner to the center of the eyelids. This touch really brought the look together. As a final touch on the colours, she used
Color Tattoo in Too Cool
(the white one) to highlight the inner corner of the eyes and give it some contrast to the rest of the look.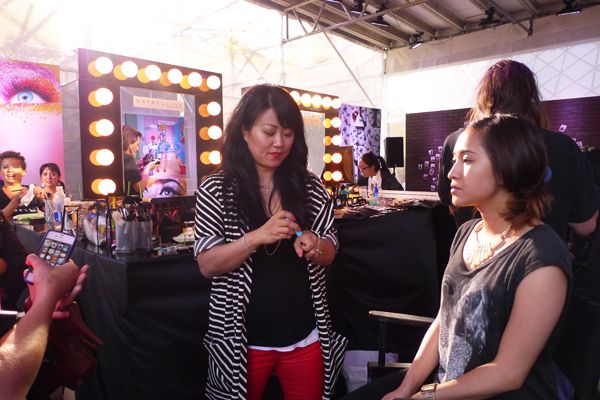 Baby Lips... What???? O.o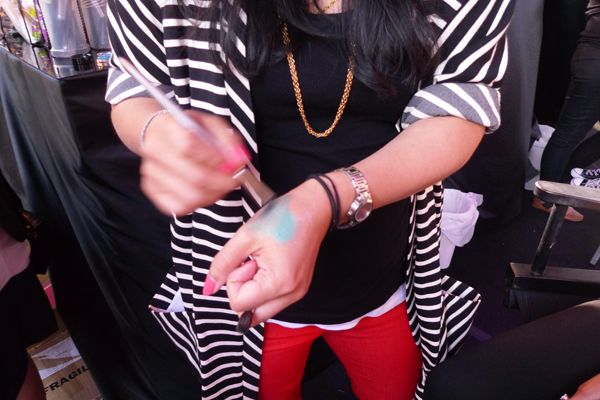 Mixing Baby Lips with Color Tattoo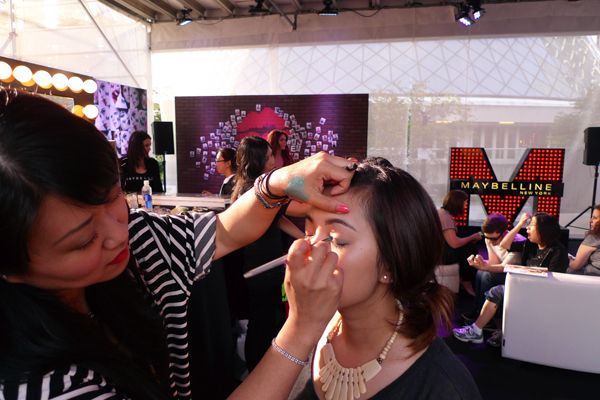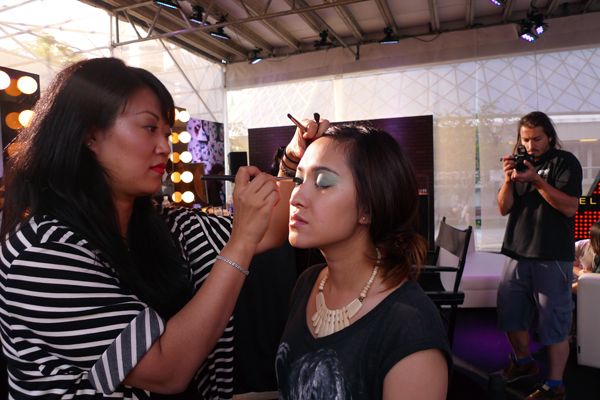 Love this navy eyeliner
Very nice touch of the teal colour!
A great trick that we learned from Grace is to layer mascara to get ultra full and volumized lashes! She usually used 2 or 3 mascaras in her looks. One of her favourite is the good ol'
Great Lash
in a new brush with a new name:
Great Lash Lots of Lash Mascara
. She said because of how the brush is shaped, and its tip and the bristles, it will find all those little lashes that you have. And with the new
Volum'Express the Mega Plush mascara
, it gives the lashes extra volume!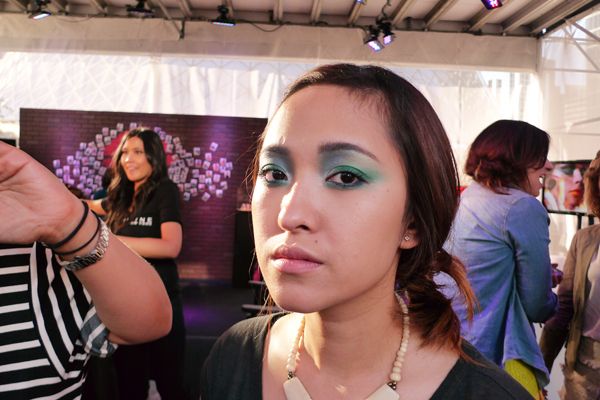 Done the eyes, almost done!
The most exciting trick that I learn from Grace is to use Baby Lips in Peach Kiss in an unexpected way. She not only used it as a lip colours, but also applied it on the models face to give her a summer glow. With the fine shimmer in the lip balm, it catches the light at all the right places! Absolutely love the look of the skin!
Baby Lips on the lips
And Baby Lips on the cheeks!
And here's the finishing look! Look how bold and gorgeous it is. If you want to recreate this for a more every day kind of use, Grace suggested that to not bring the colours all the way up to the brow and keep it closer to the lids. You can still rock your colours that way =).
Voila
The next look is a much simpler look - two-toned lips. To create this look, Grace used two lipsticks for this look Color Sensational Lip Color Fuchsia Fever and Super Stay 14Hr Lipstick in Coral Crush. She used Fuchsia Fever on Delphine's lower lip, and Coral Crush on the upper. It is a super easy look that everyone can achieve.
Say Hi to Delphine!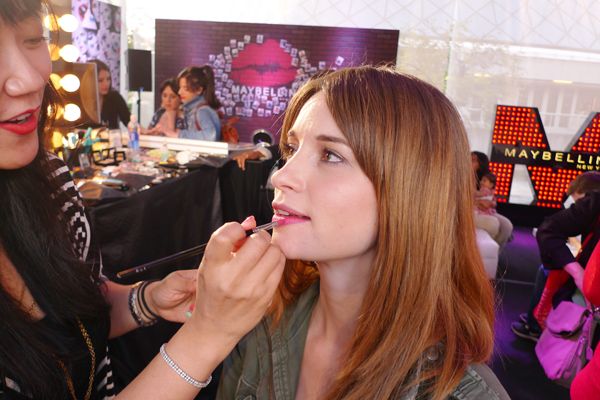 First, start with the lower lip
And the upper...
And we're done!
After the demonstrations, I had a chance to talk to Grace about some new makeup. And somehow Maybelline Dream Fresh BB Cream came up in the conversation. I swatched it on my hands and I can tell that it gives a very fresh and dewy look, hence its name. I can't wait to try it out!
Two-toned lip colours
Grace's stash... look at the Shu brushes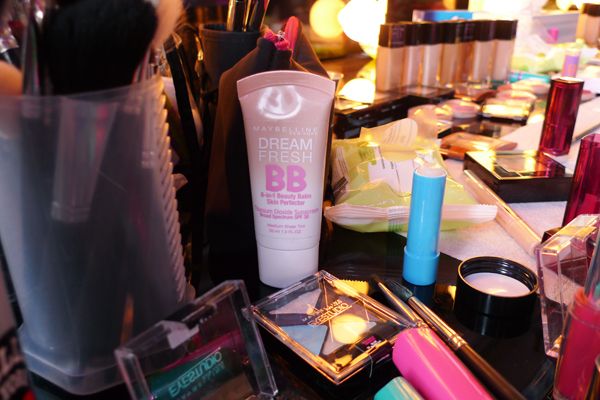 Maybelline Dream Fresh 8-in-1 BB Cream in Grace's stash
It was fun hanging out at the Maybelline Luminato hub! We even took a picture of kissy face
that I need to find out where I could get a soft copy of lol. Will update once I get it =).
(see below) I can't wait to go again next year!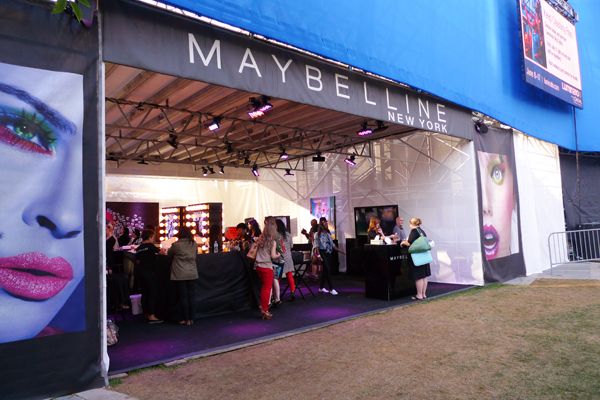 Speaking of Luminato, Garnier and Vichy are going to be there till 8:30PM tonight! I have already been there and got a hair colour consultation and styling from Garnier, and a skin diagnostics at Vichy. I got my hair done by Sasha, she's amazing! Here's a sneak peek... (Blog posts coming up soon!)
I instagramed! Hi!!!!
Will you be rocking any of these two trends this summer? I'm totally going to try this two-toned lips look in LA in a week!
x Rica