My IMATS LA haul can fit into a small reusable bag... It's really not that bad...
July 5, 2012
• bdellium tools, Beauty Blender, Bobbi Brown, False Lashes, Haul, IMATS, IMATS LA, Naked Cosmetics, NYX, OCC, Parian Spirit, Skindinavia, Urban Decay, Velour Lashes, Violent Lips
IMATS LA was not only a great experience (
read about it here
), but also a great place to shop for your beauty products and tools! This year, I did not have a shopping list, or a budget. I decided to wing it and just buy whatever that intrigues me. Luckily, I did not bring enough cash, so I did not overspent lol. And here are my goodies. =D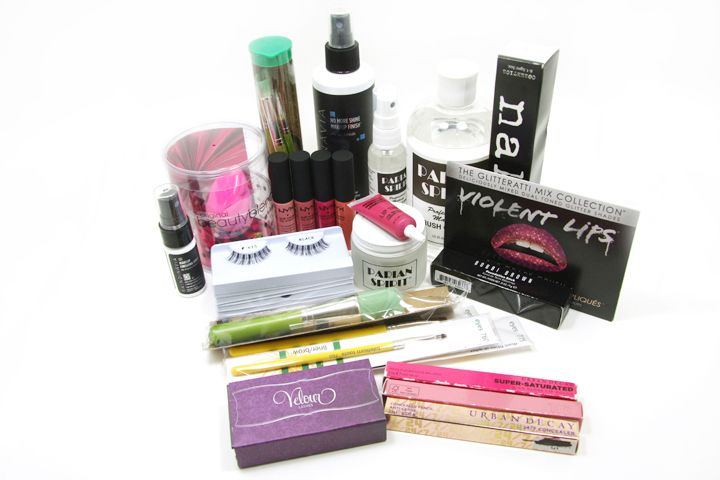 It actually wasn't that bad consider that I can fit them all into a small reusable bag that I got from Nigel Beauty Emporium =P. Let me break it down for ya...
Base:
Bobbi Brown Foundation Stick in Warm Beige
I have always wanted to try foundations by Bobbi Brown. I was looking for the Natural Long Lasting Finish one, but they didn't have it in my shade, so I got the Foundation Stick instead. But hey, 40% off Bobbi Brown doesn't come by all that often... Okay, maybe twice a year at IMATS LA and IMATS NYC lol.
Urban Decay 24/7 Concealer Pencil in ATF
Stacey and Jessica were raving about this concealer, which you can guess what happened next... Yep, I bought it too... They were also having 40% off, so yay!
Colours:
Urban Decay Super-Saturated High Gloss Lip Color in Love Child and Crush
I wanted to try these lip colors ever since xSparkage talked about them in her blog/videos. I know Love Child and Crush are colours that I would like, so I grabbed them without thinking. I should have think more, 'cause now I want other colours too...
NYX Soft Matte Lip Creams
I almost always miss NYX stuff because there are always a lot of people in the line. Since we got to IMATS early this time around, there was only a small line. Needless to say, I hauled =D. Plus, I've only heard great things about them
OCC Lip Tars in Demure
OCC Lip Tars got a new and, presumably, better packaging. I have always wanted this colour. This is a great time to test it out!
Naked Cosmetics Twilight Pigment Stack
Every year I want to bring a Naked Cosmetics Pigment Stack home, but every year I get struck by the choice and I never bought a stack. (I'm not great at picking out stuff when there's a whole bunch for me to choose... It takes me a long time to choose what to eat if they have a big menu at the restaurant lol)... Anyway, but this year, I finally brought Twilight Pigment Stack home!
Tools:
Parian Spirit Brush Cleanser
I have only tried a small bottle of this, but I want a bigger bottle. Unfortunately, it was sold out last year at IMATS Toronto... But this year at IMATS LA, they have an entire booth! So I brought home with me the show special (16 fl oz. bottle + 2 fl oz. spray bottle + cleaning jar + 2 brush cleansing pads)
Beauty Blender
Some tell me it sucks, some tell me it works wonders, some thinks that it is not that special. There are too many different opinions regarding the Beauty Blender, so I decided to test it out myself. Expect review coming up soon.
Bdellium tools #714,760, 775, 959, and Smoky Eyes 5pcs Brush Set
Since I first tried out bdellium tools at IMATS Toronto, I have fallen in love with their brushes. So, as a brush junkie, I have gotten some more brushes. Sadly the #781B was missing from the brush set, oh well, with my luck I should be happy that I did not lose my luggage (knock on wood) =P.
Misc: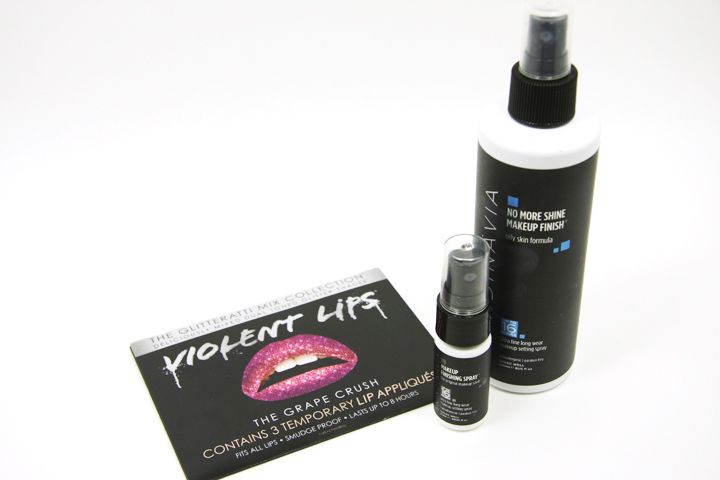 Skindinavia No More Shine Makeup Setting Spray (8oz) and Original Makup Setting Spray (sample size)
I literally yelled out "OMG, Skindinavia was here". I have wanted to try their setting spray in a while since they're highly praised in the beauty community. But I'm always cheap with shipping (I hate paying for shipping). So I was quite happy to found them at IMATS! I have to put it to an ultimate test this Summer!
Violent Lips Temporary Lip Tattoos in The Grape Crush
I got this because I want to wear them for gigs later in the year. It would be awesome to wear it on stage where the spotlight flashes. I hope that would score our band some points in the fashion category XD.
Nigel Beauty Emporium Lashes
$10 for 7 pairs OR $20 for 15 pairs of lashes... Score! This time, I got some individual lashes to try out. Jessica said it's the ones she likes to use on her eyes. Let's hope I can master the application lol.
Velour Lashes in T Dot Ohhh!
I showed some hometown love at IMATS LA and bought from Velour Lashes... And the one I chose was... T Dot Ohhh!... teehee
I'm usually good with making a shopping list whenever IMATS Toronto comes around, but not this time, I got too busy before the trip that I didn't have time to do any of that. But if you're planning to go to any IMATS, I suggest that you do your research ahead of time to find out which vendors are going to be there and which vendors are offering discounts. IMATS LA, for example, has a lot of consumer-product-vendors, such as Urban Decay, Too Faced, Stila, and other high-end brands with a substantial discount (say 40% off). If you're going for the shopping, make sure it is worth going, as in the savings that you get will be less than the ticket price and the travel fee. Of course, there are so much stuff to look at at IMATS, it would be silly to just shop. Even if that's your plan, still, go look around and go to some classes, take some pictures since you already paid for all that =).
Will you be attending the next few IMATS? What's on your shopping list? I would like to know what else I should check out at IMATS Toronto!
x Rica