Revlon Passionate Pink is My Perfect Summer Pink
Maybelline ColorShow Nail Lacquer in Denim Dash
and
Revlon Colorstay Longwear Nail Enamel in Passionate Pink
. Both are formulas that I had not tried out before. When I got home, I immediately tested the Revlon one out, and I fell in love.
Revlon Colorstay Longwear Nail Enamel in 050 Passionate Pink
The colour is what drew me in in the first place. It is a pretty basic hot pink, which looks even more vibrant on the nails. To be honest, it is not an uber special colour and I'm pretty sure I have something similar, maybe not exactly the same. But I don't usually wear this bright of a pink, so I'm surprised that I even got this. I am really loving this colour right now and I'm sure I'll get a lot of wear out of this polish for the rest of the Summer!
It's got an awesome flat brush that is not what everyone prefers, but I happened to really like it. It is bigger than, say, the Zoya one, but definitely smaller than the OPI one. The brush also got a round tip, less round than the Sally Hansen one, to make it easier for user to apply close to the cuticles.
On to the formula, it is not too runny and not too gooey. It's smooth and provide just enough coverage for each coat. I do have to use two coats to complete my mani but that's what I usually do anyway. Once the application is done, you find yourself with shiny nails even without a top coat. It feels almost like gel nail polish. It is also quite, to my surprise, fast-drying, which is always a plus!
Revlon claims that their nail enamel provides "Up to 11 days of lasting colour* and gel-like shine". While the latter is true, it is too soon to tell if it's long lasting because I only have it on for like one night. But I am hoping for the best. I'll definitely keep you guys updated with the result! FYI, nail polishes usually only last 5 days on me and they'll start chipping. So anything over a week I would consider it an A, and two weeks would be an A+!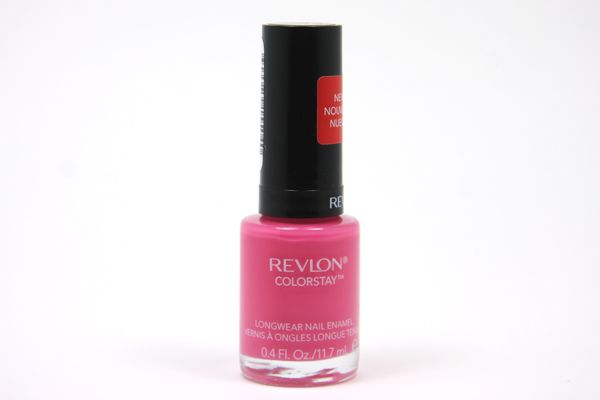 Front
Ingredient list on the back... It's free of formaldehyde, toluene, and DBP!!!
I am quite impressed with my first
Revlon Colorstay Longwear Nail Enamel
. The best part is that I got it on sale for under $5! Maybe I should go back to Wal-Mart to pick some more up!
Speaking of Wal-Mart, I have been on a major Wal-Mart withdrawal lately since I moved. Three months ago, there is one within 5 minute ride, but not anymore. Now the closest one is about 20 minute drive, if the traffic is good =(. So whenever I get a chance to go, I'll definitely visit the beauty section because they got the best price! Too bad they're slow with putting out new stuff. Anyway, I'm babbling...
Have you tried out the
Revlon Colorstay Longwear Nail Enamel
? How did you like it? And what colour would you recommend me to try out? I would love some recs XD.
x Rica