Feeling Fresh with Maybelline Dream Fresh 8-in-1 Beauty Balm | Month of BB
Maybelline
has recently released their
Dream Fresh BB Cream
. I first got introduced to this product by Grace Lee, the Maybelline New York Lead Makeup Artist in Canada last month at Luminato. She raved about this BB Cream and told me how it gives a fresh looking finish, and hence "Dream Fresh".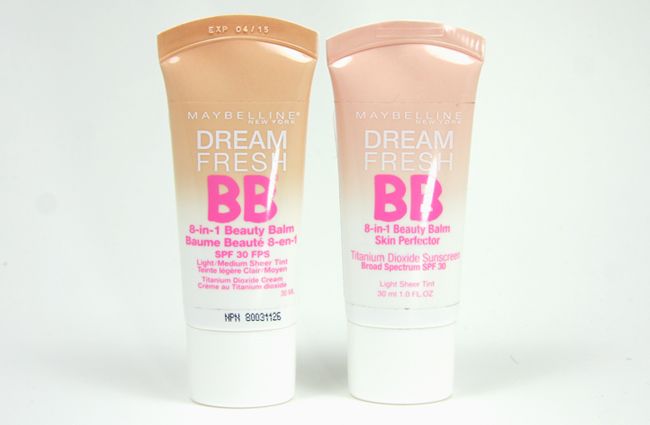 Maybelline Dream Fresh 8-in-1 Beauty Balm SPF 30 in Light/Medium and Light
CLAIMS
It claims that it could provide the following 8 benefits:
1.
With SPF 30 helps prevent sunburn
2.
Helps blur the look of imperfections
3.
Creates a natural looking glow
4.
Skin looks visibly smoother
It is recommended for people with normal skin (I have oily skin).
Maybelline Dream Fresh 8-in-1 Beauty Balm SPF 30 claims
PACKAGING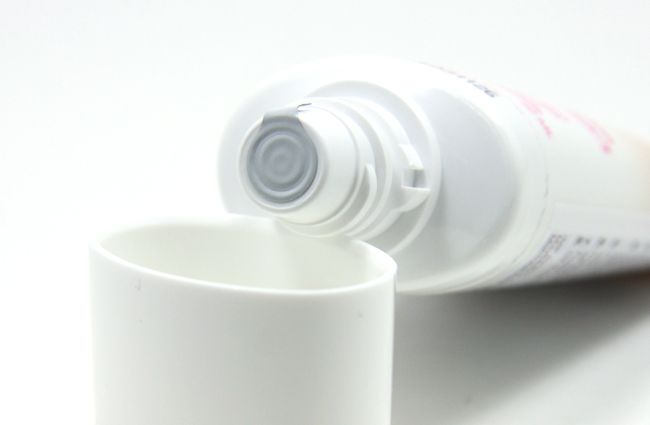 Comes in a squeeze tube and a security seal. Very sanitary =D
Prior of your purchase, you would want to make sure the cap is sealed and the mouth of the tube is sealed. Mine were of course sealed, and I think this is a major plus on Maybelline's part because I know that no one has used my tube before me. It comes in a squeeze tube packaging, which is always nice and more sanitary. It's very easy to dispense the product. The tube itself seems quite small but it's quite heavy for its size.
COLOUR
For a "BB Cream", it has a great selection of shades: light, light/medium, medium, medium/deep, and deep. You would think that 5 shades are still quite limited, but because this BB Cream is on a sheerer side, each shade suits more different skin tone. For example, I can wear both light and light/medium. It also has a variety of undertone. The two shades I have are light and light/medium. Light is more yellow, where light/medium is neurtal to pink. They always have testers at the display, so I recommend that you test it out to find your shade
J
.
L to R: Light and Light/Medium (as you can see light is more yellow, whereas light/medium is slightly pink)


PRODUCT (finish/soft-focus effect/coverage/shine control/lasting power)
The first thing you would notice when you apply this product is that it gives a very fresh and dewy finish. Now this is subject to preference, some people like dewiness, some people like matte. I personally prefer matte with a glow, which is like you're glowing from within but I don't think such thing actually exists in just one tube. But it could definitely be achieved by using a combination of products. Anyway, I'm getting off topic. Since it's too dewy for my liking and the fact that I have such oily skin, I always set it with a loose powder.


Even before I set it with powder, I notice that my pores seem less apparent when I have this BB Cream on. This is one thing that I really appreciate because my pores can look quite large
L
. Like I mentioned before, it has a sheer coverage but it still blurs out imperfection, if it makes sense. As for the shine control part, Maybelline didn't claim that it would control shine, so I didn't expect a lot. The good news is that it didn't make my skin extra oily, nor non-oily, so at least, it's not making things worse
J
. Now this would mean that it has an average lasting power on me (about 5 hours or so). It will last longer, however, if you do some mid day touch ups (blotting and apply some more powder). But if I know I'm going to have a very long day, this will not be the BB Cream of choice.
It also claims that it hydrates all day, which I think is true because I don't see any dry patches while I have it on.
Before and After
APPLICATION
The best way I find to apply this Beauty Balm is with my fingers, because it will give me the highest coverage out of all other methods that I have tried (with a sponge or a brush). Despite the fact that applying with fingers is not my favourite way to apply anything (I don't like getting them dirty), I still like to use my fingers with this products. It is very easy to blend, even with fingers.
Slightly blended out - L to R: Light and Light/Medium
Very blended out - L to R: Light and Light/Medium
VALUE
This is, I believe, the most affordable BB Cream on the market. With a price tag of $6~11 (depending where you get it), it is a pretty good deal. It also comes in a good amount of product (30mL). I usually use about two a pea size amount for my entire face, so I would say it'll last about 2 months if I were to use it every single day.
AVAILABILITY
It's available at most drugstores, Walmart, and online (well.ca and drugstore.com)
VERDICT
Overall, I think that most of the claims are satisfied, though some kind of go hand-in-hand, or another way to put it, redundant. It does give a fresh and dewy look (#3 and 7), it does blur out the imperfections and hence makes skin smoother (#2 and 4). A sunscreen is always a plus, and being oil-free is another plus! I can feel that my skin is more hydrated. However, it does not have a great staying power for me because of my extremely oily skin. I have worn it to work, it works doesn't look too bad at the end of the day even though it had noticeably faded. I like to use it more for casual days where I'm just out running errands. But if you are less oily than me, you should get a longer wear.
Staying Power:
❤❤ and ½ ❤
Overall:

❤❤❤❤ (for oily skin, it'll be ❤❤❤)
x Rica
Disclaimer: Product was provided by PR/manufacturer for review consideration. I receive no monetary compensation for this review. All my opinions are my own.