I tweeted away for Maybelline #tweet4aseat and it took me to World Mastercard Fashion Week F/W 2013
Warning: this is going to be a slightly pic heavy post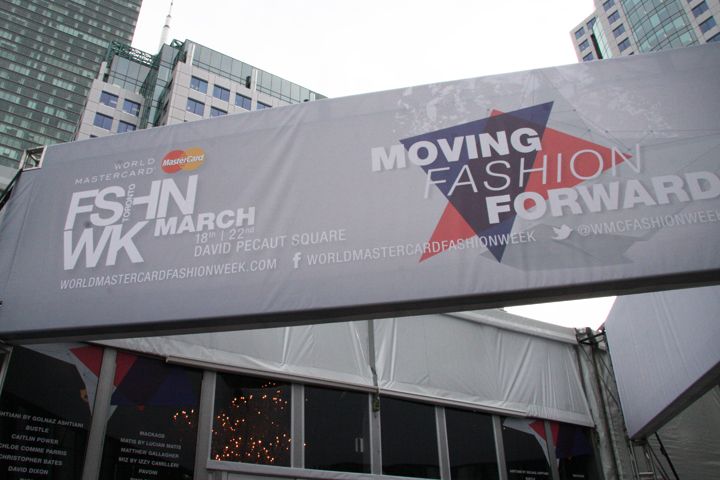 Entrance of WMCFW
Last week was the time of the year again when every fashionista in Toronto (and nearby cities) gets excited - it's Toronto Fashion Week again, or, better known as now, World Mastercard Fashion Week! I had the opportunities to attend a few shows on Day 2, as well as going backstage for a bit between shows all thanks to Maybelline's #tweet4aseat Twitter contest! And I am very excited to share with you my experience!
First thing first, you gotta think of your outfit for fashion week. I pulled out what I have in my closet, and here's the look:
Top: J.Crew denim shirt | Skirt: J.Crew tweed skirt | Bag: Rebecca Minkoff M.A.C.
Shoes: H&M x MMM glass wedges | Bracelet: Pinkbarry | Necklace: House of Harlow 1960
I met up with
Joyce from SparklyPlayground
before the shows start, since there were some time to kill, we walked around and of course, I spotted the Maybelline booth where they offer makeup touchups, manicures, and lipstick samples!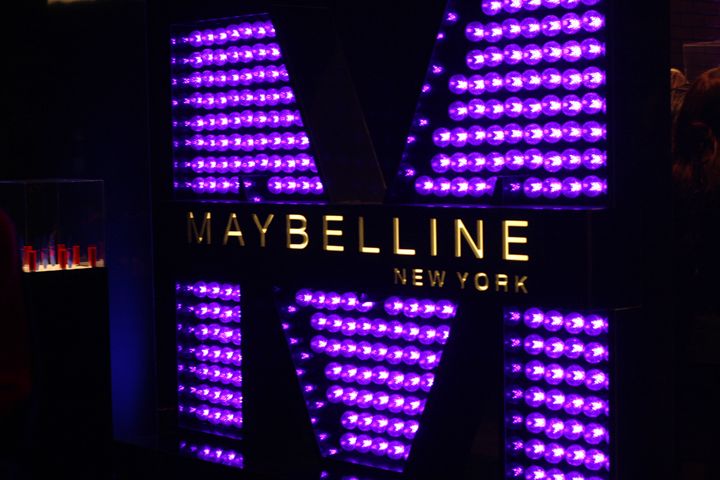 The Maybelline booth
Maybelline Volum'Express Rocket Mascara and ColorSensational Vivid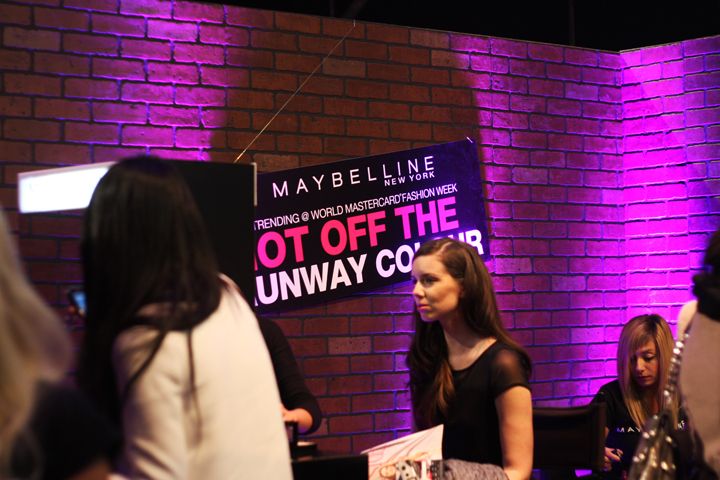 Maybelline makeover station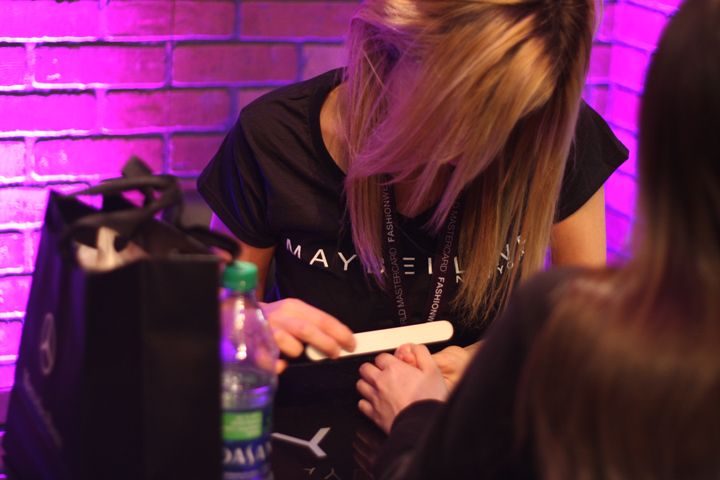 Maybelline manicure station
Maybelline ColorSensational Vivid lipsticks sample!
Next, Joyce even got her hair done (first round anyway) by Rowenta Beauty. They have a booth set up inside the tents to give show goers head touch up/makeovers, and it's also the very spot where they held their "Hair Battle".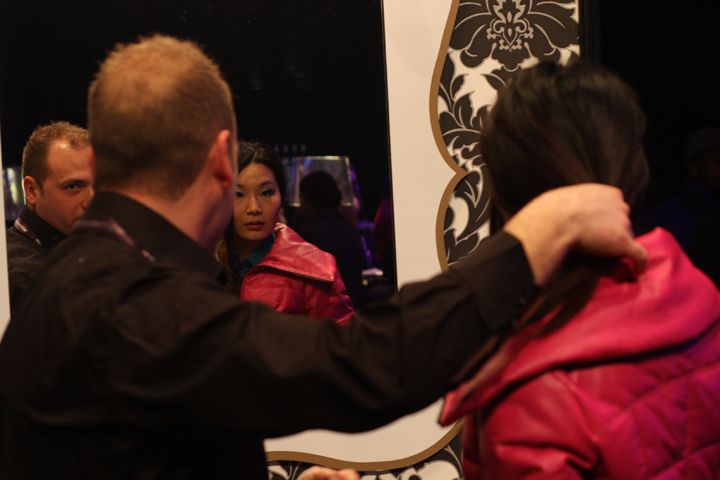 Joyce consulting with the Rowenta Beauty hair stylist
Rowenta Beauty hair tools! R to L: Double Straight, Curl Activ, Versa Style,
and PROFESSIONAL Titanium Ceramic Flat Iron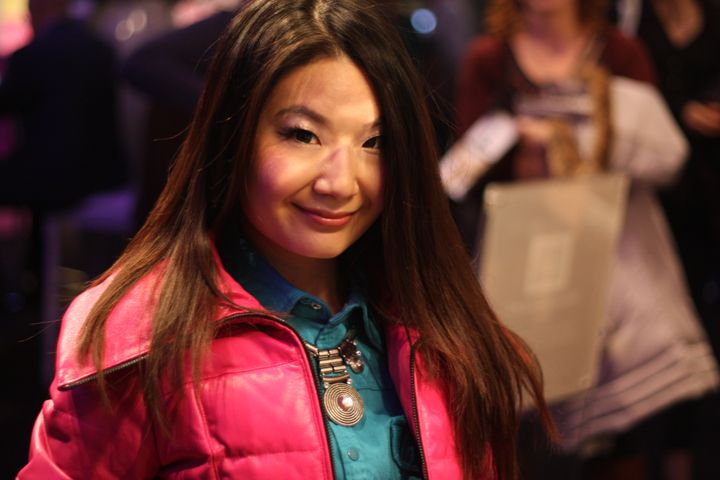 Joyce getting ready for her hair
Rowenta Beauty Curl Activ in action! Just clip and click and it'll do the curling job for you >0<
Our first show for the evening was David Dixon. Here's a small preview of the show: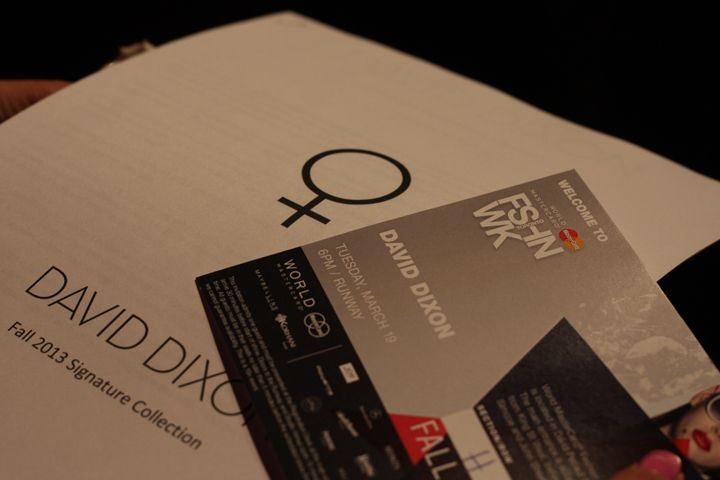 David Dixon ticket
Stunning neck piece and sheer black dress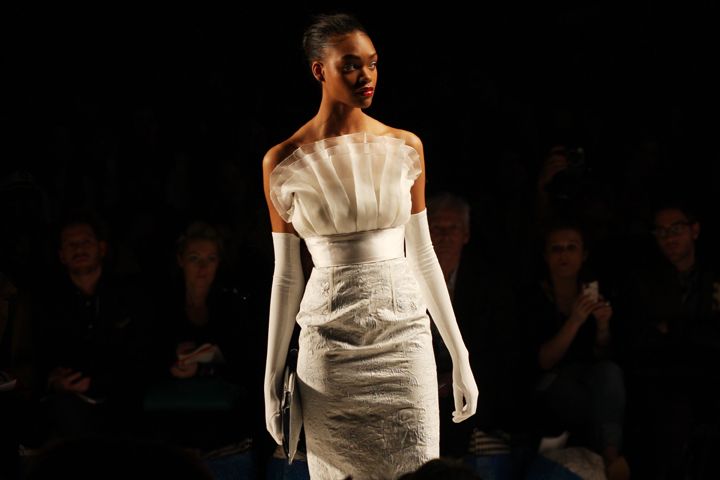 Love the fan light effect and the silver accessories (i.e. the clutch)
We had a busy schedule to keep but we manage to run to another event after the show, and head back to WMCFW when it's done. When I went to claim my prize, I was escorted by a lovely host to show us around. Since there was some time before the 8PM show starts, she showed us to backstage, and I couldn't be more excited!
We got to see some pre-show preparation and event got pampered up a little bit. And that's when Joyce got her hair done for the second time. This time, she opted for a high pony tail.
Backstage with Maybelline and Redken
All these Redken hair products... I wish my vanity is just as neat after doing my own hair...
Maybelline makeup station... I spy a sneak peek for Sid Neigum's show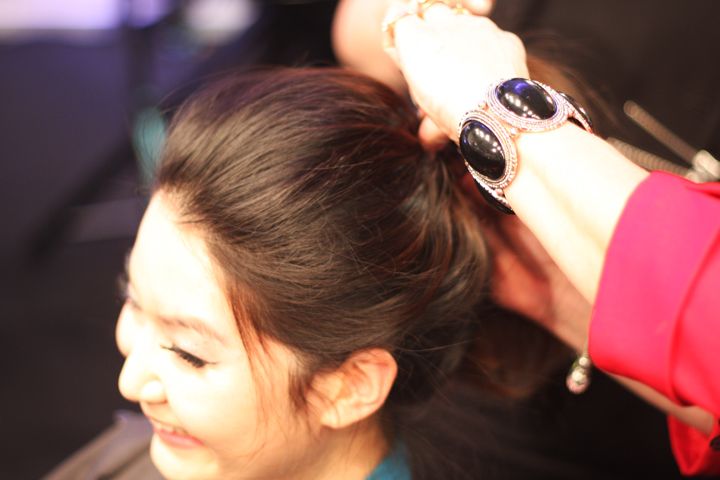 Joyce getting her hair done for the 2nd time of the night lol
The finishing look
For me, when the Redken hair stylist asked me how I want it to be. I told her whatever that she thinks would look good on me (yes, I am one of those... but truly, I always keep an open mind when it comes to hair style as long as you're not chopping my locks off). The two lovely hair stylists created a braid that I can never recreate on my own and it was lovely! I want something like that for my wedding day... whenever it is lol.
I'm not tall enough to be caught in the camera... sucks to sit in chairs that are created for tall models lol
Saw this sneak peek of the hairdo for the Sid Neigum's show
The finishing look for my hairdo
Next we got seated for the LINE show (pretty darn good spots too), and it was everything Canadians would want to see for Fall and Winter, their famous knit wear that is also weather appropriate! Here's a few outstanding pieces: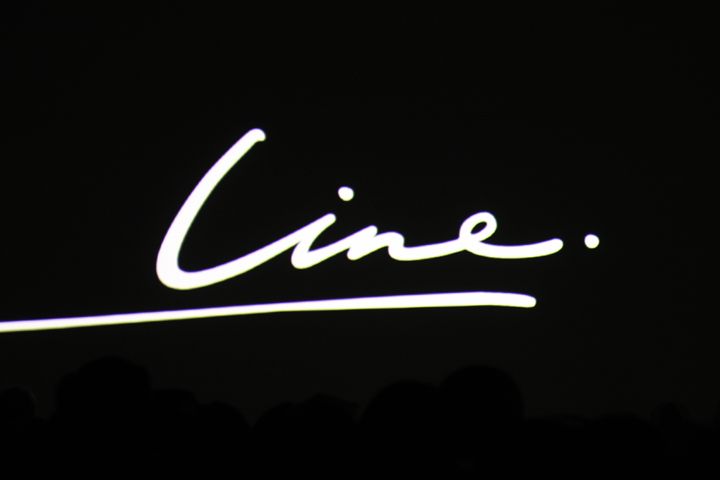 Line
I would totally wear this to work!
and this too... maybe with a white collar shirt instead :)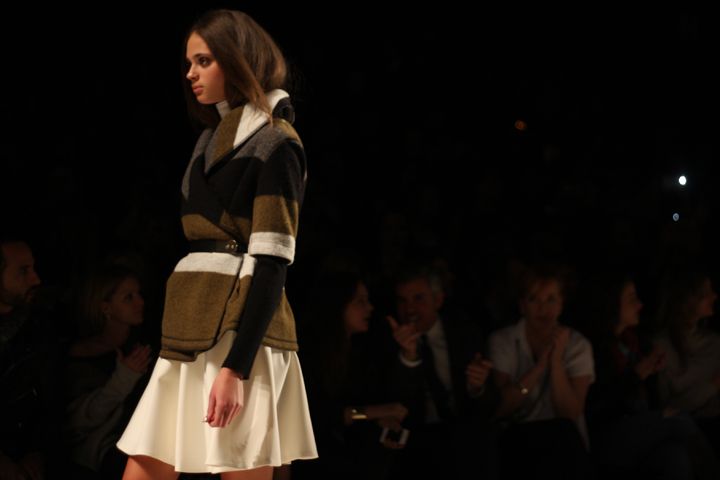 I don't know why but I was just very attracted to the overall look of this
In between LINE and the next show, we hung out for a little bit at the Maybelline Lounge...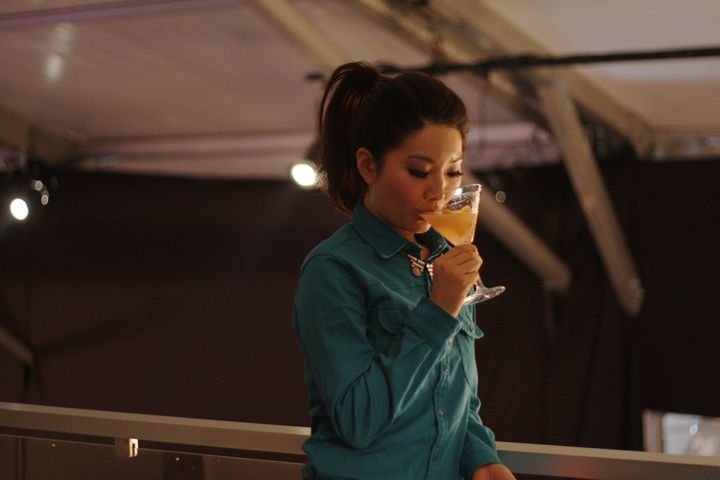 Joyce enjoying her cocktail... haha...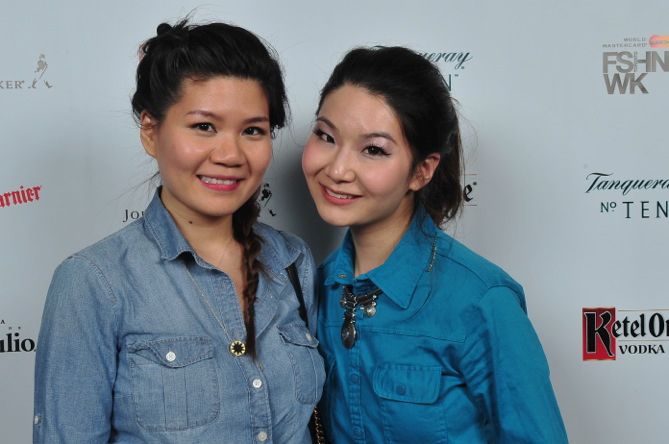 Me and Joyce at the photobooth
Afterwards, we went to the Sid Neigum show. I have never been to his fashion show so I didn't know what to expect, but I loved everything about his show. The hair, the makeup, the prints, the textures, and right down to the cellist!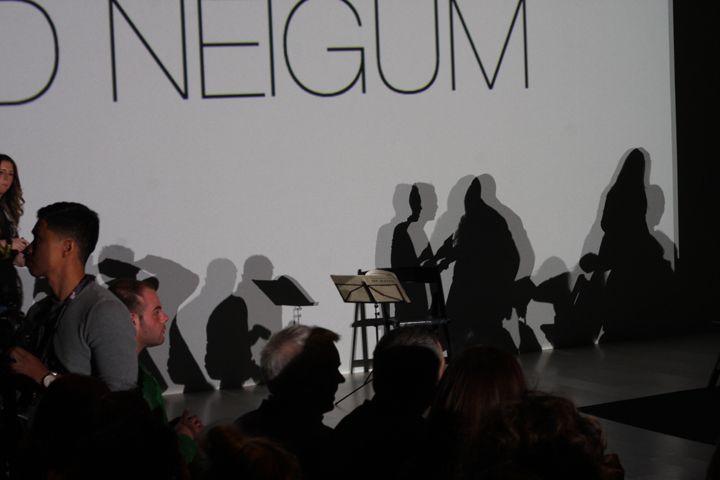 That music stands made me wonder what is going to happen
oh and the cellist started playing! So different!
Closer look to the hair and makeup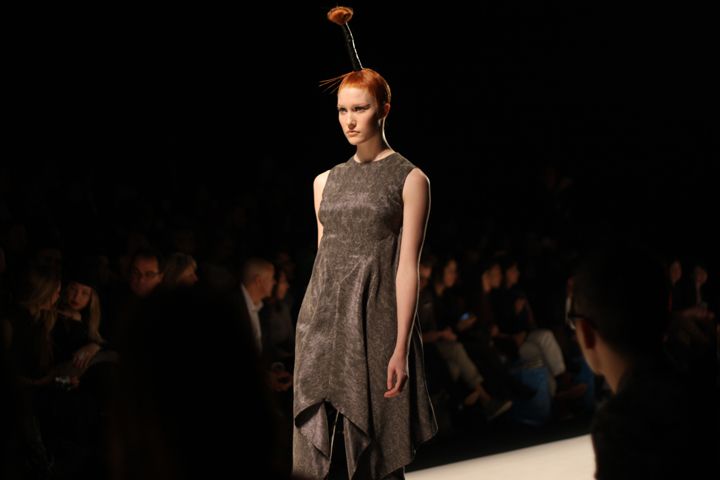 One of Sid Neigum's masterpiece
Another One of Sid Neigum's masterpiece
After the finale, we got to go backstage for a bit and learn a little bit more about what the process is in preparing for a fashion show... The hostess said that makeup artists and hair artists meet with the designers a few months before the show to create the looks of the show. Everything has to be checked before the models get sent out to the runway, talk about level of detail! This just speaks how much thought is put into the show.
Add caption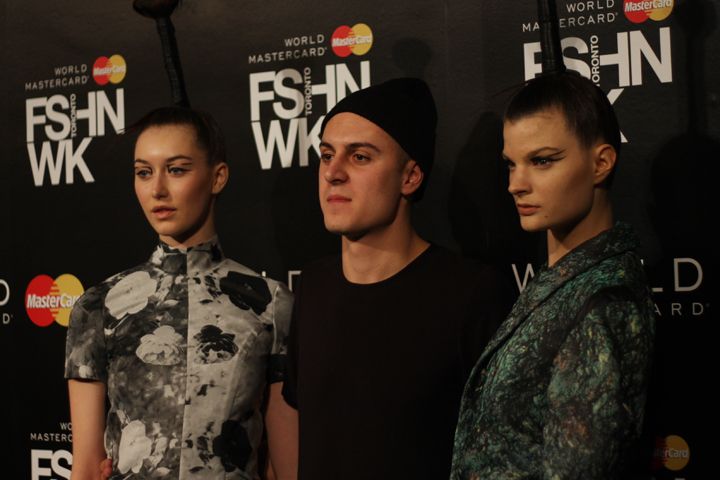 Sid Neigum and his two models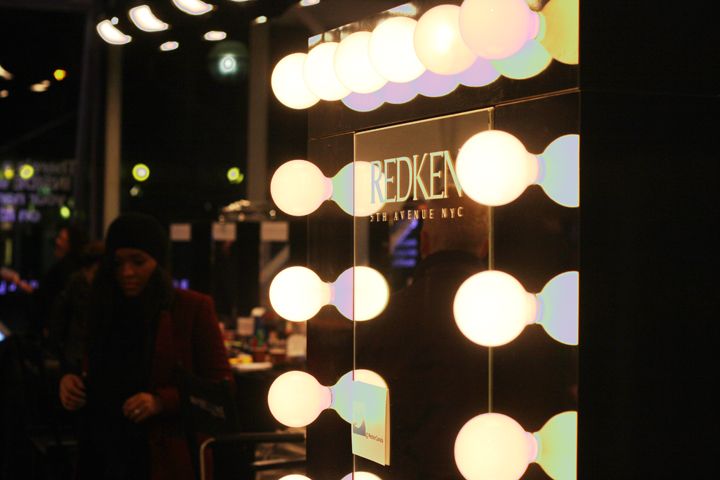 Redken mirror... again, I want one lol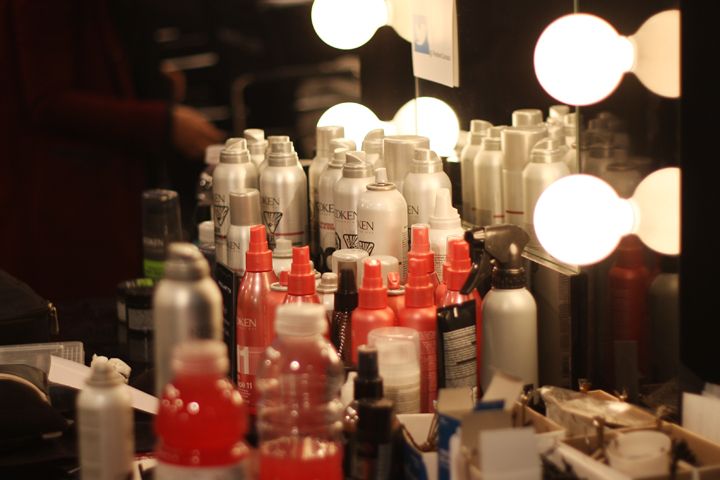 Redken hair products galore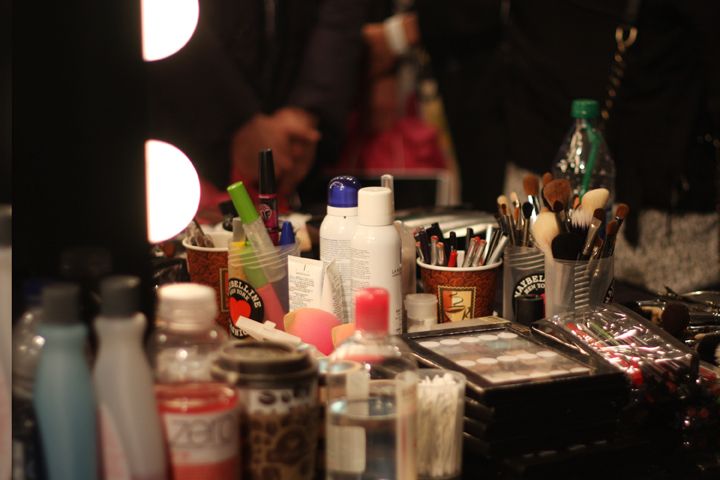 Grace Lee's demonstration makeup station
We also got to chat with Maybelline's very own Lead Makeup Artist, here in Canada, Grace Lee about some products that she has been using in the show and what her new loves are.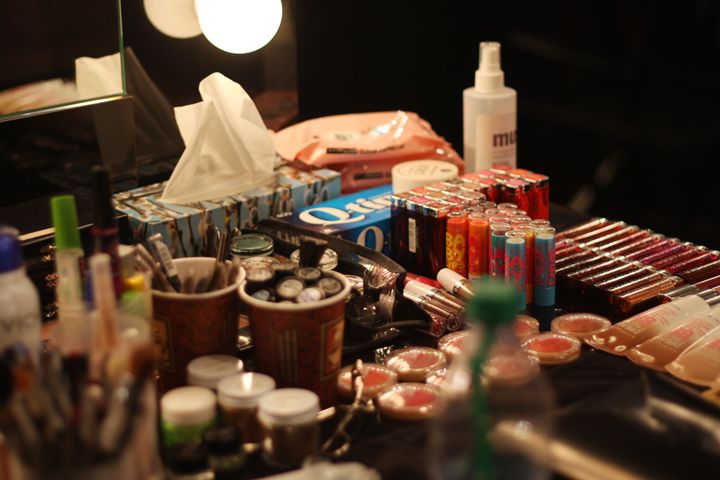 Grace Lee's demonstration makeup station
Maybelline pigments that will be available this summer! Still in sample jars for the show!
Grace showed us how pigmented the new product is!
Another new addition to Maybelline's mascara family. The Falsie Big Eyes (it's doubled ended)
One wand for upper lashes, one wand for lower lashes
Another new love of Grace: Maybelline Eye Studio Master Duo 2-in-1 Glossy Liquid Liner
Katie from Maybelline, myself, Joyce, and Grace
It was a truly amazing experience and I had so much fun. I am so glad that I participated in the Maybelline's #tweet4aseat Twitter contest. When they have this contest again next year, I will for sure be tweeting all day to relive this experience! Thank you so much Maybelline! I'll see you again for the next Toronto Fashion Week =D.
Until next time, take care!
x Rica