Sprinkling some PIXI Dust on my Sunday Brunch...
This past Sunday, a few Toronto beauty bloggers and I met up at Milestones for our regular(ish) TOBB brunch! Normally, we would chat about beauty, catch up with our fellow beauty bloggers and maybe meet a few new faces. This time, on top of the aforementioned activities, we have a special guest who flew all the way from the United Kingdom — Amanda Bell, the makeup artist of
PIXI Beauty
.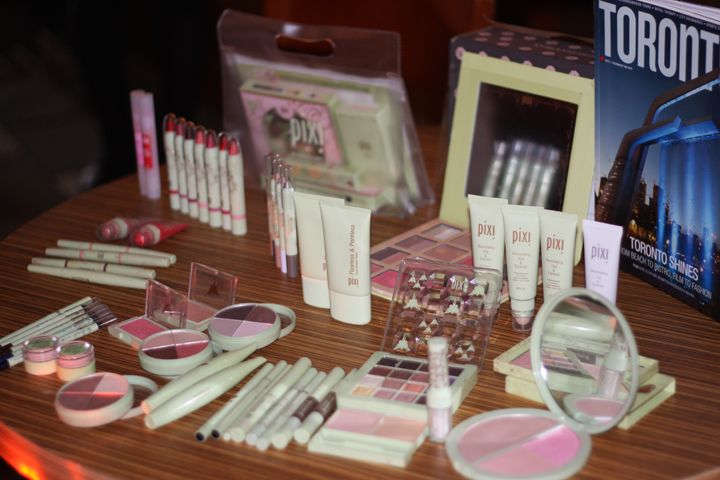 Round Table of makeup goodies
If you are an avid viewer of some British beauty vloggers on YouTube, you probably would have heard of PIXI Beauty before. They are a UK based makeup brand developed by its founder & creator, Petra, with a mission of "
simply to bring out the natural beauty in all women – to make women look like themselves, only better.gredients so that skin is treated whilst you wear it
". They have been made available in the U.S. at Target for a few years now. As you all probably know already, Target has arrived in Canada, and PIXI Beauty is also available now in the Canadian location.
Hurray!
During the brunch, we went around the table and introduced ourselves to each other and to Amanda. We shared a bit of background of ourselves, which we had never done before even though some of us have known each other for a few years now! It was an inspiring chat session, so thank you, Amanda, for this brilliant idea!
After we had some food in our system, Amanda talked to us more about the PIXI products and the brand itself. When PIXI was first founded by Petra, it all started in a small boutique in Soho, London. Now PIXI has grown to a brand that is loved by women from all over the world. Next, not only did Amanda introduced us to most of the products that will be available at Target, she also did it whilst doing a demo using PIXI products on
Stephanie from blushpretty
.
Amanda talks about the history of PIXI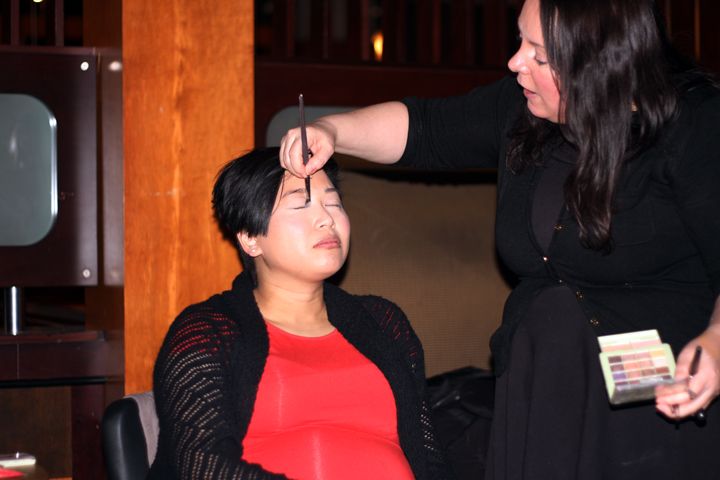 Amanda demos on Stephanie
The finished look!
She also shared a few tips and tricks in using the PIXI products. One tip that I remember really well is dotting a little bit of blusher, the same one you used on your cheek, on the center of your eye lids to make the makeup look flow. Amanda wanted to keep the main focus of the look on the cheek, so she actually applied the blusher first before eye makeup, which I tend to do the other way around. And sometimes, I would do a little too much on the eye and ended up with subtle cheeks instead, so I'm going to try a different order next time.
Then, of course, we have the opportunity to play around with the testers! And here are some products that Amanda has brought along with her all the way from the UK! A few standout products including..
Illuminating Tint & Conceal
($30.00 / £21.50) — This product is dubbed as the "original BB Cream", because not only it's brightening and offers some coverage, but also "infused with potent botanical extracts & vitamins" according to the PIXI website. When I swatched it on my hand, I can see that it is very brightening and gives a really nice glow. The concealer side also offers great coverage!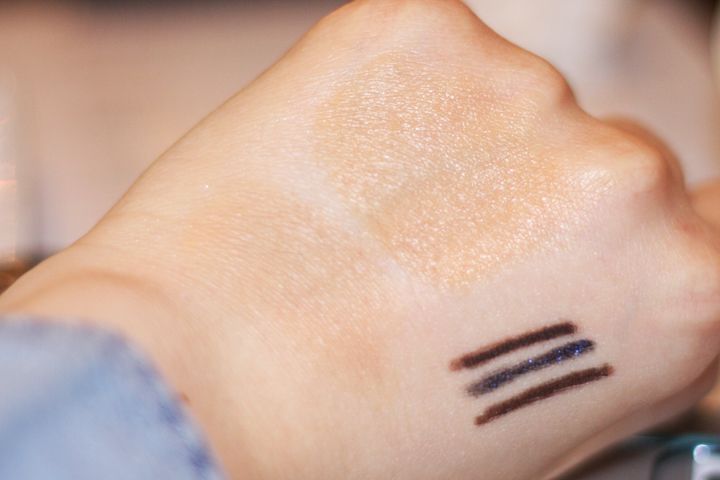 Top: Tint, Bottom: Concealer
Tinted Brilliance Balm
($16.00 / £12.00) — I am all about tinted lip balm, i.e. something that I can apply easily on the go! And these were felt really moisturizing on hand, and they are quite pigmented too!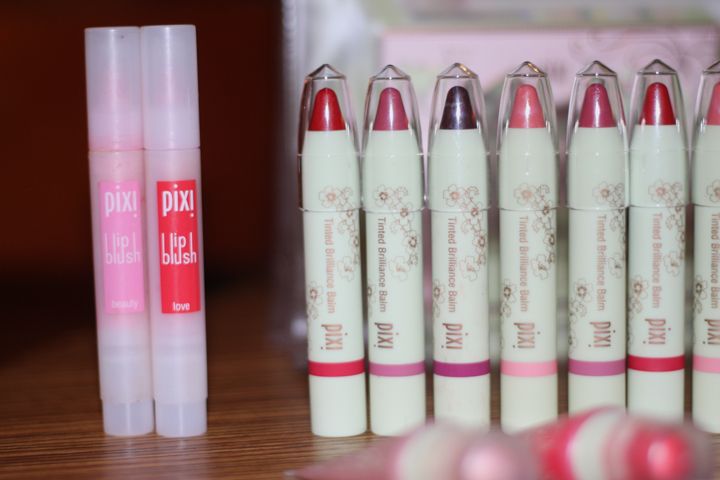 Left: Lip Blush, Right Tinted Brilliance Balm
Bronze Bloom Trio in No.1 Bronzette
($28.00 / £16.00)
— This GIGANTIC compact of trio includes a bronzer with subtle to no shimmer, a peachy pink blush with shimmer, and a neutral peach colour again with shimmer. This stood out to me, of course, because of its size. But I also think that it'll be a very handy trio to have if you're someone who does not own a lot of cheek products and want one that does everything!
Eye Glow Cube
($28.00 / £18.00) — I love a good palette, and this 16 colour baked eyeshadow palette is a pretty amaze-ball. All the eyeshadows are baked so they are a little different that the other ones that they have in their range. But nonetheless, all the colours are super pigmented and universally wearable! I just can't wait to play with it!
And there were two more products that stood out to me... My everyday makeup changes depending on my mood and the time I have before work, but it always involve a mascara, an eyeliner, and an undereye concealer. Their mascara didn't wow me but I certainly have my eyes on the
Lash Line Ink in Black Silk
($16.00 / £12.00) and the
Correction Concentrate in Brightening Peach
($15.00 / £12.00). Amanda described Lash Line Ink as this long wearing liquid liner that will also be good on the tight line and the felt tip is small enough to fill all the little gaps between lashes. I am a bit skeptical about its longevity but tight lining is my thing (I've been doing that since I was 13), and I for sure have to try it out! As for the Correction Concentrate, the concept is similar to Bobbi Brown Corrector, but I feel that this is much more brightening and moisturizing. The Bobbi Brown one can get cakey, but the PIXI Correction Concentrate seems quite light, so I am having high hopes!
That being said, all the products in the PIXI range seem quite intriguing. Here's a closer look to some of them: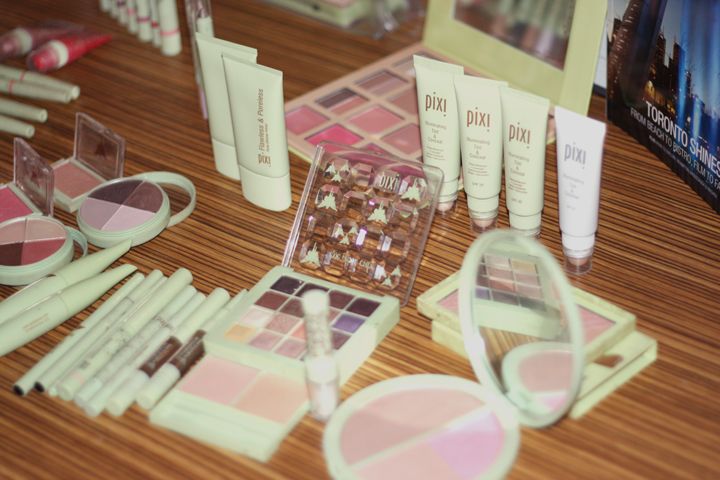 More makeup goodies
Soft Focus Fresh Palette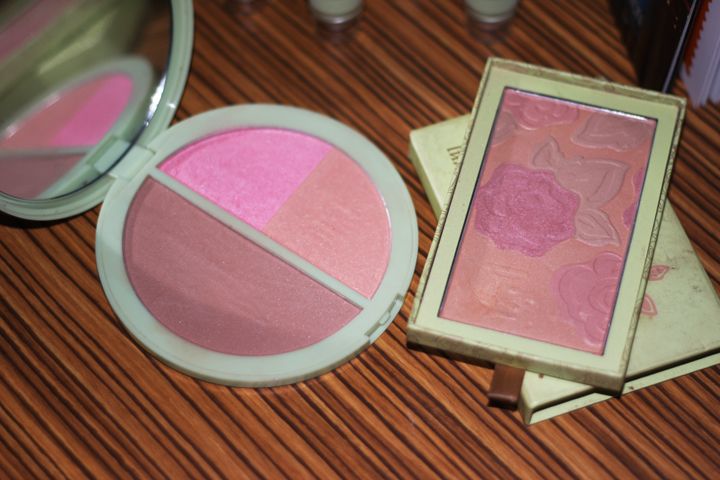 Left: Bronze Bloom Trio, Right: Lumi Lux Radiance Powder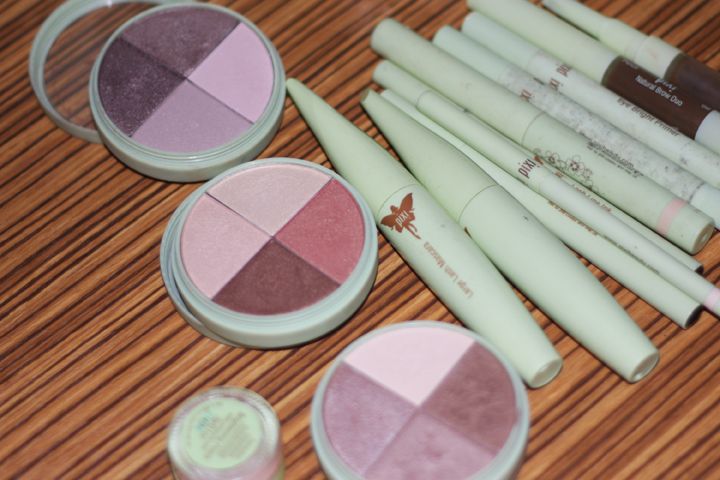 Eyeshadows, mascaras, eyeliner, and other goodies!
I can't get over how cute the packaging is for the eye glow cube!
Lumi Lux Radiance Powder with the beautiful but slightly rubbed off emboss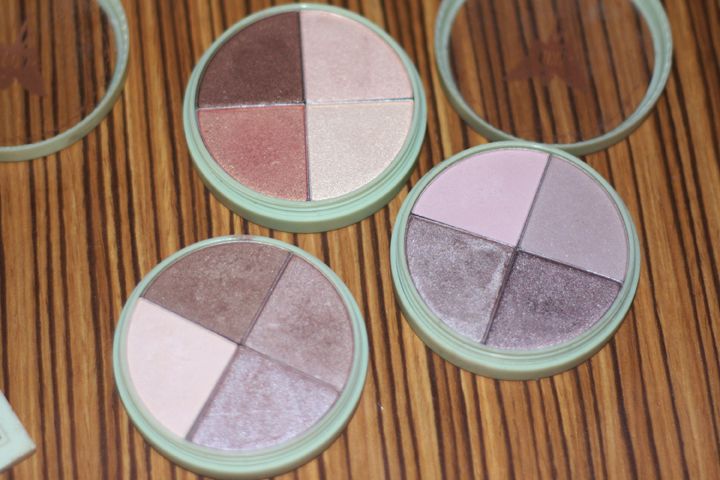 Shade Quartettes
After a few hours of chatting about makeup and life, we parted with the lovely Amanda, who has to go and catch a flight soon after! She came all the way from the UK just for us. I feel so special and thankful! We are also sent home with a few "start products" in Amanda's book to try out. Yay!
The goody bag... (aka what you'll need for makeup when you go in labour LOL)
From left to right: Tinted Brilliance Balm in Rosy Red, Eye Glow Cube,
Flawless & Poreless, and Endless Silky Eye Pen in Copper Glow
A huge thanks to Anjali from Rock That Look for organizing this event and Amanda for flying all the way from UK to talk to us about PIXI Beauty! I had so much fun, as always, hanging out with my fellow TOBBs. It has been a while since we got together! And it's such a nice brunch to get to know more about each other and learn about PIXI, a brand that is new to Canada! I will keep you guys posted about these products that I got. But I can already tell you the
Endless Silky Eye Pen
($15.00 / £11.00) are awesome because I had a black one before and I loved it! Also, if you're in the market of a new highlighting eyeshadow, try their
Fairy Light Solo in Champagne Glow
($15.00 / £10.50 - online only)! I use it regularly as my inner corner highlight as well as all over shadow! The great news is that the Canadian price of their products is the same as the US price... So FINALLY, we're at par... for PIXI at least... haha...
So that's it for now! If you want to check out what we did during the brunch, you can go on Twitter or Instagram and used
#PIXIBrunchTO
to catch up! Be sure to keep an eye out on PIXI Beauty that will be available in the newly arrived Target near you, most of their products, including the new
PixiGlow collection
featuring
Tinkerbell
artwork will be available in Canada! Also, don't forget check out my fellow Toronto Beauty Bloggers' blogs and PIXI Beauty if you haven't already.
Until next time, take care!
x Rica
P.S. Updates on where I have been coming up soon...