Almay Skipped the BB,and Jumped Right Into the CC Cream | CC Cream Review & Swatches
Almay Smart Shade CC Cream complexion corrector in 100 Light
By now, you probably have heard and read a lot about BB Creams. What about CC Creams? Almay is launching their own version called Almay Smart Shade CC Cream Complexion Corrector* (CA $16.95) in June 2013 in Canada (I believe they're already out in the US).
Almay Smart Shade CC Cream complexion corrector in 100 Light
It claims that it is a moisturizing corrector that act as a primer and foundation. Like BB Creams, their CC Cream has makeup and skincare benefits, and "works even harder to colour correct for a beautiful, even skin now and over time". At first application, I did notice that my skin looks very glowy and moisturized. It is a comfortable formula that won't make my skin feel tight. It gives a radiant finish that many prefers. I personally prefer a more matte finish because of my oily skin type, so I would definitely set it with powder.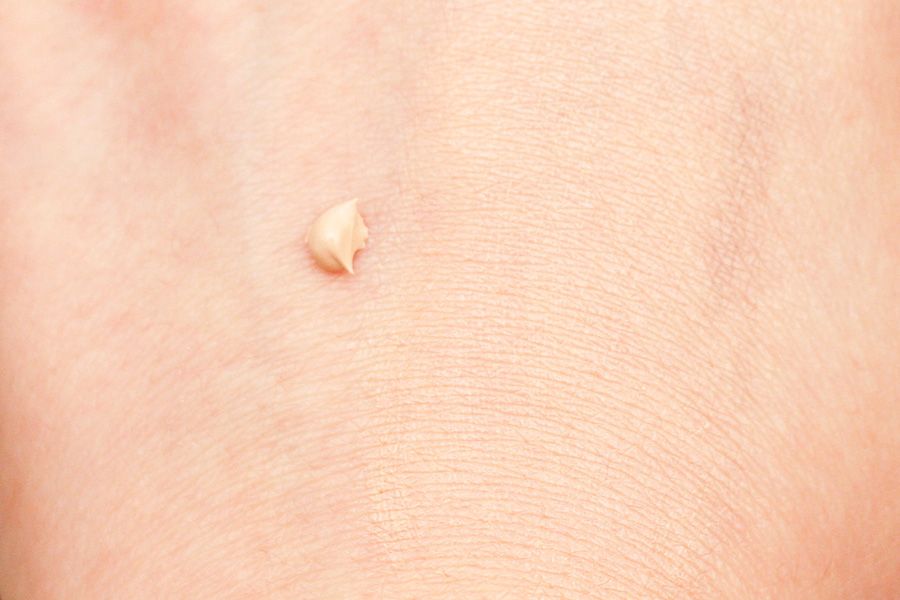 Swatches from L to R: non blended, slightly blended
The wear of this CC Cream is alright on my oily skin. I find that I need to retouch after 4-5 hours, mainly blotting and reapplying blot powder. But the moisturizing feeling stays for the entire day. It has light to medium coverage (more on the medium side) that is better than many BB Creams on the market. It feels quite light on the skin but still noticeable. Since it's very dewy, it doesn't look entirely natural if I wear it on its own (but that might well be because of my oily skin). If you have normal or dry skin, I think this will be perfect because of its hydrating property. It is hypoallergenic, oil and fragrance free, which is great for sensitive skin as well.

Check out a before and after below:
From L to R: Before and After Almay CC Cream
The Almay CC Cream comes in 3 shades: Light, Light/Medium, and Medium. I think that Light is a great match for me (I'm currently around NC20 to NC25), especially with their Smart Shade technology that is designed to match your skin tone when it sets. However, for my darker-skin gals, you are out of luck here because the darkest shade Medium is not that dark (I'd say anyone darker than NC 45 will not be able to use it).
Almay also claims that among the women who have tried their CC Cream, "70% reported the clarity and texture of their skin was visibly improved in just two weeks". I haven't notice a major change in my skin yet, so I can't comment on the skincare benefits. But I'm looking forward to seeing improvement to my skin (mainly to eliminate my discolouration).
Squeeze tube usually won't fail you
There's nothing to complain about the sanitary squeeze tube package. Sometimes I prefer pump but only if they are good. Whereas squeeze tube always get the job done!
A nice size tube
Overall, it is a not bad first CC Cream for me. It is not ground breaking but I did enjoy using it for the most part. The best feature about this product is the ability to match your skin tone. I do feel that it matches my skin quite well, so don't be put off by the shade range, test it out on your hand in store to see if it works for you. I will recommend it for people with less oily skin because of how dewy this product is. If you're as oily as me, I'd say wait for the next best CC Cream that caters to our skin type. However, I'd still use it to see if it can improve my skin texture over time.
| | |
| --- | --- |
| Price: | 7.5/10 |
| Quality: | 8/10 (7/10 for oily skin) |
| Longevity: | 7.5/10 (7/10 for oily skin) |
| Practicality: | 8/10 |
| Packaging: | 9/10 |
| | 8/10 (7/10 for oily skin) |
Don't forget to enter my blogaversary / 100th post / blog makeover
GIVEAWAY
! I'm giving away a
Too Faced Boudoir Soft & Sexy Eye Collection
!
Until next time,
x Rica
Twitter | Bloglovin' | Instagram | Pinterest
*

Disclaimer: Products mentioned in this post were provided to The Office Chic for review consideration (noted with asterisk). As always, all the opinions expressed here are my own and are in no way influenced by any advertiser, affiliate, public relations firm or brands.