Annabelle Online Shopping is Up and Running, and They're Taking Orders for Canada and the U.S.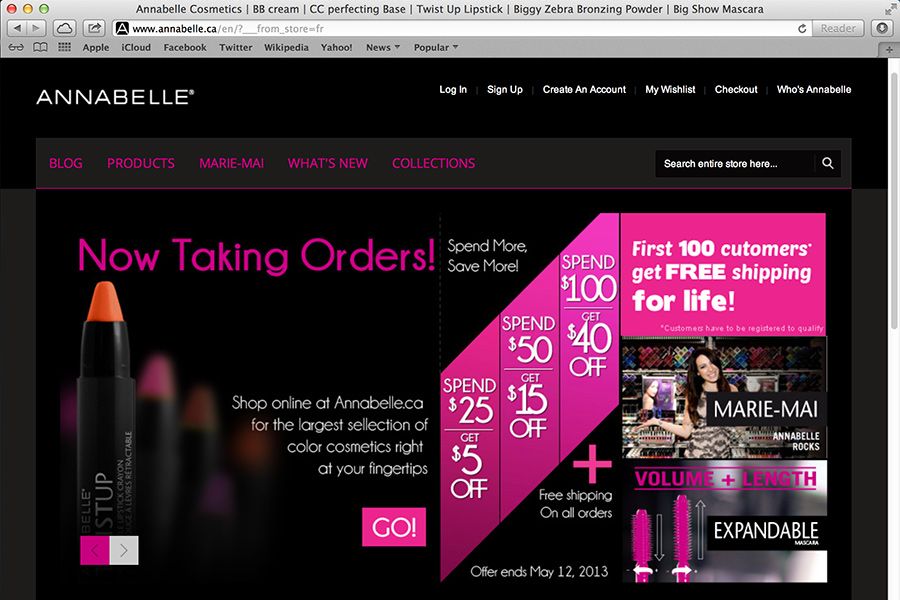 Last night I got an exciting news that the Canadian own Annabelle Cosmetics now has a online shopping site! Hurray! To celebrate their new shopping site, Annabelle is have a promotion for its customers for a limited time (online only)!
Spend $25 and get $5 off your orders

Spend $50 and get $15 off your orders

Spend $100 and get $40 off your orders
Now, you don't have to be a Mathie like me to figure out the discount (of course, the $40 off $100 is the best deal). If you are new to Annabelle and not ready to commit, no worries, Annabelle is also offering free shipping on all orders until May 12! So for those of you who have been wanting to try their Smoothliner but don't have Annabelle near you, now its time!
If you're ready to try Annabelle out but don't know what to get, let me help ya. To get you started, let me share with you a few must-haves from Annabelle...
Also, my wishlist...
I feel like I'm like an infomercial guy, but there actually is more. To add a cherry on top of the sundae, if you're one of the first 100 people register your online consumer profile and benefit from free shipping, you will get free shipping for life!
Don't forget to enter my blogaversary / 100th post / blog makeover
GIVEAWAY
! I'm giving away a
Too Faced Boudoir Soft & Sexy Eye Collection
!
Until next time,
x Rica