L'Oreal Paris Nail Art Workshop with MANicurist Tom Bachik
May 14, 2013
• Beauty, Events, L'Oreal Paris, Manicure, Media Coverage, Nail Art, Nail Polishes, Nail Stickers, Nails, News, Press-On Nails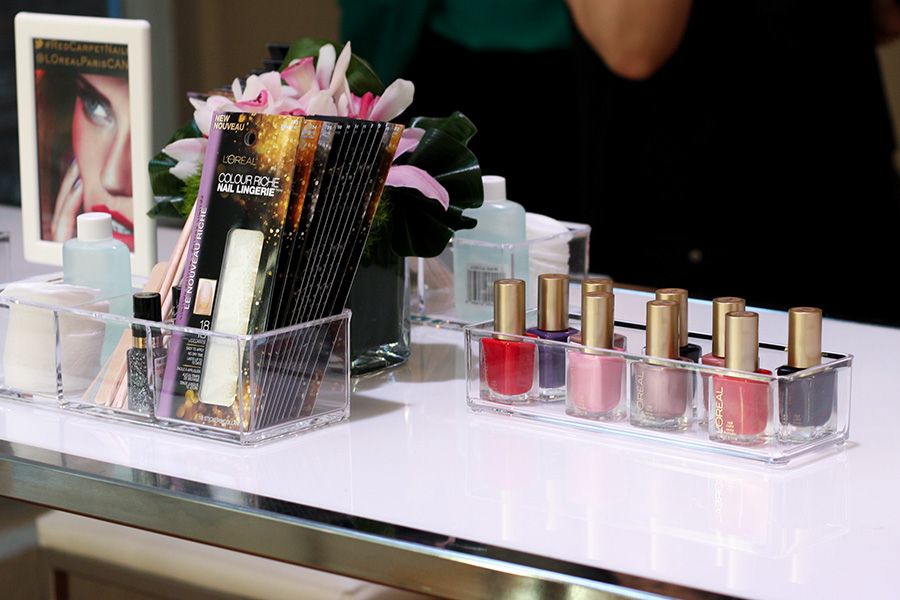 L'Oreal Paris Red Carpet Nail Art Workshop work station
Last week, I had the opportunity to attend a nail art workshop with L'Oreal Paris Celebrity Manicurist, Tom Bachik. Tom's work has been featured on numerous red carpets and magazines. Some of his celebrity clients include Anne Hathaway, Jennifer Lopez, Gwen Stefani, Mila Kunis, and Zooey Deschanel, just to name a few. So it's natural for me to get SUPER excited about this workshop.
Hugo (left) and Tom (right). HI TOM!!!!!
Tom introduced himself by telling us a little bit about how he turn from a skateboarder/graffiti artist into, what he likes to refer himself as, MANicurist. I love hearing about his stories and humour. He is just a lot of fun and very nice!
During the interactive workshop, we got to try out some of L'Oreal Paris's new products to test them out.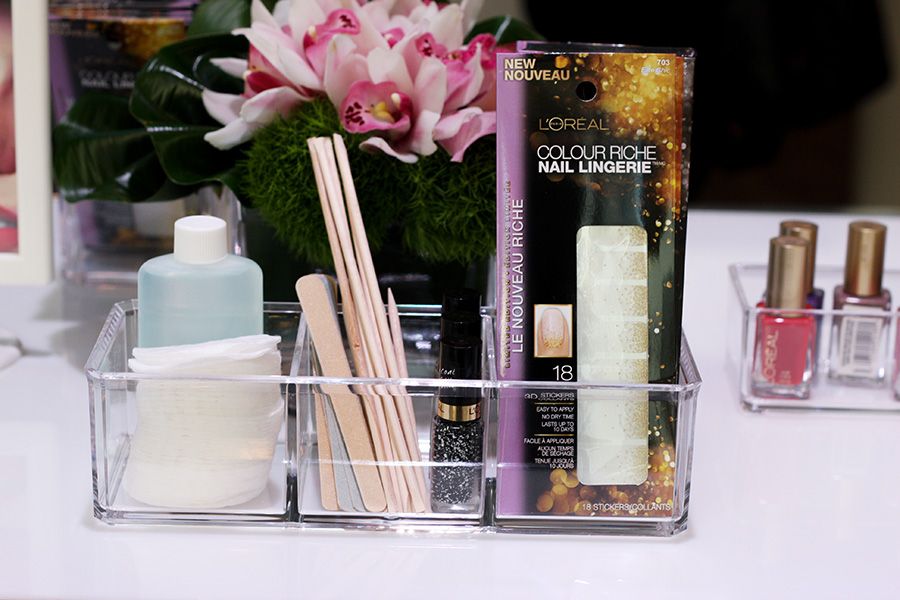 First we got to test out some newly formulated Colour Riche Nail Colour (CA $6.99).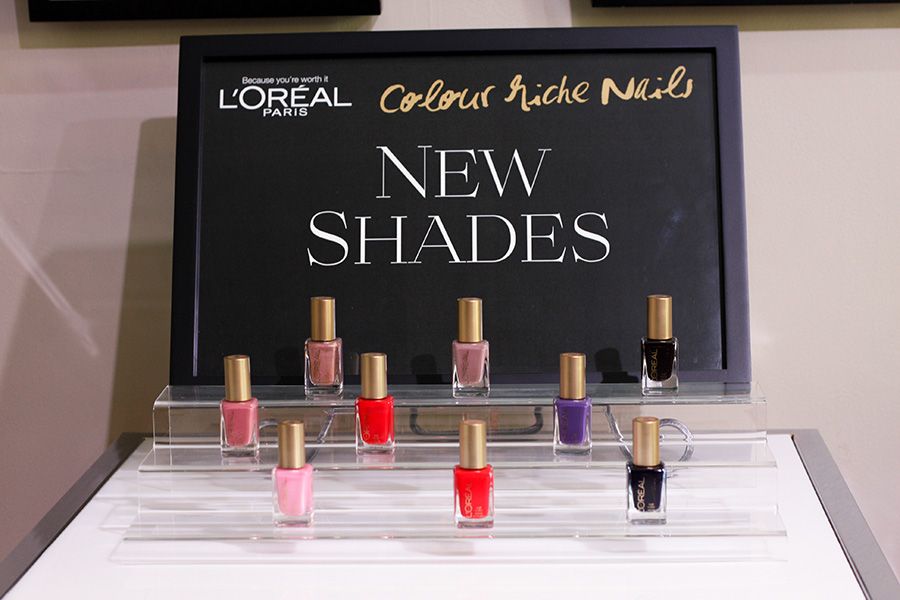 New Shades of Colour Riche Nail Colour
A total of 9 new shades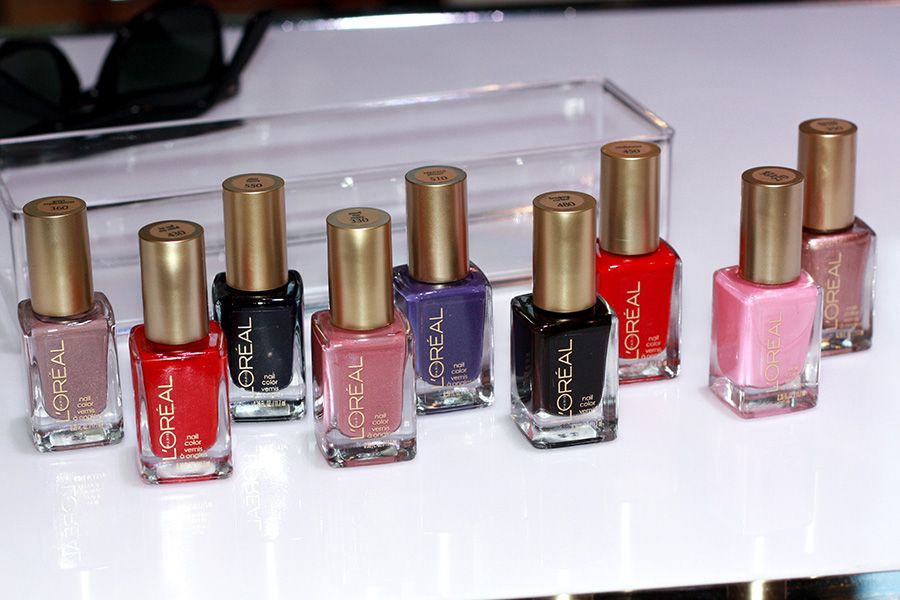 From L to R: Greyt Expectation, He Red My Mind, After Hours, Smell the Roses
Paparazzi Pleasure, Breaking Curfews, Rendez Vous, I Pink I'm In Love,
Charmed I'm Sure
Adding to the existing family of nail polishes, are 9 new shades that feature a glossier finish that can last up to 10 days. Also new with these 9 shades is an easy-to-use brush that provides a smoother application. I love that these new colours are so pigmented that you can get by with just one coat!
Next Tom asked us to try out some of the new Colour Riche Nail Top Coats (CA $6.99) to add some fun and dimension to the nail look.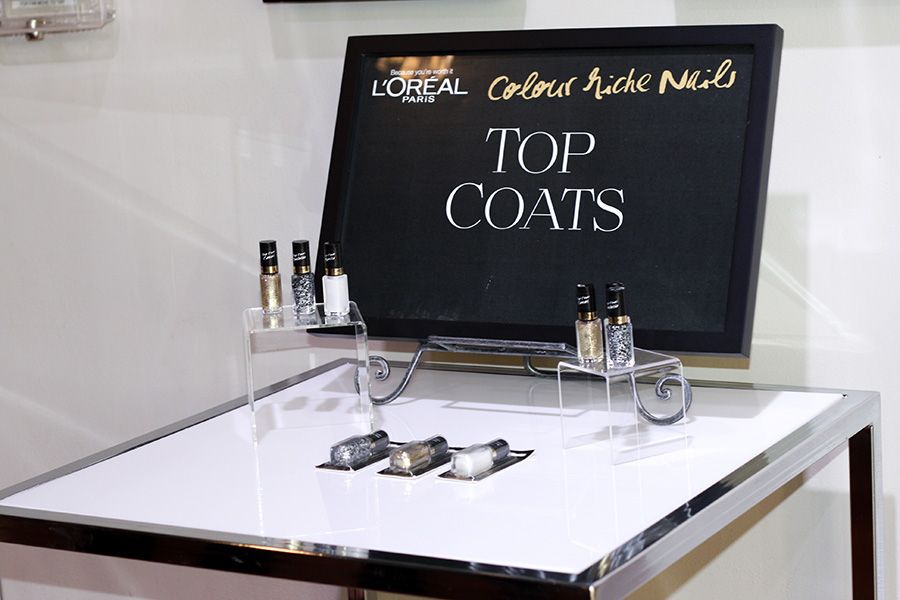 3 of the 6 new Top Coats!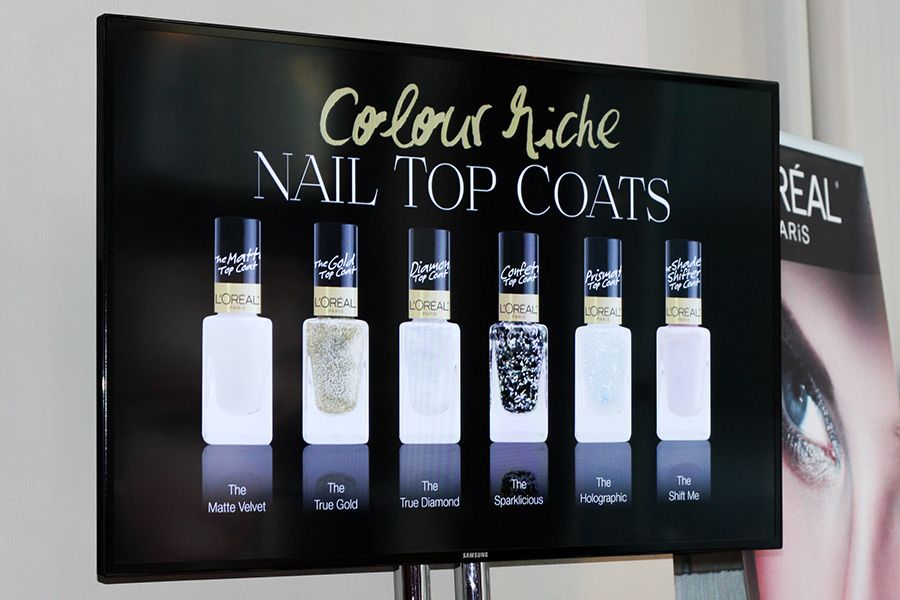 6 new Colour Riche Nail Top Coats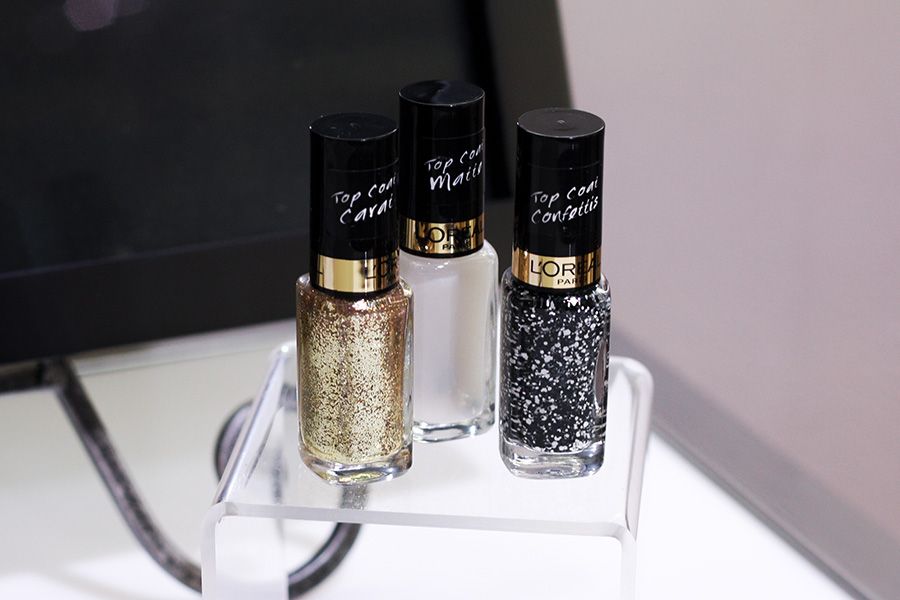 From L to R: The True Gold, The Matte Velvet, The Sparkilicious
Adding a sparkly top coat is one of the easiest way to achieve more unique nail art. A total of 6 finishes to choose from, this new line of top coats claim to "give your nails an instant haute-couture wardrobe" as it adds sparkles, shimmers, or a matte effect to your nail colour. My favourite of the bunch has got to be the Sparklicious. This black and silver glitter is just so unique and gives an edgy but glam feel to your nail art (which also happen to be the best selling shades among these top coats in Europe).
Of course there's more than one way to dress up your nails. L'Oreal Paris is releasing the first 3D transparent nail art stickers,
Colour Rich Nail Lingerie
($9.99).
Colour Riche Nail Lingerie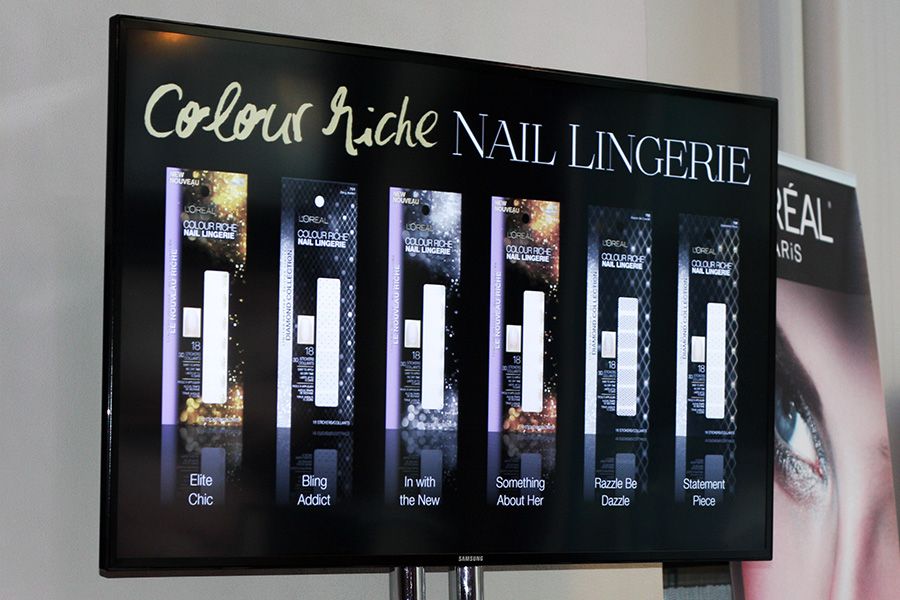 6 different glam nail lingerie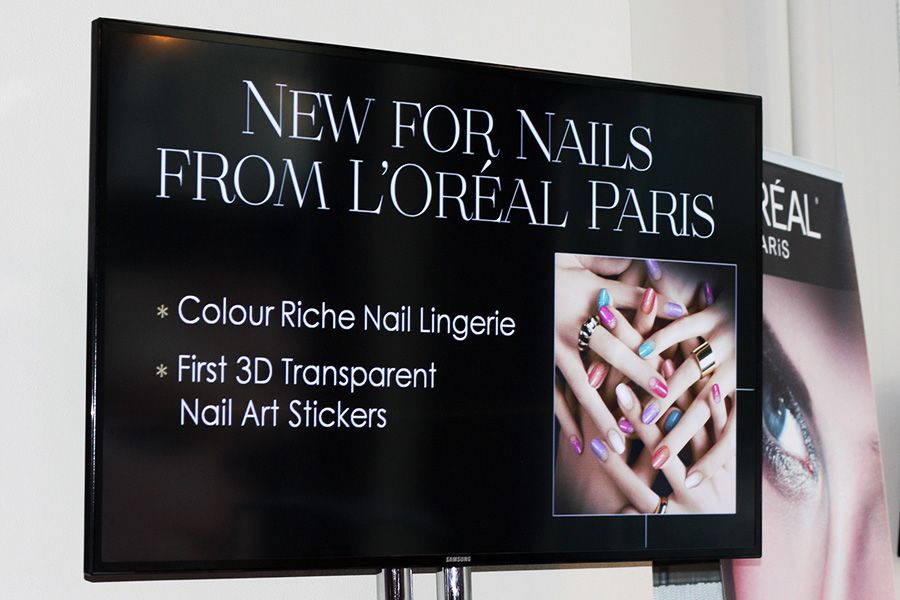 No drying time needed and it's one of the easiest and fastest way to add some gorgeous 3D effect on top of your nail polishes to spice things up. Or you can wear it alone, like I tried in the workshop. All 8 of them are very wearable for many occasions (I'd wear them to work, already done that). For someone who's as clumsy as me, it might take an application to get used to it, but it's quite easy to master it. This is definitely a fun and quick way to experience nail art.
Last but not least, L'Oreal also unveiled their Colour Riche Nail Press-On Couture (CA $14.99). Tom said it used a new "flex-nails" technology that the material is thinner and more flexible to fil the natural nail shape of its user. But the coolest thing about these press-on nails are the designs.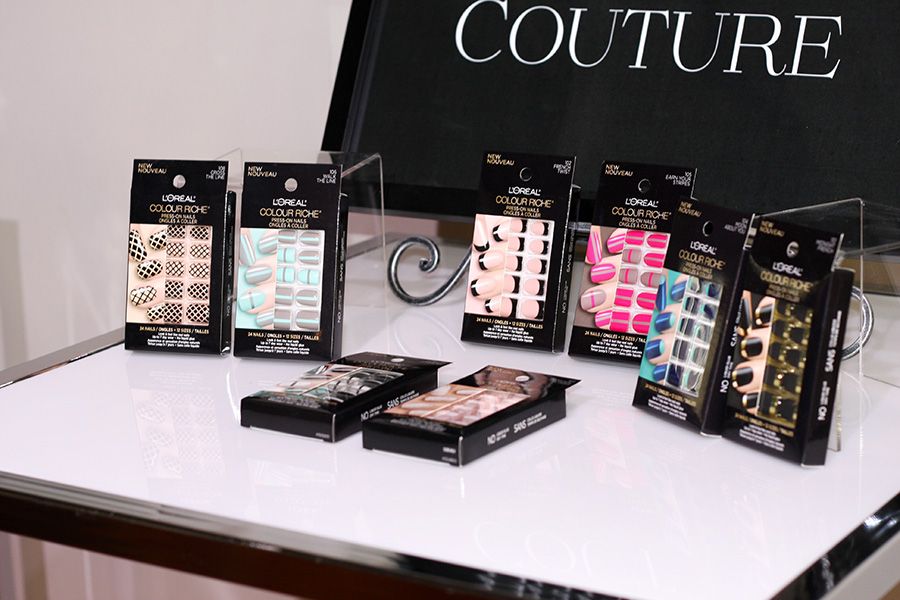 8 new Press-On Couture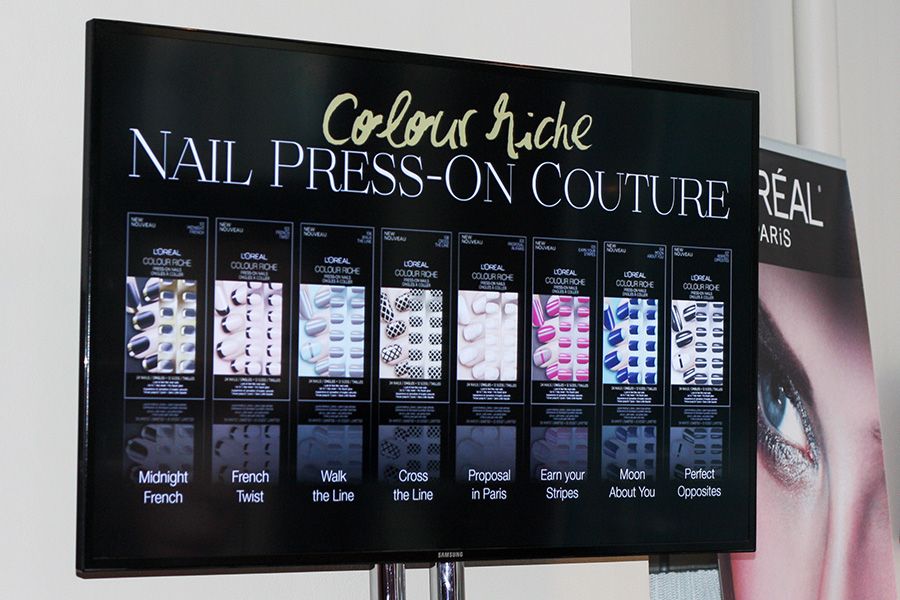 From L to R: French Twist, Earn Your Stripes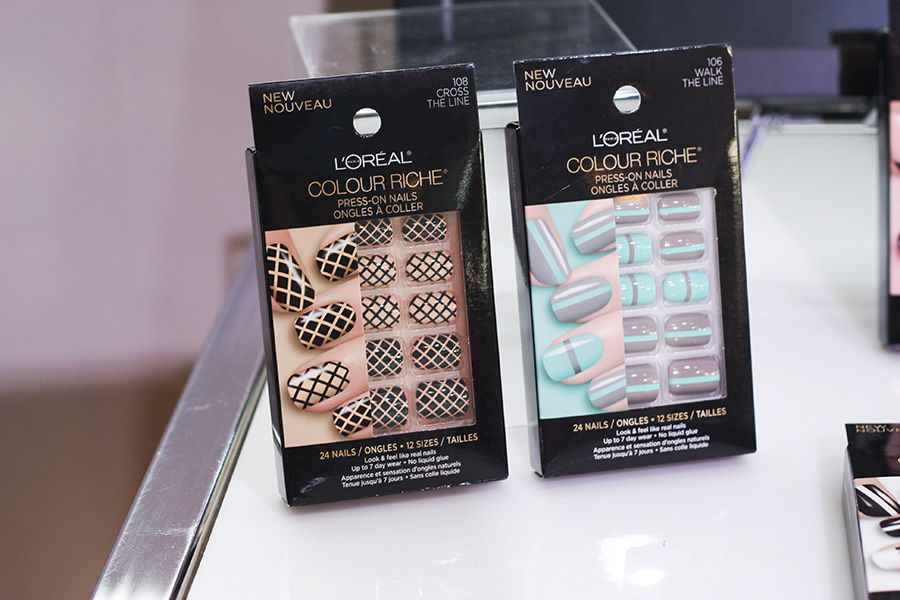 From L to R: Cross The Line, Walk The Line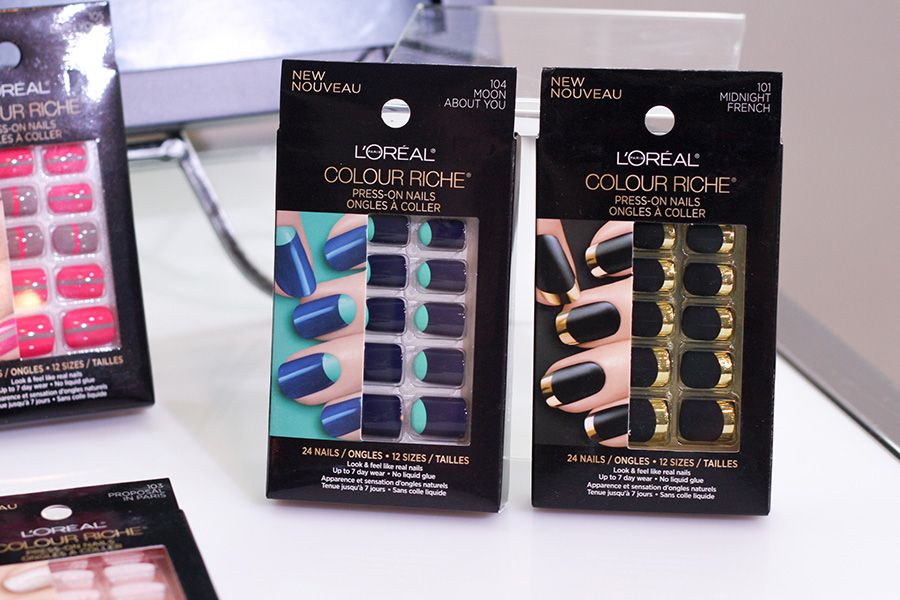 From L to R: Moon About You, Midnight French
There are in total 8 runway-inspired modern designs for you to choose from. I have my eyes on Midnight French, which is a matte black with gold french-tip... Seriously, how cool is that!
Tom also talked about some of the hottest nail trend in 2013: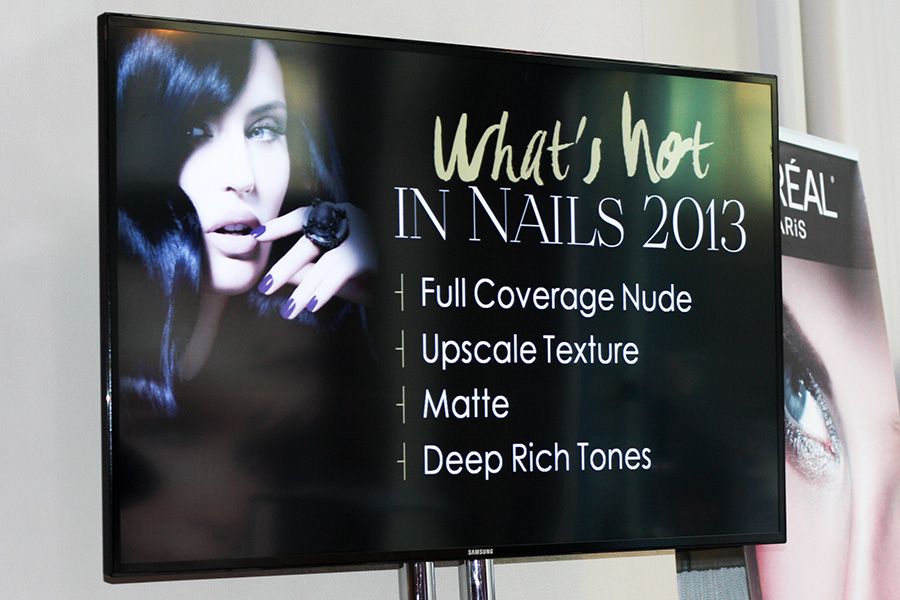 What's Hot in Nails 2013
Full coverage nude: Nude nails are nude shoes, but instead of making your legs appear longer, they elongates your fingers. You might think this trend has been done so many times, but it turns out it is here to stay.
Upscale texture: Juvenile sparkles and stickers are out, the mature upscale texture nails are in. Lots of celebrities are glammed up with 3D textures and diamond sparkles.
Deep rich tones: On the red carpets, these are not only for the Winter, but also all year round.
Matte Nails: Originally gotten popular among guys wanting manicured-but-not-shiny nails, this trend has been seen all over the red carpet among celebs.
I had so much fun participating in this workshop, playing with new products and learning about nail art and how it is becoming a huge part in many people's beauty routine. When being asked what he likes about his job, Tom response that "something as little as a manicure can change a woman's demeanour". Aren't we just all like that? We all feel good after getting a mani/pedi. Mood is brightened up after getting our nails painted in a new colour. I totally agree that manicure is one of the best affordable luxury because it just make you feel good for a small price.
So I'm going to be spending the next few weeks playing around with new nail colours, top coats, nails lingerie, and pressies... I hope you have a nice manicured day!
Until next time,
x Rica