Montagne Jeunesse Join the Revlolution Clay Spa Launch | Product Launch
May 16, 2013
• Beauty, Events, Masks, Masques, Media Coverage, Montagne Jeunesse, News, Product Launch, Skincare, Spa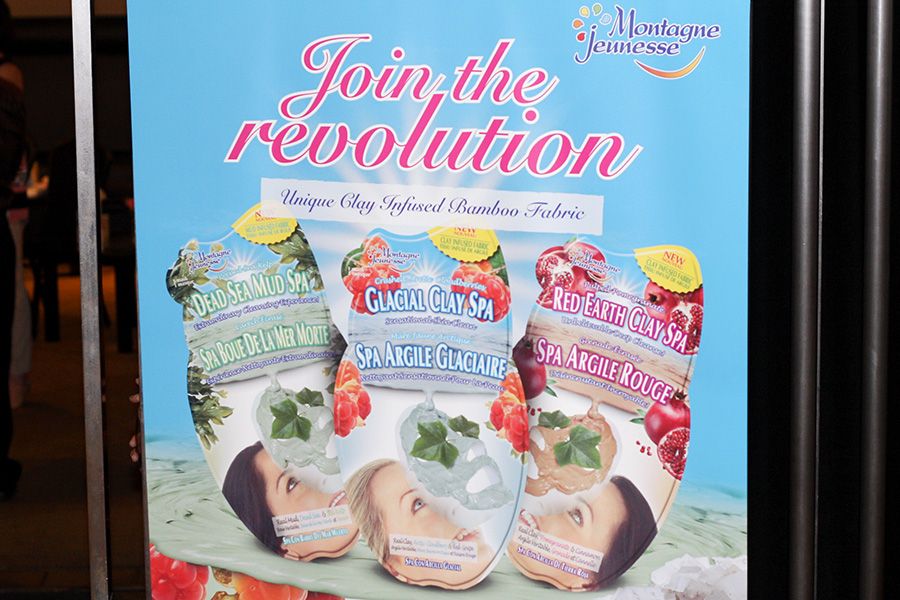 When I think of Montagne Jeunesse, I think of their Cucumber Peel Off Face Masque that I have used and repurchased for numerous times since I was a teenager. Their extensive selection of masks always draw my attention whenever I pass by their stand. It's such an easy way to get a little at-home facial that will not make a dent in your wallet. Thanks to Farleyco, I got a chance to preview their new skincare revolution. Low and behold, they have developed a range of new masques that makes at-home pampering even easier and provides greater results but less mess — Montagne Jeunesse Clay Spa*.
Summary of features of the new Clay Spa
The new Clay Spa consist of 3 "ground-breaking" masks that are 99% natural and offers a "superior cleansing experience". It is the first of its kind that is designed to have "specially sourced clays infused into Natural Bamboo Fabric", which makes "deep cleansing quicker and easier". There are 3 new masques being launched in this collection:
Glacial Clay Spa:

Filled with anti-oxidant, the Red Grape and Artic Cloudberry in the masques sooth, protect and heal skin. The base is Glacial Clay which gives a cooling feeling while rehydrates and deep cleanses your pores.

Dead Sea Clay Spa

: This masques contains Dead Sea Mud to unclog pores and Dead Sea Salt to heal your skin. It also have Kelp that nourishes and helps with anti-aging, as well as Seaweed that rehydrates and firms your skin.

Red Earth Clay Spa:

With the Mediterranean Clay in the mask, it detoxes the skin by drawing out impurities from pores and removes excess sebum. It also contains anti-bacterial Cinnamon and anti-oxidant Pomegranate to protect your skin from free radicals.
The video shows you how some women felt before and after using these masks.
During the launch session, we got the chance to test out these new masques at the spot. I bravely took off all my makeup (because I was having a good skin day, thank goodness), and tried on the mask. My first impression, well, the mask I had on was the Red Earth Clay Spa masque, I definitely "scared" a couple beauty bloggers... I was dubbed as the "photobombing monster" by a certain blogger *cough* Esther *cough*
Jokes aside, I do think that my skin feels quite clean and smooth after, which I think would be great for my oily skin if I include it in my weekly skincare regimen.
This range of masque has an interesting and practical concepts. It is designed to combine the benefits of mud/clay masque and sheet masque. which in turn they hope to encourage people to incorporate a deep cleanse masque in their weekly rituals. I wouldn't say it's mess-free, but it definitely creates a smaller mess than your traditional mud or clay masque and it's more user friendly.
Montagne Jeunesse Clay Spa, from L to R: Glacial Clay Spa,
Dead Sea Mud Spa, Red Earth Clay Spa
These masques shall be popping up at your local Walmart, London Drugs, and Lawtons starting now (Lawtons in June). And they are retail for CA $2.49. For less than $3, you get an at-home pampering, I think it's worth every penny. But if you're still skeptical, try their best selling Cucumber Peel Off Face Masque first! It's my favourite since junior high!
There is a special promo on Farleyco going on, where you get a free Clay Spa Masque with any order until June 31, 2013!
So long weekend is coming up, I know I will be putting on a masque or two (or three, depending on the time) to deep cleanse and treat my skin (also to test these new masques out for review). Cucumber Peel Off and Glacial Clay Spa are waiting for me. What about you? Will you be joining their revolution and try out their Clay Spa Masques?
Don't forget to enter my blogaversary / 100th post / blog makeover
GIVEAWAY
! I'm giving away a
Too Faced Boudoir Soft & Sexy Eye Collection
!
Until next time,
x Rica
Twitter | Bloglovin' | Instagram | Pinterest
*

Disclaimer: Products mentioned in this post were provided to The Office Chic for review consideration (noted with asterisk). As always, all the opinions expressed here are my own and are in no way influenced by any advertiser, affiliate, public relations firm or brands.