My Spring/March-to-April 2013 Favourites!
May 1, 2013
• Accessories, Beauty, Benefit Cosmetics, Chanel, Elizabeth Arden, essence, Fashion, Favourites, Jack Black, Jewelery, L'Oreal Paris, Maybelline, Revlon, Spring, Too Faced
Spring/March-to-April 2013 Favourites!
It has been so long since I have done a post on my favourite products at the moment, so since I did discover some goodies in the past few months, I thought I'd share what they are!
First up, face makeup. Since the weather has been nicer lately, I've been reaching for my dear friend — Chanel Vitalumière Aqua Ultra Light Skin Perfecting Makeup in B20.
Chanel Vitalumière Aqua Ultra Light Skin Perfecting Makeup in B20
I think I've mentioned it a couple times in the past, and it's safe to say that it's probably one of my all time favourite because it's the only bottle of foundation that I am finishing up. It gives a skin-looking finish while providing good medium coverage (for me anyway) with a subtle satin finish. It is moisturizing yet light-weight, and it does a quite decent job staying put on my oily skin.
Since Summer is coming up, I have been changing it up with my blushers. I was obsessed with Benefit Box O' Powder in Hervana for the entire winter, but recently, I have using her older sister, Bella Bamba, pretty much exclusively.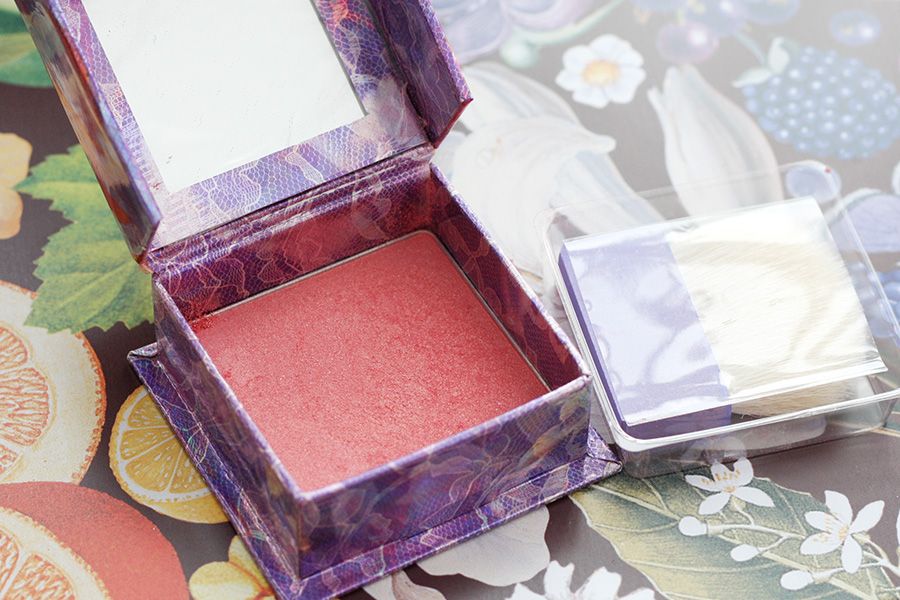 Benefit Bella Bamba Box O' Powder
It is a watermelon colour with fine gold glitter. The shimmer is very subtle and it gives your cheeks a very nice healthy glow. It is also very pigmented, so I usually take a stippling brush like MAC 187 to apply it or I will use a blush brush like MAC 168 to lightly dab into the powder and pounce it on my cheeks.
For eye makeup, you all know how much I like
Too Faced Boudoir Eyes Soft & Sexy Eye Shadow Collection
already...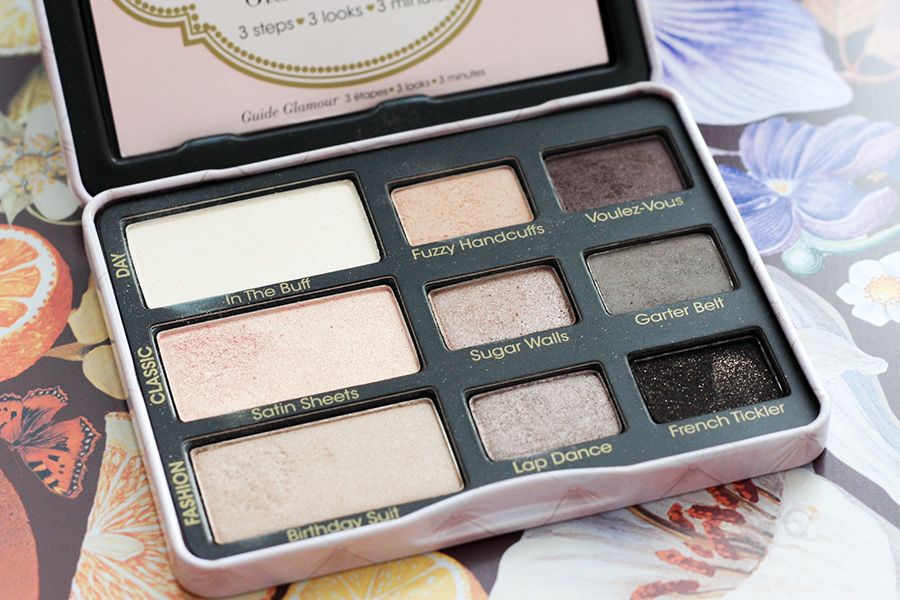 Too Faced Boudoir Eyes Soft & Sexy Eye Shadow Collection
I use it every time I wear eye shadows since I got it (either a full look with these shadows, or I'll use 1 or 2 colours from the palette). So go check out my full review to see why I like it so much!
I have also been loving these two drugstore gems! Yes, everyone should check them out because they're affordable and very good quality products.
From L to R: Maybelline Color Tattoo in Bad to the Bronze
and Essence Gel Eyeliner in Midnight in Paris
I like to use the Maybelline Eye Studio Color Tattoo 24HR Cream Gel Shadow in Bad to the Bronze as a base for all my eye shadow looks. I would also wear this colour alone because it gives a 3 dimensional look even on its own. But I love most about its staying powder, this baby ain't going no where. Speaking of no budge, essence Gel Eyeliner in Midnight In Paris 01 sets the bar so high, even MAC Fluidline can't match. It lasts all day long on my lids and it's the only thing that holds up on my waterline. This also means taking it off is a pain in the butt, but, well, "you win some, you lose some".
I'm still not done with eye makeup, I've been loving the look of mascaras and I rarely leave the house without it. In particular, I've been loving L'Oreal Voluminous Million Lashes Mascara* and Revlon Lash Potion by Grow Luscious Volume and Length Mascara*, both in Blackest Black.
While I love them both, these two mascaras perform quite differently on me. The L'Oreal Million Lashes comes in a plastic brush with lots of long and short bristles that coat all the lashes, even the tiny ones that I didn't know I have, with colour and to add thickness to the entire look.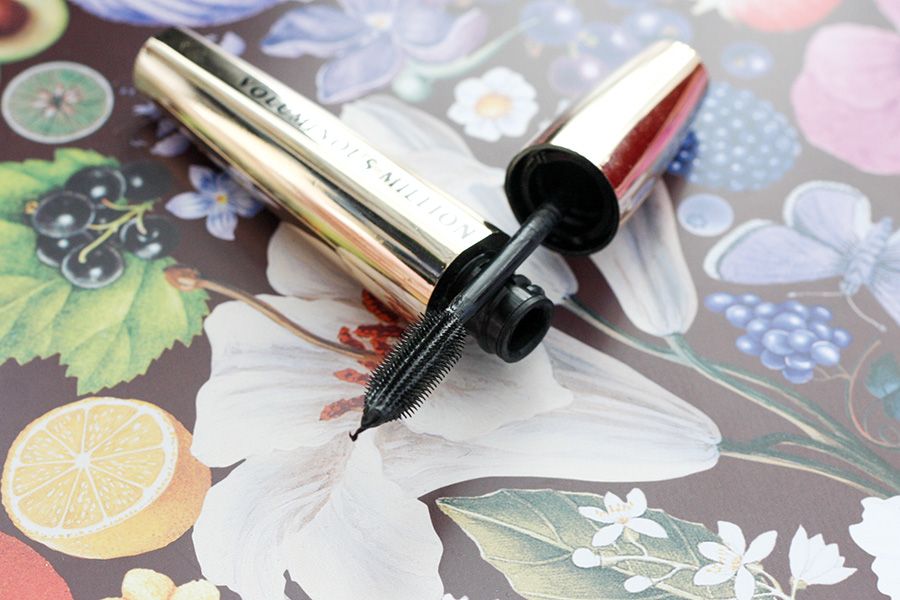 L'Oreal Voluminous Million Lashes Mascara in Blackest Black
It also does a very good job of separating my lashes. It is a rather wet formula so it takes a little bit of time to dry down.
Revlon Lash Potion on the other hand comes in a traditional looking brush, but they call their wand the "Illusionist Wand". It does a great job providing both length and volume and the best part is that it holds my curl ALL DAY LONG.
Revlon Lash Potion by Grow Luscious Volume and Length Mascara
They give me two different look depends what I want to go for. I really like both of these mascaras so I think a review on each of them is in order.
Now for lips. I always love a subtle lip colour for any day and my lips are quite chapped, so these two lippies were great for me for the past few weeks.
I already wrote about why I like Maybelline Color Whispers by ColorSensational in Petal Rebel. But in short, I like that it's moisturizing and gives a subtle pop of colour on my lips. For intense moisturizing, I use Jack Black Intense Therapy Lip Balm in Natural Mint*. It's great because it does exactly what it says, intense moisturizing.
Here are some swatches of all the makeup products mentioned...
From L to R: Maybelline Color Tattoo in Bad to the Bronze, Chanel Vitalumiere Aqua in B20
Jack Black Lip Balm in Natural Mint, Maybelline Color Whispers in Petal Rebel
Essence Gel Eyeliner in Midnight in Paris, and Benefit Bella Bamba
I also have one skincare favourite: Elizabeth Arden PREVAGE® Anti-aging Moisture Cream Broad Spectrum Sunscreen SPF 30.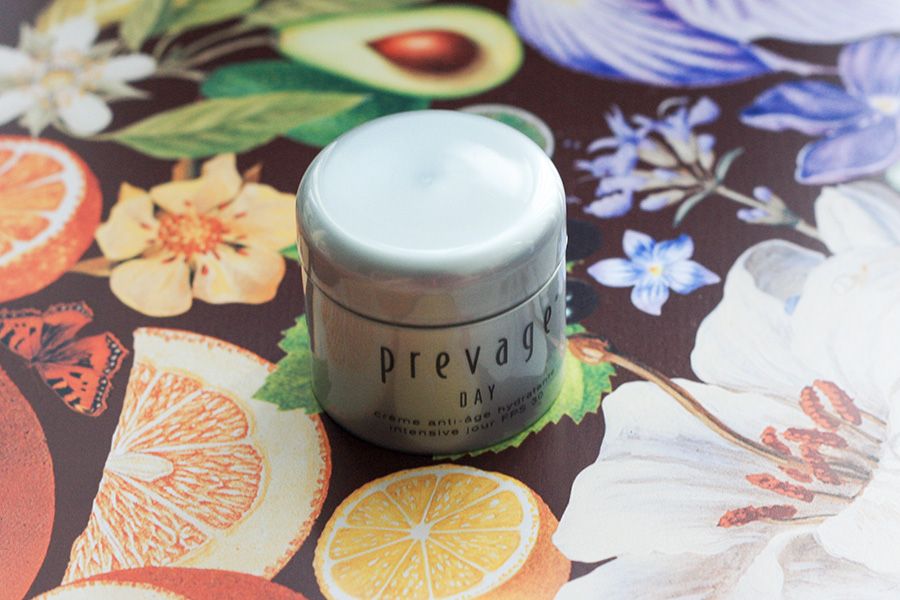 Elizabeth Arden Prevage Anti-aging Day Cream
You may think that it might be too heavy for my oily skin, but it's not. It gets absorbed to my skin fairly quickly so I am leave with fresh skin without those greasy film. I also like that it has SPF 30, so then I can get by even if I forget sunscreen in the morning. The one shown here is a tiny sample that I got from Glossy Box, I already purchased a full size to add to my everyday skincare regimen!
I also want to add two fashion favourites. I have been wearing the two accessories below a lot.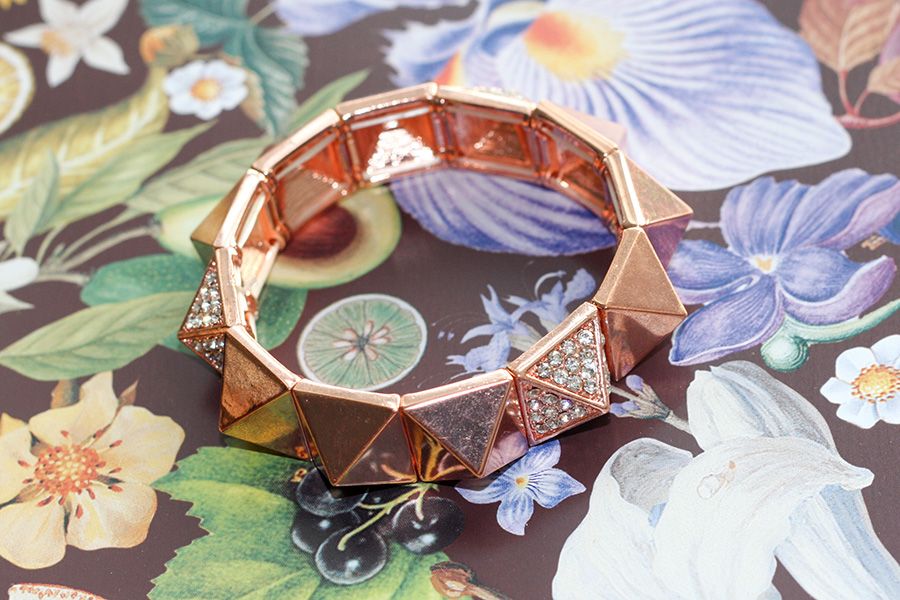 Rose Gold Spike bangle from Urban Outfitters
I am quite obsessed with rose gold, still, so this was a no brainer for me. Fun fact, I actually got it for one of my band performances last year but I didn't wear it a ton until recently.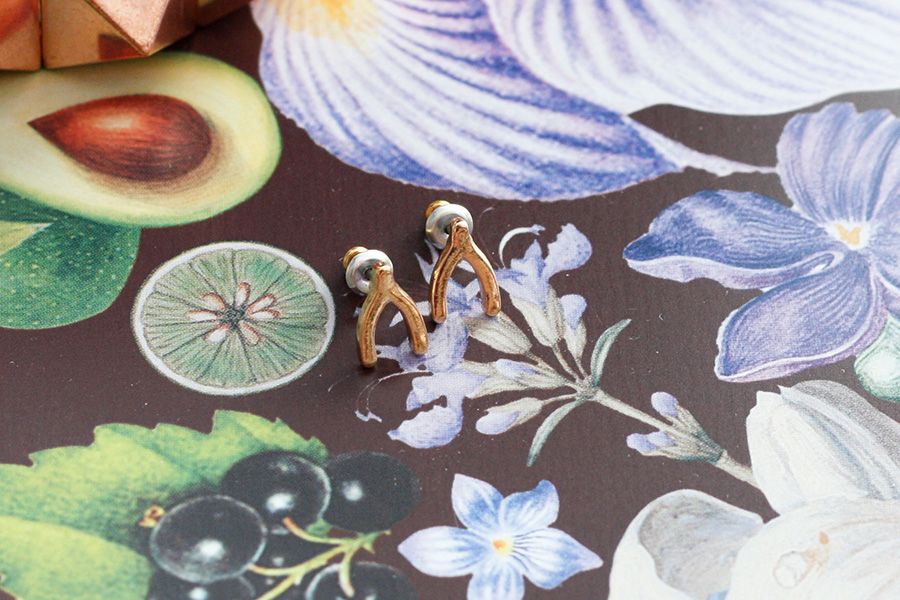 Wishing Bone Earrings from Forever 21
I have also been wanting something with wishing bone on it, and these earrings from Forever 21 are cute and SUPER affordable. You just can't go wrong with a pair of earrings under $2!
So that's it for my super duper long favourites post. It's been months so I wanted to include as many things as I can remember. But I'm gonna let you go now. Thanks so much for sticking till the end!
Don't forget to enter my blogaversary / 100th post / blog makeover
GIVEAWAY
! I'm giving away a
Too Faced Boudoir Soft & Sexy Eye Collection
!
Until next time,
x Rica
Twitter | Bloglovin' | Instagram | Pinterest
*

Disclaimer: Some of the products mentioned in this post were provided to The Office Chic for review consideration (noted with asterisk). As always, all the opinions expressed here are my own and are in no way influenced by any advertiser, affiliate, public relations firm or brands.