Real Techniques by Samantha Chapman Single Face Brushes | Review & Photos
Real Techniques by Samantha Chapman Single Face Brushes
Who's a fan of Pixiwoo on YouTube? (One hand up). Who's a brushaholic? (Both hands up). So Real Techniques by Samantha Chapman brushes seem like must-tries for me. Many people like to try their brush sets out, but I opted to try the single brushes out. I have 5 single face brushes here to share with you.
First of all, let's talk about what they all have in common. The make of the brushes are excellent. The bristles are made with hand-cut synthetic taklon, which are 100% cruelty free. They are quite soft, but not the softest that I have felt. What I like the most about the bristles is that they don't shed. The worst thing is when you have to pick hair out of your face when you're already in a hurry in the morning. Each brush comes in an aluminum handle that covers about 2/3 of the whole handle, and the remaining 1/3 is plastic with flat bottom. The flat bottom comes in handy because your brush can actually stand up on its own, so it's quite good for storage.
Real Techniques Powder Brush
Real Techniques Powder Brush Close Up
This is the largest brush among the 5 face brushes I got. The bristles flare out from the base and come to a rounded top. It is a big, fluffy brush with the just right amount of density to help dispense product on your face. It feels really soft when you glide it on your skin; however, it is slightly pokey when you try to stamp it on your face, which is what I usually do. Like its name suggest, I use to to apply setting powder on my face. If I want an allover bronze glow, I would use it lightly to apply a lighter bronzer. But I would stay away from using a darker bronzer, because I'm just afraid that I will get too dark.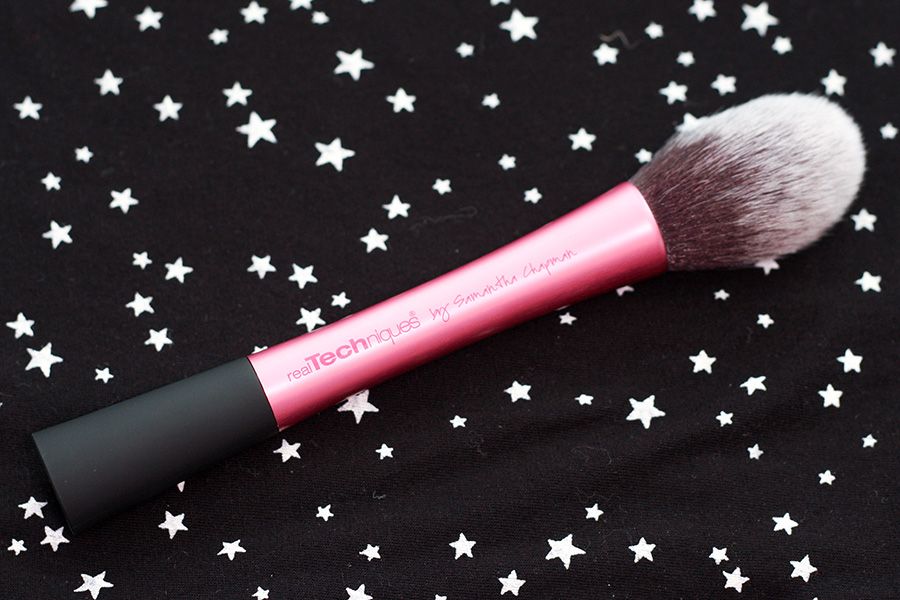 Real Techniques Blush Brush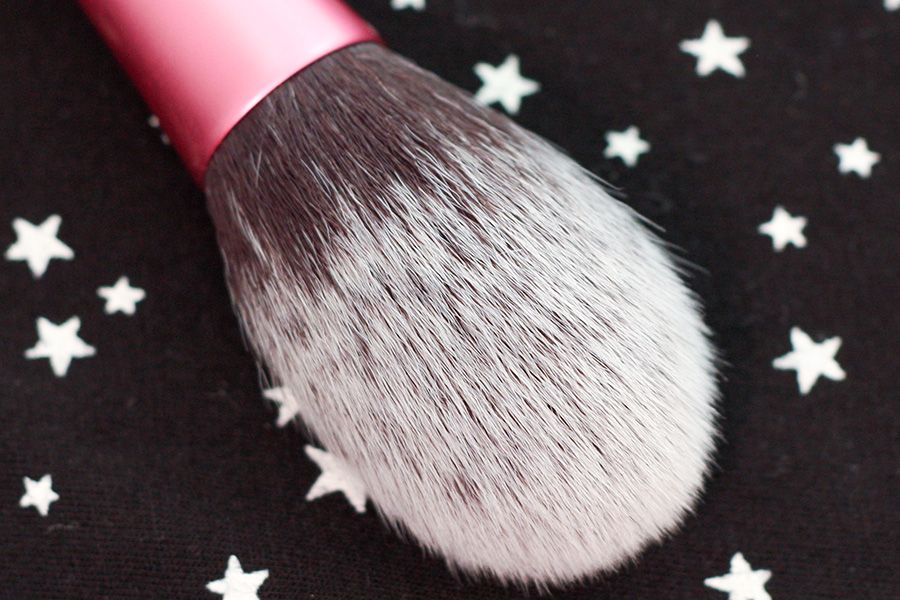 Real Techniques Blush Brush Close Up
The Blush Brush is a taper face brush that reminds me a little bit of MAC 138. It is quite dense but because it tapers up, the bristles are still very movable. It is not normally a brush I would use for blush, I prefer an angle brush such as MAC 168, or a stippling brush like MAC 187. But regardless, I did try it for blush. I can't say I'm used to it, but it does its job. I would place the brush on my cheek and sweep it towards my temple, and repeat until I get the intensity I want. Another use of this brush is contouring. It is great for this purpose because of the tapered shape that allows you to control where to put your powder precisely. You can also blend it out by pressing a little more against the face.
Real Techniques Expert Face Brush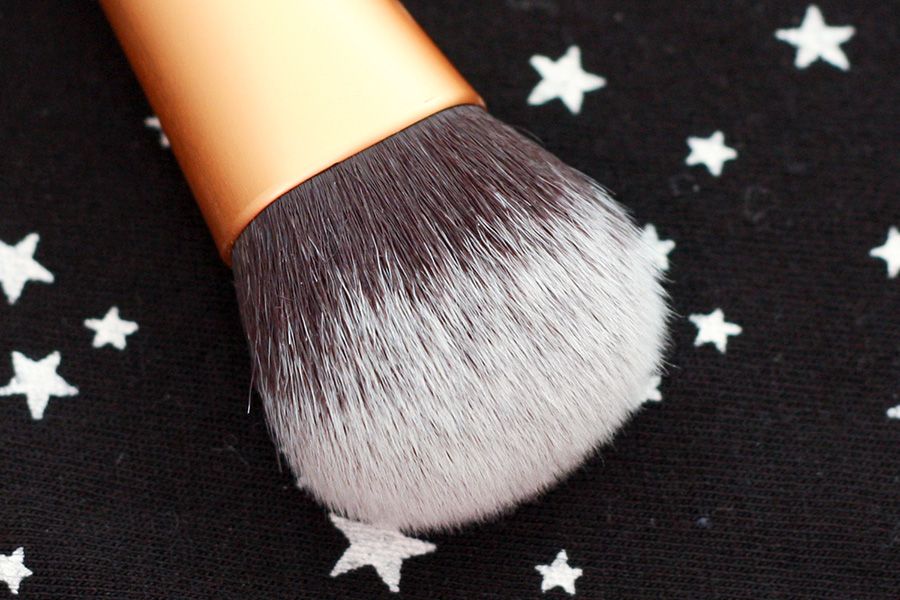 Real Techniques Expert Face Brush Close Up
This is the softest brush among all the face brushes here. I can't stop petting it when I first got it. I was also a little confused by it because it seems too dense and chubby for anything. But it turns out to be a great brush for both foundation and cream blush. It is a short paddle to apply the product, but it has a thick body so it also doubles up as a buffing brush. It does a great job at blending cream blushes for a soft natural finish. While I like to use it to buff out cream products, I also like to use it with liquid foundation. But mind you because it's so dense, chances are it'll soak up quite a bit of products. So it might be a good idea to spray some water/fix+/makeup spray to dampen it first before picking up liquid product.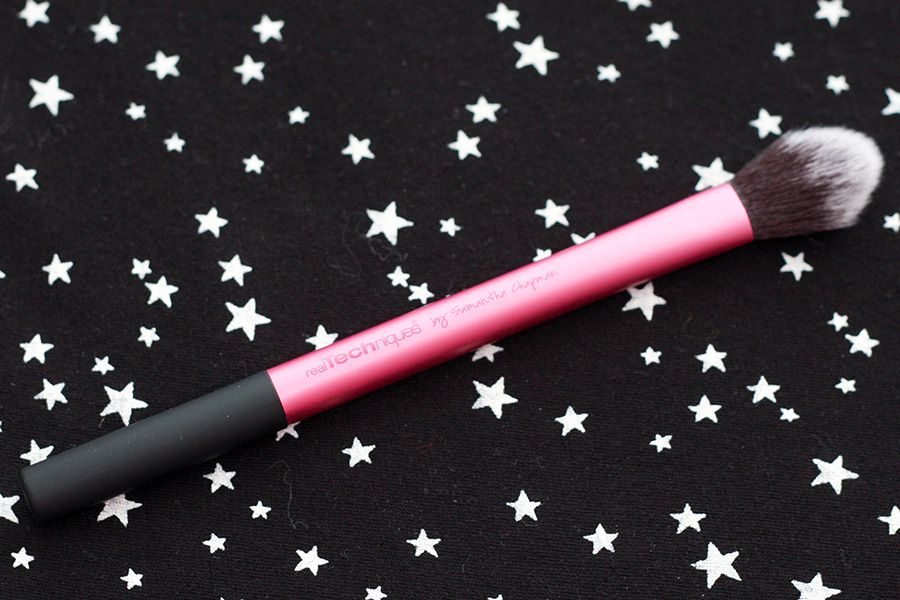 Real Techniques Setting Brush
Real Techniques Setting Brush Close Up
The naming of this brush confused me a little because if I were to set my face with powder, I wouldn't go for a tiny brush like that. I have used it to blend out concealer, which works quite well under my eyes. On other area, I prefer using, say, the Expert Brush or the Stippling Brush. I like to use the Setting Brush to set my concealer with my trusted Benefit Powderflage (which is sadly discontinued). I have also used it for contouring my nose and highlighting the high points of the face. It's not a must-have because it's not very versatile, but definitely a nice-to-have that I will keep on using.
Real Techniques Stippling Brush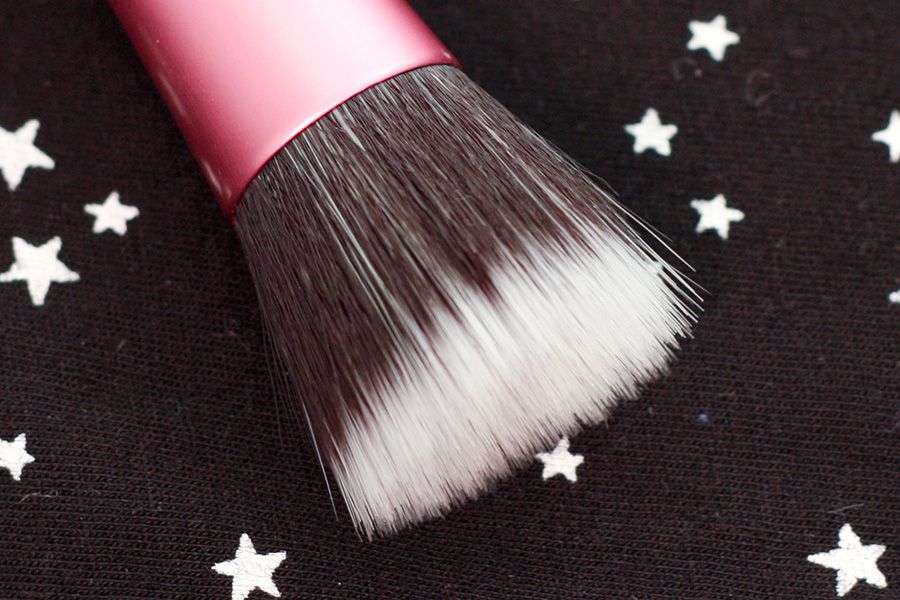 Real Techniques Stippling Brush Close Up
I'm saving the best for last (but there's no particular order for other brushes mentioned in this post). I originally thought I would use the Stippling Brush for cream brushes. While it does a good job at that, my favourite way to use the brush is with foundation, liquid or cream. It helps to blend the foundation onto the skin in a beautiful "airbrush" finish (I have used it with Chanel Vitalumière Aqua, Lancôme Teint Idole, and the Almay CC Cream). No streaks, no foundation line, it's a great brush for applying foundation.
Overall, I don't really have any complaints for these brushes. My top pick among the five is definitely the Stippling Brush because I just love the finish it gives when I use it for foundation. But if you were a brushaholic like me, get more because they're amazing quality for the price you're paying. Now I just want more brushes from them. Make Up Artist and YouTube sensation Samantha Chapman knows her stuff and knows what brushes are great for pro and at-home use! And for
The Real Techniques by Samantha Chapman brushes are currently available on Farleyco in Canada (free shipping over CA $50) and Ulta in U.S.
(free shipping over US $50).
I know they started selling their brushes on
the official website
as well, but if you live in Canada or U.S., it's probably more economical to shop local :).
I have heard a lot of good things about the Real Techniques brush "collection", I think I am going to try one of them soon. If you have them, let me know which collection you like the best.
| | |
| --- | --- |
| Value: | 8/10 |
| Quality: | 8.5/10 |
| Longevity: | 8/10 |
| Practicality: | 9/10 |
| Packaging: | 9/10 |
| | |
Don't forget to enter my blogaversary / 100th post / blog makeover
GIVEAWAY
! I'm giving away a
Too Faced Boudoir Soft & Sexy Eye Collection
!
Until next time,
x Rica
Twitter | Bloglovin' | Instagram | Pinterest
*

Disclaimer: Some of the products (or colours/shades) mentioned in this post were provided to The Office Chic as press samples (noted with asterisk). As always, all the opinions expressed here are my own and are in no way influenced by any advertiser, affiliate, public relations firm or brands.