L'Oreal Paris Colour Riche Nail Lingerie is the nail stickers for grownups | Review, Photos, & Swatches
June 3, 2013
• Beauty, L'Oreal Paris, Nail Art, Nail Stickers, Nails, News, Office Friendly, Product Photos, Review, Swatches
L'Oreal Paris Nail Lingerie
When I think about nail stickers, I always think of the ones with funky design that make me say the famous line in Lethal Weapon: "I'm too old for this s..."... well... stuff! Sometimes, I do play with those cute designs (did that last halloween), but I just end up wanting to hide my nails when I'm at work because they're a bit too childish. But the new L'Oreal Paris Colour Riche Nail Lingerie* (CA $9.99 / US $8.95) is another story.
Available starting this month (June 2013), the Nail Lingerie comes with a
more sophisticated and grown-up design (and even name), which are office friendly at the same time.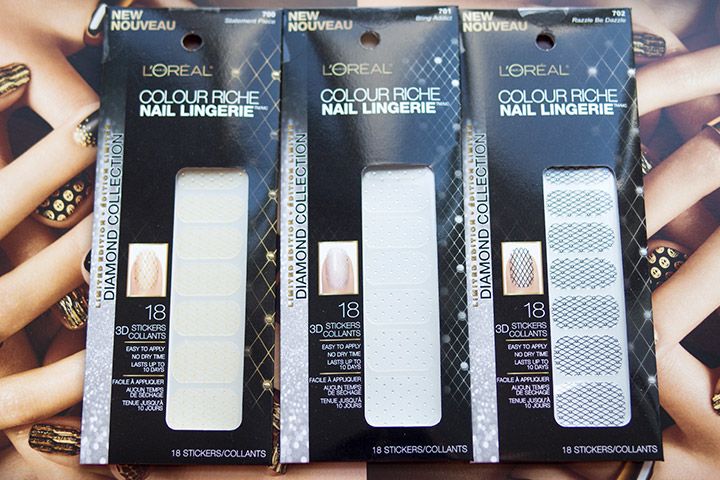 L'Oreal Paris Nail Lingerie Diamond Collection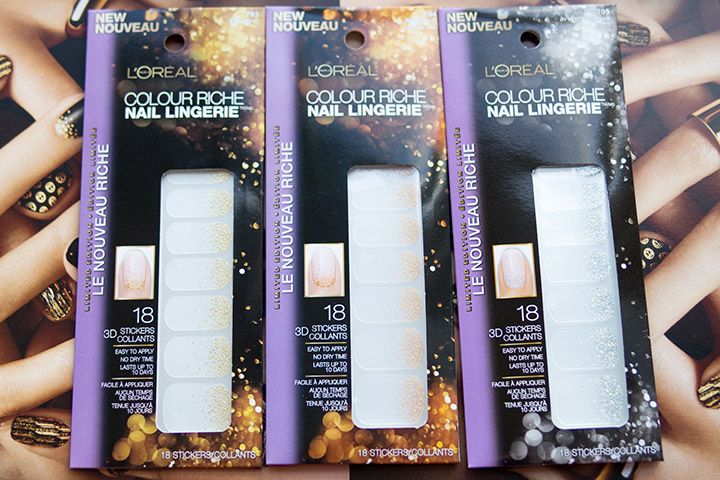 L'Oreal Paris Nail Lingerie Limited Edition Le Nouveau Riche from the Cannes L'Or collection
The Nail Lingeries are designed to be cutomizable. You can wear them with nail polishes to spice things up, or wear them on bare nails to keep it a little subtle. The accent nail trend is still going strong, and this just provides another way to add the accent. Usually the design for accent nail would be glitter or another colour of nail polish. With the Nail Lingeries, after painting your nails with one colour, stick one on your accent nail (for me it'll be the ring finger) and you're done!
Inside the packet
Easy application in 3-4 steps
The application of the L'Oreal Paris Nail Lingerie is quite simple. And once you get used to it, working with these will only take you about 10 minutes for both hands, less if you're less clumsy than me.
Pick a size that fits your nail.

Take the sticker out and stick on your nail.

This is optional, but you can pinch the sides together or fold it on your finger, whichever you think is easier for the next step.

File the excess away, and voila!
Inside the packet, it comes with 18 stickers, so most people can find a good size-match for your nails. During the interactive nail workshop with L'Oreal Paris Celebrity Nail Expert Tom Bachik, he taught us that when choosing the right size for your nails, go for a size bigger after you match one with your bare eyes through the transparent base. This is to take the curve of your nails into account. Then, I asked the million dollar question (ha!)... "What if my nails are between size?" Tom's solution is to choose the size up, and only leave one side of excess to trim.
Top Row (L to R): 703 Elite Chic, 704 Something About Her, 705 In With the New
Bottom Row (L to R): 700 Statement Piece, 701 Bling Addict, 702 Razzle Be Dazzle
The wear of these Nail Lingeries is quite nice, but it depends on how well you put it on. If it was not applied flat (i.e. there're bubbles or fold on the nail), then it won't wear as well. I managed to have them on for a week with very minimal chipping because I had an uneven nail, where a small part of my nail peeled off before the application :(. For this, I discovered a quick fix, apply a nail filler, or simply a top coat to "filled" the unevenness. Top coat also come in handy when the sticker feels a little loose, you can use them to glue the sticker back on to further promote the wear.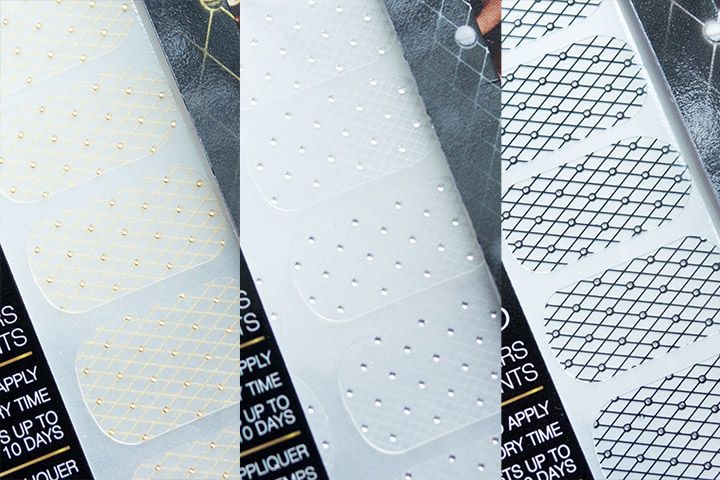 L to R:
700 Statement Piece, 701 Bling Addict, 702 Razzle Be Dazzle
L to R: 703 Elite Chic, 704 Something About Her, 705 In With the New
Overall, the quality and design of these nail stickers are excellent. I love that they could be used alone or in conjunction with nail polishes.
Price is about the same as a regular nail polish, which can be a little steep for just one application. But it's around the same price tag as other nail stickers.
The designs are fun but sophisticated, so it's perfect for those of you, like myself, who works in a professional office environment, where cutesy design might not be appropriate. I would highly recommend you to check these out if you're in the market for new nail art products, or if you're like me, who want to have fun with nail art but need to keep it professional.
| | |
| --- | --- |
| Value: | 8/10 |
| Quality: | 9.5/10 |
| Longevity: | 9/10 |
| Practicality: | 10/10 |
| Packaging: | 9.5/10 |
| | |
Don't forget to check out the
current giveaway
on The Office Chic for the
Benefit Cosmetics x Matthew Williamson The Rich Is Back Makeup Kit
!
Until next time,
x Rica
Twitter | Bloglovin' | Instagram | Pinterest
*

Disclaimer: Products mentioned in this post were provided to The Office Chic for review consideration (noted with asterisk). As always, all the opinions expressed here are my own and are in no way influenced by any advertiser, affiliate, public relations firm or brands.