Early Fall Beauty & Fashion Favourites 2013 | L'Oréal, BECCA, Dior, Jouer, NARS, Benefit, Per-fékt, Chanel & more!
September 18, 2013
• Beauty, BECCA, Benefit Cosmetics, Chanel, Dior, Fashion, Favourites, Forever 21, J.Crew, Jouer, L'Oréal Paris, Lululemon, NARS, Per-fékt, Summer, ZARA
I may have skipped a couple months of favourites because the past Summer has been incredibly busy for me, so I've been keeping my makeup to the minimal. So it makes more sense to accumulate a few months of favourites into one, even though it would make this post incredibly long... So let's jump right in.
Complexion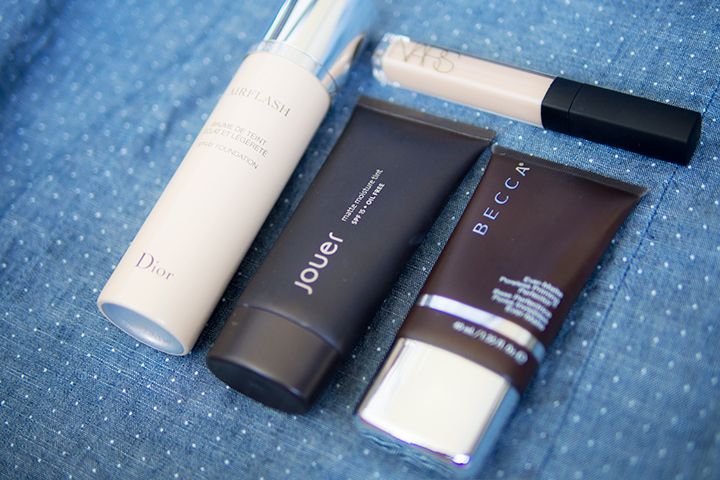 L to R, T to B: Dior Diorskin Airflash Spray Foundation, NARS
Radiant
Creamy Concealer, Jouer Matte Moisture Tint, BECCA Ever Matte Poreless Priming Perfector
BECCA Ever Matte Poreless Priming Perfector
It's a perfect primer for you all oily skin gal out there. You can use this before or after makeup because it acts like a liquid blotting paper. I like that it keeps my face matte for hours. My face is definitely less oily throughout the day. I do, however, need to touch up if I'm going to have an extra long day. I would rub some between my fingers and pat onto the face, easy piecey.
Dior Diorskin Airflash Spray Foundation
This stuff is actually great. I was surprised because I always thought it was a gimmick, but it gives a beautiful satin finish and pretty good coverage. If you're in a hurry, you could spray this on and blend it out with a brush then you're good to go (for the face anyway). I like to spray on my face once and spray some on the back of my hand and use a brush to add extra coverage if I need to.
Jouer Matte Moisture Tint
It's been hyped up by a lot of YouTubers during the Summer. I feel they all got sent and were asked to include it in their videos because the reviews all sound the same. Nonetheless, I still got sucked in to buy it when I visited NYC in July. It has good coverage for a "tint" and it's truly matte but not cakey, which certainly does live up to the hype. You do have to beware that its lasting power is about as good as a tinted moisturizer, but at least it is comfortable to wear throughout the day. You'll definitely need a powder to touch up throughout the day.
NARS Radiant
Creamy Concealer
Another really hyped up product, and this one has become my holy grail concealer. It has great coverage, super creamy and very long lasting. It's not crease-free, unfortunately, on me at least, but nothing a few patting with the fingers can't fix. I like to use it on my under eye area as well as on my spots. It really just excels in covering imperfection!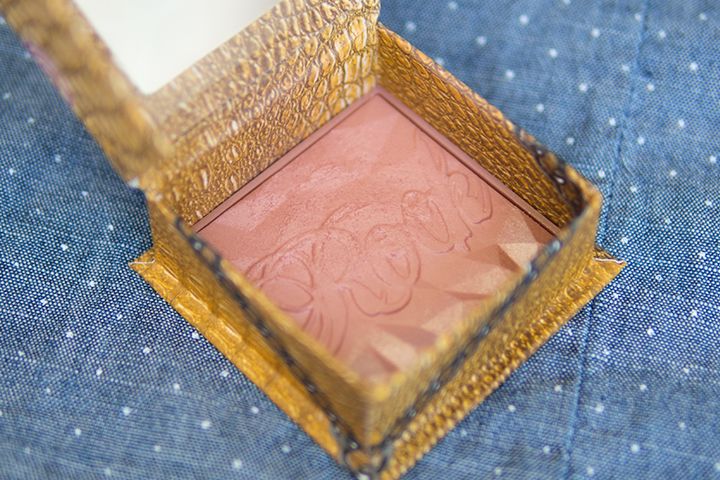 Benefit Rockateur Box o' Powder
*
I have not stopped wearing this since I got it. It gives a truly lovely and natural blush colour on me. Check out my detail review here.
Skincare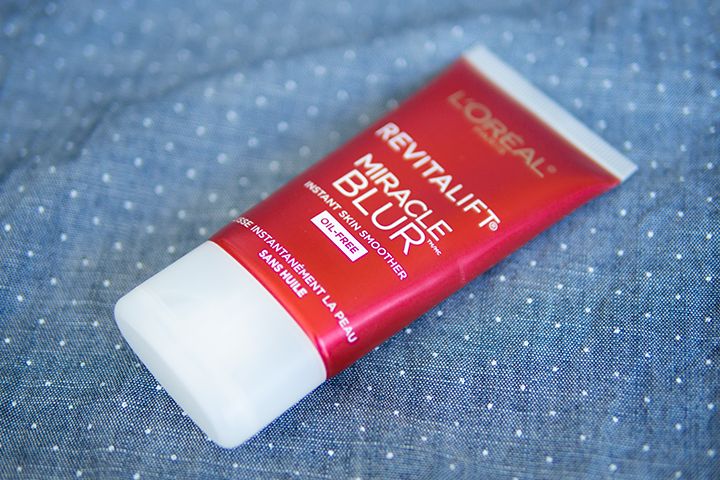 L'Oréal Revitalift Miracle Blur Oil-Free Instant Skin Smoother
*
It does what it says

—

blurs out pores and lines (and mattifies, too). While I enjoy the original version for the same purpose, I find the new Oil Free version more suitable for my skin because it doesn't make my face oily any earlier than my natural oiliness comes through, in fact, I think it helps control it a little. It is great for when I don't have time but I want to blur out some imperfection without necessarily using concealer. As a bonus, it also helps providing a smooth base for makeup (I use it between primer and foundation).
Swatches L to R: NARS
Radiant
Creamy Concealer in Custard, Jouer Matte Moisture Tint in Linen, Dior Diorskin Airflash Spray Foundation in Linen, L'Oréal Paris Revitalift Miracle Blur Oil-Free
Eyes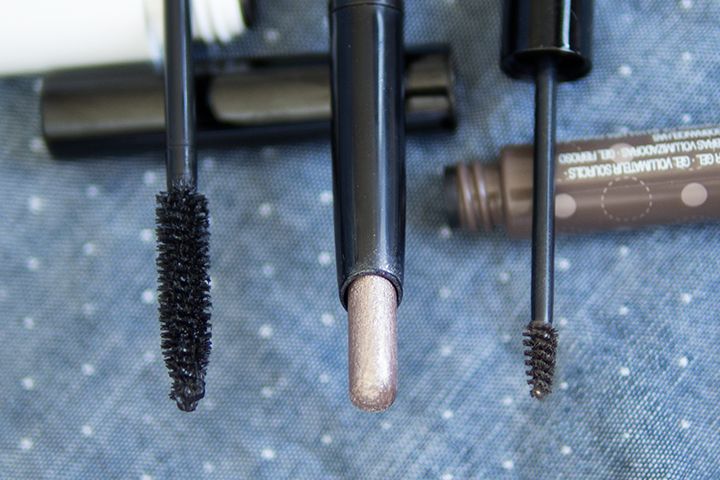 L to R: Per-fékt Lash Perfection Gel, Chanel Stylo Eyeshadow in Moon River, Benefit Gimme Brow
Chanel Stylo Eyeshadow in Moon River 07
This baby is such a beautiful product. I have been using it non-stop for my everyday look, going out look, every type of looks. I love to use it all over the lid and quickly blend it in with my fingers. It works great as a base, as well as, as an eyeshadow alone. It has incredible staying power against my oily lids, so I am comfortable to use it as eyeshadow. It has a cooling sensation when you apply it, which I thought it was pretty cool (no pun intended). It is also a beautiful shimmery taupe colour that is great for a lot of occasions.
Per-fékt Lash Perfection Gel Mascara
This is another purchase from NYC. I have heard that it is Kristen Stewart's trusted mascara, so I caved. It's probably the most expensive mascara I've ever paid for because I am pretty loyal to drugstore mascaras. I like that it is very lengthening but natural looking. It also doesn't clump up and gives good definition (makes me look like I have more lashes). It has a rather wet formula so you can build it up to a more dramatic look but I usually stop after two coats. It is also quite long lasting and hold my curls quite well… It should deserve its own Mascara Monday post...
Benefit Gimme Brow
*
I have sparse brows, and this has quickly become my saviour. It gives me a full brow look like I never had before... not even before I started plucking my brows I had such strong brows. But more on that later...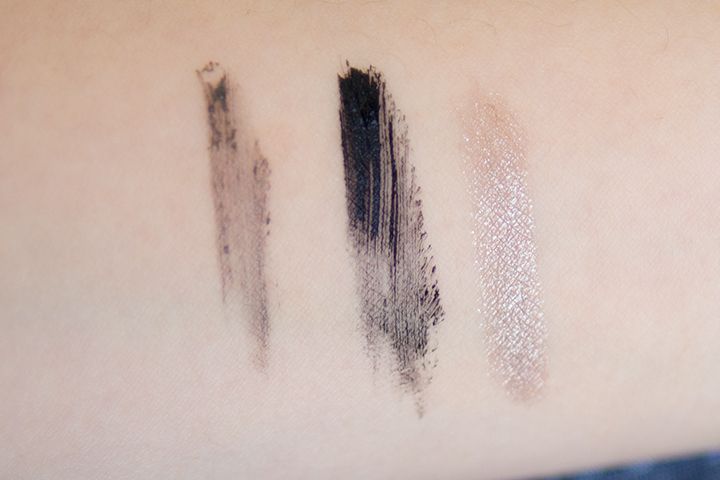 Swatches L to R: Benefit Gimme Brow, Per-fékt Lash Perfection Gel, Chanel Stylo Eyeshadow in Moon River
Lips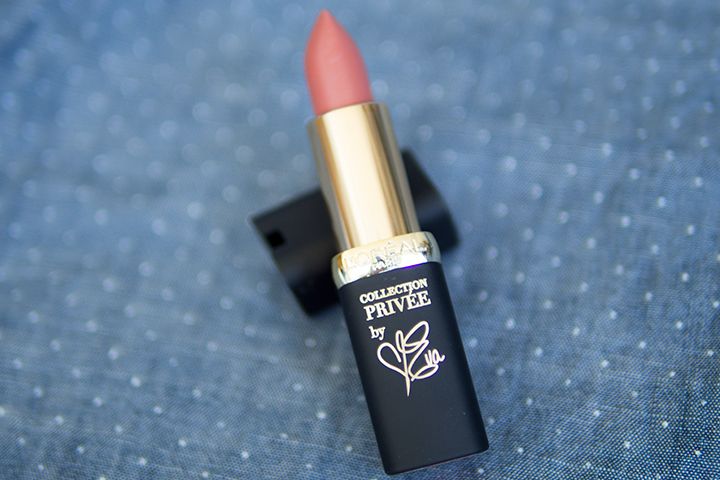 L'Oréal Paris Collection Privée by Colour Riche Lipstick in Eva Nude
*
I have been really liking these L'Oréal Colour Riche lipsticks. They are creamy and feels nice on the lips. I especially like the Eva Nude shade that is a limited edition colour in the official TIFF collection: Collection Privée by Colour Riche. I know a lot of people also like the J.Lo Nude, well, check out my swatches here.
Fashion
image courtesy of, from L to R, Lululemon, Forever 21, ZARA, J. Crew
Lululemon Ta Ta Tamer II Sport Bra
Ok, let's face it, we all need a good sport bra that offers enough support and protection when we work out. My favourite one is the Lululemon Ta Ta Tamer II. It does what it says, keep the sisters in place. It says they're medium coverage, I guess it's true because you can still feel them bouncing lol… For non bouncy option, you can check out their high support range, which claims to protect them from bouncing. Hope this was not too TMI :P
ZARA Mini Skort
The coveted ZARA Mini Skort. I have gotten quite a few use of this in the past few months. It's just a very flattering shapes that makes your legs look longer… I do have both the blue and the white ones… don't judge :P... If you're wondering how long this hype will last, ZARA actually has two updated Fall version of the skort (here and here), go figure. For early Fall, I think I can still wear them on less chilly days with a chunky sweater (my mom calls me a top-heavy person whenever I do that).
J.Crew Polka Dot Chambray Shirt (similar here & here)
I have been looking for a polka dot chambray shirt since early spring. And I finally found it at J.Crew when I went to NYC. It was on sale but I did forget the price lol. Madewell, J.Crew sister company, also make a similar one if you're looking to buy one. Transitioning into fall, any type of shirts comes in handy for me as I ditch tanks and t-shirts until next year. I can forsee myself wearing it a lot even in Winter.
Forever 21 Rose Gold Sandals
Yes, rose gold sandals, who doesn't want a pair of rose gold sandals? Forever 21 does it right this time. I have been wearing it, probably way too much, so I got myself a back up while I can… haha. But chilly weather has gotten the best of us, time to retire the flip flops and sandals till next Summer.
Ok, that was a VERY long post. If you got to this point, thank you. Let's give you a round of applause. This is what happens when I combine a whole summer of favourite into one post lol. Anyhow, it's time to say goodbye to Summer and welcome the biggest Fashion and Beauty season in the year… Autumn/Fall :).
Until next time,
x Rica
Twitter | Bloglovin' | Instagram | Pinterest
*
Disclaimer: Products mentioned in this post were provided to The Office Chic for review consideration (noted with asterisk). As always, all the opinions expressed here are my own and are in no way influenced by any advertiser, affiliate, public relations firm or brands.