Gift the Gift of Sexy Skin | GlamGlow Gift Sexy: Supermud & Youthmud set | Review & Photos
With all the Holiday events and parties coming up, I would love to keep my skin clear and healthy to look the best in my party looks. GlamGlow masks have been taking over the Hollywood with many celebrities endorsing the product. From Paris Hilton to Miley Cyrus, all of them are raving about the masks. If you're like me, was weary about it because of the price tag, then the GlamGlow Gift Sexy (US $69 / CA $75) might just persuade you to jump the gun.
The GlamGlow Gift Sexy set comes with their two star products: Supermud Clearing Treatment (1.2oz) & Youthmud Tinglexfoliate Treatment (0.5oz). It is a good deal because regularly the full size Supermud contains 1.2oz of products and it's US/CA $69, and the mini size Youthmud comes with 0.5oz and costs US $19 / CA $21. So basically, in the US, you're getting the mini Youthmud for free, and in Canada, you saved $15.
The Supermud claims to draw impurities out like magnets and that it would leaving skin feeling soft and smooth. It says it would "help fight all common skin concerns including breakouts, discoloration, black and white heads, razor bumps, and in-grown hair". In my view, it's a clarifying mask that literally sucks impurities out from your pores. It work wonders with whiteheads.
For stubborn blackheads, it really helped to loosen them up, meaning that they're still in there, but it is easy for extraction after. With a gentle push, the gunk will come out. Without the mask, I normally have to apply a lot of pressure and my skin will get red and irritated. But the mask is quite amazing at helping with blackhead extraction. You could also use a pore strip after the mask to help treating large areas like nose or forehead.
I feel overtime, it would help reduce it if you use it religiously to keep gunk from building up and turn into stubborn blackheads. Note that because this mask is so clarifying, I think it's best to use a good moisturizer after to protect the skin.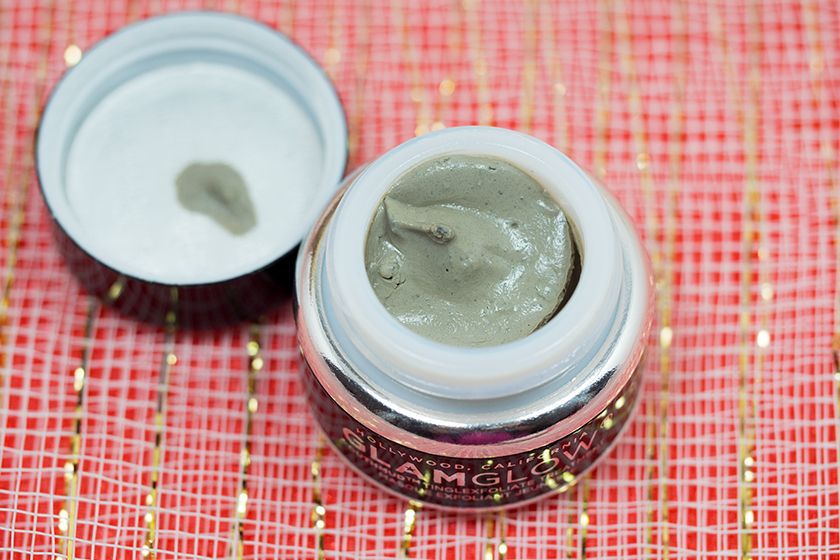 The Youthmud is design to "works with the body's natural moisturizing collagen to provide gentle resurfacing exfoliation and helps to leave skin smoother, brighter, and softer". It has a very interesting consistency. It feels like a blend between a mask and a scrub. You would apply it on your face for 10 minutes, and then removing it by gently exfoliating your skin.
When you have it on, it has a tingling sensation (hence the name Tinglexfoliate). I know it's not just me that would think that "tingling = the mask is doing something". I really like that it's a 2-in-1 because it's like I can skip a step. After removal, I do find that my skin is softer to touch and it reveals a glow.
I would use this a day or two after the Supermud because I feel it might be too intense to do it all at once. And once again, I would follow up with a good moisturizer to nourish the skin or else, you might end up with dry patches.
Overall, the GlamGlow Gift Sexy set is a great kit at a pretty good price. It is a set to gift to yourself (or others). For those who would like to try both of their masks out, this is the chance to do it. As we speak, the Sephora VIB sale is going on full swing (you get 20% off your entire purchase). Both masks perform pretty well with regards to their claims. I feel that Supermud is slightly better for my skin because I have oily and acne prone skin. But Youthmud should be a bit more universal in terms of skin type. I will definitely be repurchasing this set, because you basically get Youthmud for free. But if the set is not available, I would still buy Supermud on its own.
Until next time,
x Rica