Be Ahhh Showstopper this Holiday Season | Marc Jacobs Beauty The Showstopper Set | Review, Photos & Swatches
"I'ma I'ma I'ma I'ma ahhh
I'ma I'ma I'ma I'ma ahhh
I'ma I'ma I'ma I'ma ahhh
Show stopper show stopper"
- Brandon and Leah - Showstopper
I might not actually be able to stop the show, except when I am on stage and stop the show or I start to throw eggs in the audience. But I guess I can try to be one while looking good with the Marc Jacobs Beauty The Showstopper Set (US $89 / CA $107) for the 2013 Holiday Season.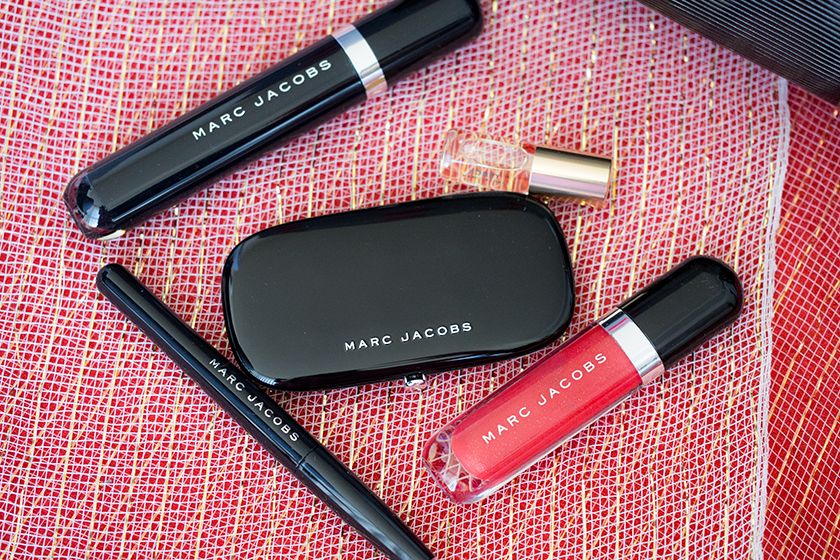 Exclusive to Sephora, as with their regular items, this 7-piece make up set that comes with
(*exclusive to set)...
Honey Eau de Parfum Mini Rollerball
Style Eye-Con No. 3 In The Star*: comes with a shimmery white, a shimmery grey and a gold shade
Lust for Lacquer Lip Vinyl in Kiss This*: a sparkly cherry red
Magic Marc'er Precision Pen: jet black
Lash Lifter Gel Mascara: jet black
Showstopper Makeup Bag* and Mirror*
Let's say you were to get an eyeshadow trio, a lip vinyl, the eyeliner and the mascara from the line, it would add up to US $125 / CA $151. So based on the regular prices of these items, despite the fact that some are exclusive to the set, this holiday set seems like a pretty good deal.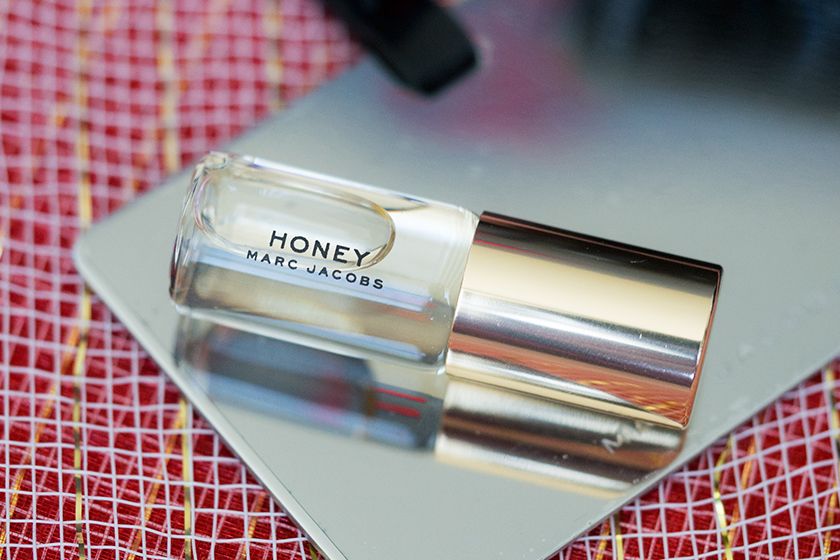 The Honey Eau de Parfum (regularly US $22~$92 / CA $30~$105) comes in a cute mini rollerball, which I adore. I like the idea of rollerball but, more often than not, it comes in a long thin glass bottle that makes me worry I'll break it every time I bring it out with me. This mini one is so much more compact and great for travelling. It'll fit in every clutch, I think.
The perfume itself is a mix of "Pear, Juicy Mandarin, Orange Blossom, Peach Nectar, Apricot, Honeysuckle, Honey, Golden Vanilla, Smooth Woods" notes. On me, the orange blossom and honeysuckle scents are more prevalent than others with a hint of vanilla at the end. I really like the smell, it's very floraly and girly but I associate it more with Spring/Summer. So I guess I can save this up for next year.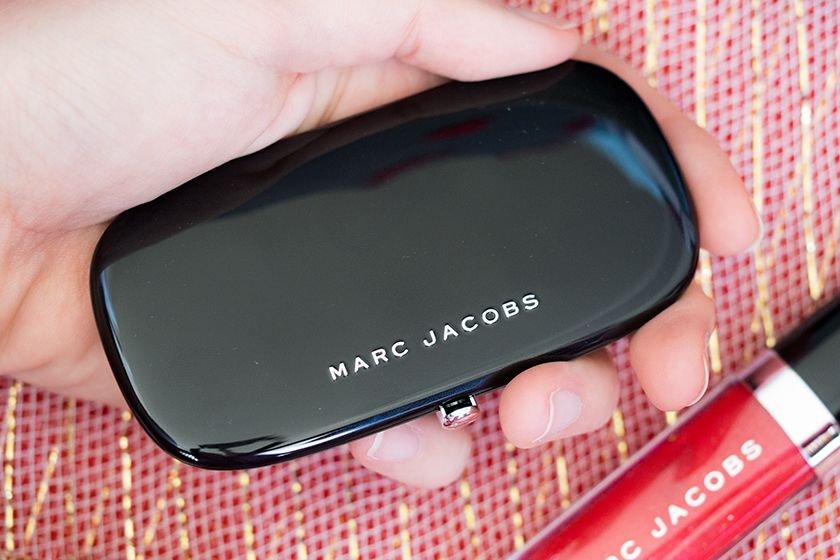 There has been a lot of buzz around the Marc Jacobs Beauty Style Eye-Con The Lolita Palette (US $59 / CA $71). I've been wanting to try it out because of the colour combination and how many people have said they loved it, but I was hesitant about it because of the price. Now I am more tempted to get it after trying the Style Eye-Con No. 3 In The Stars (exclusive shade, other shades regularly US $42 / CA $50).
All the shadows are buttery soft to touch but they're not flaky when you grab it. They blend smoothly on the lid and are nicely pigmented. I really enjoyed the shimmery white and metallic pewter taupe colours. The vintage gold colour is slightly less pigmented than the aforementioned shades but it can be built up to the desire pigmentation. Since it's only a trio, I didn't expect it could be a "sole palette" but it's half way there. That's just me though because I always wear at least 1 or 2 matte colours.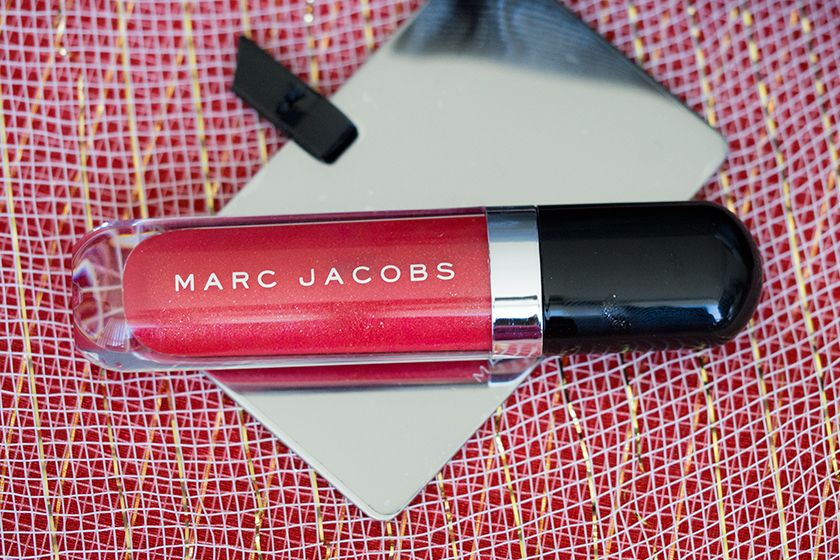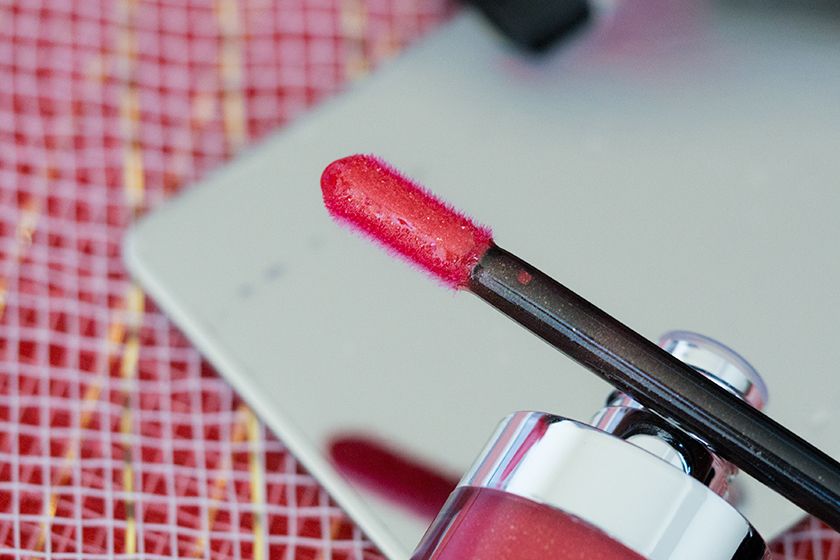 While the colour of Lust for Lacquer Lip Vinyl in Kiss This (exclusive colour, others regularly US $28 / CA $34) is a gorgeous red and is very fitting for the holidays, I personally was not a big fan of this particular shade. It has to do with the combination of glitter and red because not all the reds look good on me. It is a cherry red, which is on the warmer side. While I can still brave it, I don't think I would be confident in it.
The formula of the Lip Vinyls are not bad. They are smooth and doesn't give you the sticky feeling, but it has great lasting power because it is actually sticky to the lips. Even though they're supposed to be sheer but it offers great colour payoff. I didn't love the applicator because of it's rectangular oval shape, which doesn't give precise control. It is still a very nice gloss but if it's on its own, I wouldn't buy it just because I would prefer another colour and I'm overall a lipstick kinda girl.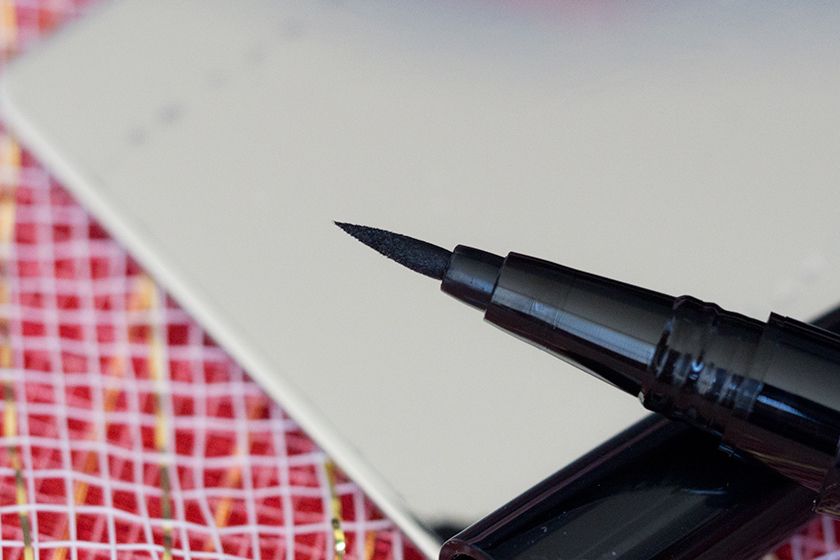 I'm pretty late on the Magic Marc'er Precision Pen (regularly US $30 / CA $36) bandwagon, but I'm happy to report that it does live up to its hype. It is one of those liquid eyeliner that comes with a felt tip applicator. But unlike the others, which are usually quite dry to touch, this one is very saturated and always fresh with ink.
The formula is very black with a shiny finish. It is one of the blackest black, if not the blackest, liquid eyeliner I have ever tried. It seems wet but it actually dries down pretty quickly, and doesn't smudge until you remove it. I also use it on my tightline to fill the gaps between lashes, and it stays on quite well. Another thing that I appreciate was that it applies quite a bit of product but not too much. This means you do not have to drag your eyelids with the applicator to get an even application. The applicator is also quite flexible for you to create different thickness.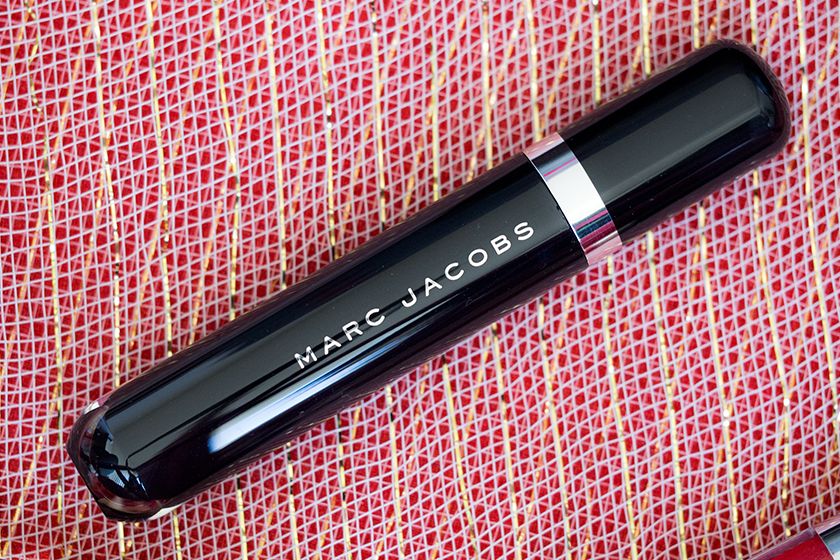 I have mixed feelings towards the Lash Lifter Gel Mascara (regularly US $26 / CA $31) because it's not a bad mascara but it's just not that great. It lengthens a bit and holds the curl quite well, but it's just a very basic mascara. Meaning that it gives you what an average drugstore mascara could offer. It's great for natural looking lashes but considering it's supposed to be a $30 mascara, I don't find it particularly impressive.
Even though the formula is rather wet and goopy when you take the want out of the tube, it dries down nicely and doesn't flake. It has pretty good staying power. Like I said, that's as far as it goes, nothing ground breaking or special that I would pay $30 individually on it. But it is a nice mascara that I would continue to use.
Swatches (L to R): Kiss This, In The Stars (x3), Lash Lifter, Magic Marc'er
Let's also take a look at the bag and mirror, and everything put together....
The bag
The mirror
Where the mirror goes in the bag
The bag
The bag with everything
So let's hear the score...
Style Eye-Con in No. 3 In The Star: the shadows are pigmented, buttery soft and easy to blend
Magic Marc'er Precision Pen: it's opaque and easy to use
Honey Eau de Pafum Mini Rollerball: it smells pretty good but to me it seems more of a Spring/Summer scent
Lust for Lacquer Lip Vinyl in Kiss This: does feel very smooth on lips, but I find it feathers out after a while and maybe a bit too sparkly for my liking
Lash Lifter Gel Mascara: I have mixed feelings towards it because it's not a bad mascara but it's just not that great. It does hold curl and lengthens a bit, and the staying power was quite nice, but it's just a very basic mascara. It's great for natural looking lashes but considering it's supposed to be a $30 mascara, I don't find it impressive.
Showstopper bag and mirror: nice to have and great as a gift, but they're not a must for me.
It seems like
the
Marc Jacobs Beauty
Showstopper Set
is a bit of a hit or miss to me. Having said that, I still find that the set pretty good in value and it makes a nice treat for those who like Marc Jacobs, but it is not on my immediate Holiday wishlist. I would recommend to check out the individual products like the Magic Marc'er and Style Eye-Con if you're thinking of getting one or two items only.
| | Honey | Style Eye-Con | Magic Marc'er | Lip Vinyl | Lash Lifter | The Set |
| --- | --- | --- | --- | --- | --- | --- |
| Value: | | | | | | |
| Quality: | | | | | | |
| Longevity: | | | | | | |
| Practicality: | | | | | | |
| Packaging: | | | | | | |
| | | | | | | |
Until next time,
x Rica