It's Here! Sephora VIB 20% Off Sale is Here! And I've Got My Shopping List Ready | Information & Shopping List Ideas
November 7, 2013
• Balenciaga Paris, Bite Beauty, Ciaté, Clinique, Deals, Deborah Lippmann, ELLIS FAAS, Formula X, Fresh, Hourglass, Kat Von D, L'Occitane, Marc Jacobs, NARS, Online Shopping, Origins, Sale, Sephora, Shopping, Tarte
It's finally here! The annual Sephora VIB sale. To most of our surprise, the sale discount has gotten bigger and better. This year, Sephora is giving their Very Important Beauty Insiders (VIBs) a 20% off discount on EVERYTHING (from Nov 7 to 11)! Yay!
A VIB is a Beauty Insider (BI) who spend more than $350 in a calendar year.
You can shop in store or online if you are a VIB. Also, VIBs are provided with a link to give out to one of their friends who doesn't already have the discount; the VIB friend can use enjoy a one-time discount as well. In the past, the BI sale starts a week later than the VIB sale, so even if you're not a VIB, don't worry, you may get an email soon!
Alright, so let's get the madness started... I have already posted a Shopping List Idea v1 last month, but my list have grown since then lol... So this is my shopping cart before I condensed it.
Pretty glorious, I know... but I don't have all the money in the world so here's what I'm actually getting...
Now this is more achievable...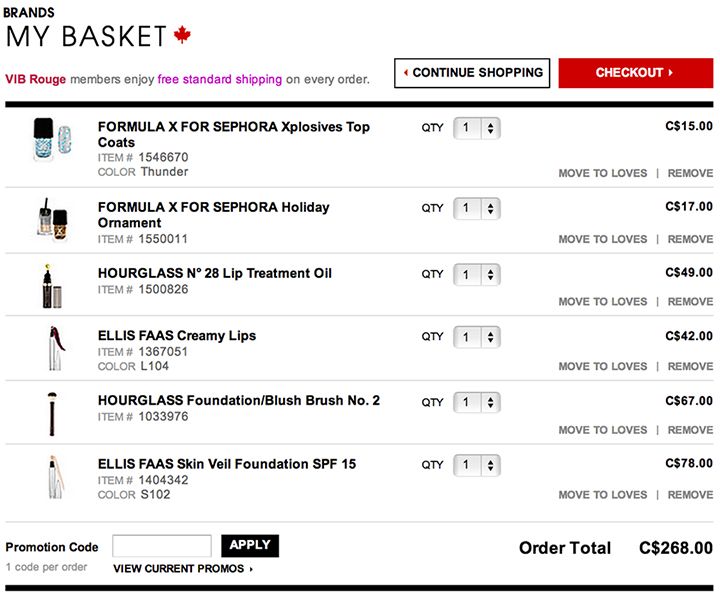 It's funny how my entire order is composed of 3 brands: Formula X, Hourglass, and Ellis Faas. Sadly, this VIB sale is within the same period of IMATS Toronto, so my budget is slim, but I think when I go in store, I would get some of these eliminated items from the online order...
Yes, I'm just doing my first order here and there will be an in store one as well... Don't judge me... lol...
Anyhow, let me know what you guys end up getting and I hope my shopping list idea might have helped you if you're undecided! If you still need more help, you can check out my previous post or Sephora's Giftopia page. Happy Shopping!
Until next time,
x Rica