Too Faced A Few of My Favourite Things has more than a few lovely things | Review, Photos & Swatches
December 5, 2013
• Beauty, Blush, Bronzer, Eyes, Eyeshadow Palette, Face, Gift Sets, Holiday, Holiday Collection, Lip Plumper, Lips, Mascara, Product Photos, Review, Sephora, Swatches, Too Faced
Pink and gold and chevron, who doesn't love that? The Too Faced A Few of My Favourite Things (US $56) comes in an adorable pink and gold chevron packaging that is designed by Mary McDonald. It comes with a mini Better Than Sex Mascara, a Lip Injection Colour Bomb in Bee Sting (LE), and a palette with 20 eyeshadows, 2 blushes, and 2 bronzers. It also comes with an instruction pamphlet that teach you how to use each type of products.
The star of the set has got to be the humongous palette. It has got 20 shades of eyeshadows varying in finishes but they'll definitely take you anywhere. Most of the shadows are very consistent in quality meaning they are pigmented and quite buttery. The matte shades feel more chalky than others, half of the mattes have pretty good pigmentation.
I was iffy about Woolen Mittens because it looks more pigmented than it actually offers, you need to layer it to get a decent coverage. The most disappointing shade has got to be Ooh la Orchid. It is so sheer and I can't seem to layer it right.
That being said, all other shades are beautiful, of course some are better than the others but most are on par, if not better, than other high-end eyeshadows that I have tried. My favourite shades are Honey Honey and Party Time!
From L to R: Snowflakes, Whisker on Kittens, Chocolate Milk, Cream Colored Ponies, Honey Honey, Buche de Noel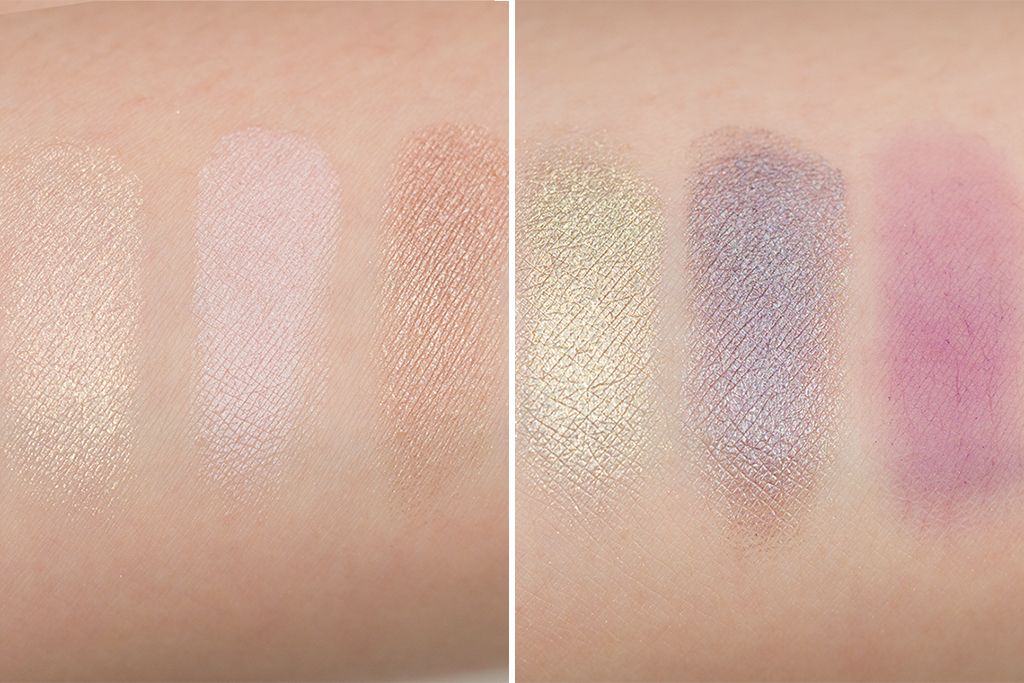 From L to R: Coquet, Taffy, Crisp Apple Strudel, Tinsel, Bluff, Ooh la Orchid
From L to R: Moon on Their Wings, Dark Chocolate, Evergreen, Blue Satin Sashes
From L to R: Woolen Mittens, Soirée, Party Time, Pure Glam
The blushes, Raindrops on Roses and Melt into Spring, are beautiful as well. They're not the extremely pigmented and it's easy for anyone to work with. I like that they included a rosy pink and a coral pink because those seem to gravitate most people and are more commonly flattering. As for the bronzers, I am a loyal fan of Chocolate Soleil, I probably have 3 of them that I'm going through (in different compacts/palettes). It's a great matte bronzer for contouring or bronzing. Sun Bunny is quite pigmented and smooth, but I find it has a little too much sheen/shimmer to my taste. But it will be great for those days when you want to add a bronzy glow on your face (not sure if that's exactly what I look for in the Holidays though, haha).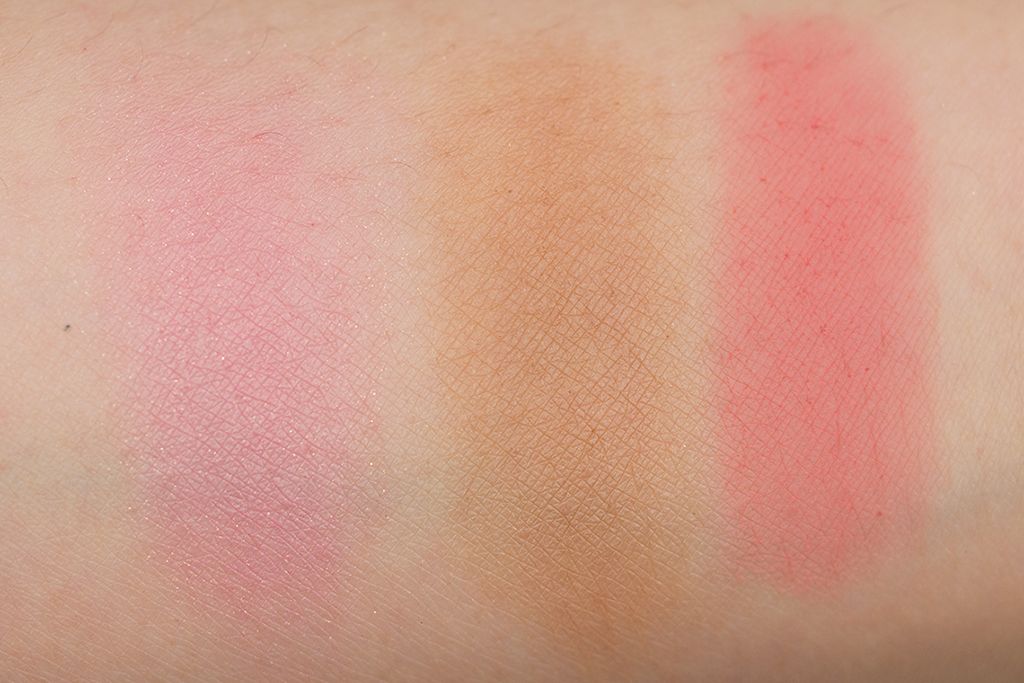 From L to R: Raindrops on Roses, Chocolate Soleil, Melt into Spring
Sun Bunny, From L to R: dark side, light side, blended
A lot of people have raved about Better Than Sex Mascara. Unfortunately, it's not my cup of tea. It doesn't offer enough definition I was looking for and my lashes seem to cling together. I lengthens a little bit but doesn't hold curl quite well for me. And by the end of the day, it seem to give me panda eyes (i.e. it smudges on me). I would probably give it a second chance and see if it changes when it dries up, but that would be another story...
As for the Lip Injection Colour Bomb in Bee Sting. I am surprised how well it works in plumping my lips, but oh my, it does sting. It tingles quite a bit, and it takes time to get used to it. If you have never used a lip plumper before, you may want to try a milder one first to get the taste of it. But this one does work, I can still feel my lips being quite full after removal. The shade is an "lip enhancing" type of colour, which is quite flattering. I can see it working on most people but it might not show up on lips that are darker naturally.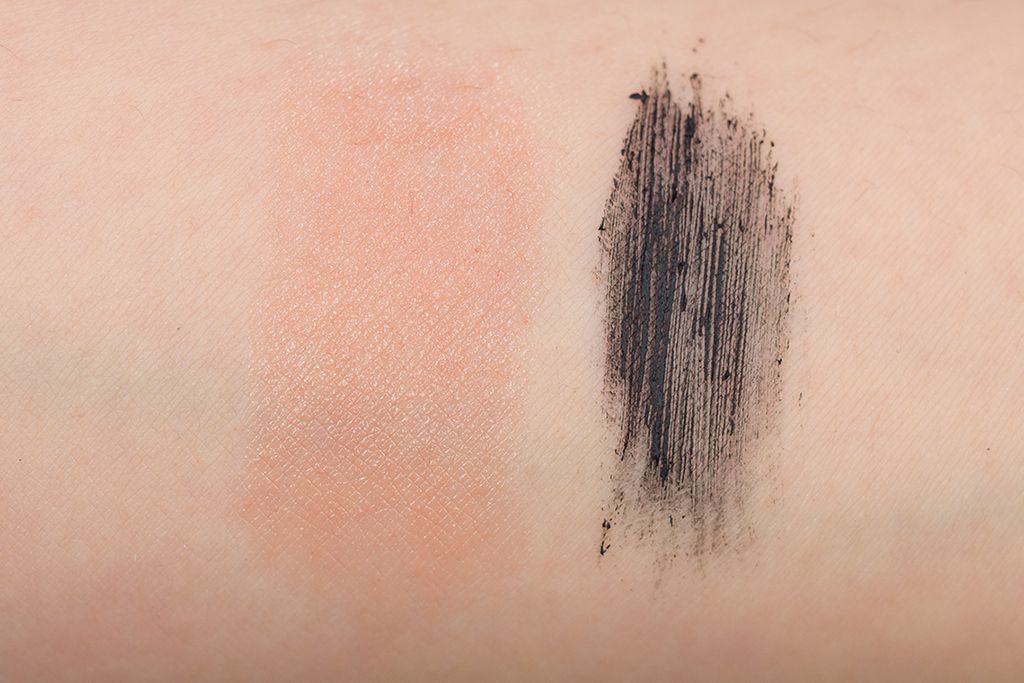 From L to R: Bee Sting, Better Than Sex
Overall, I am quite impressed with the set. I will definitely recommend it as a gift to someone or yourself. It has a great variety of products and shade that makes it a universally appropriate gift for most people. I actually quite like the holiday line up Too Faced currently has including:
| | Eyeshadows | Blushes & Bronzers | Mascara | Lip Plumper | The Set |
| --- | --- | --- | --- | --- | --- |
| Value: | | | | | |
| Quality: | | | | | |
| Longevity: | | | | | |
| Practicality: | | | | | |
| Packaging: | | | | | |
| | 9.0/10 | 9.0/10 | 7.0/10 | 8.0/10 | 8.5/10 |
Until next time,
x Rica