MAKE UP FOR EVER Artisan Brush: 134 Large Powder Fan Brush & 242 Large Blender Brush | Softest Synthetic Brushes of allI
T to B: MAKE UP FOR EVER Artisan Brush 134 Large Powder Fan Brush
It's no secret that I'm a little obsessed with finding the perfect makeup brushes. So I just can't resist in trying the MAKE UP FOR EVER Artisan Brushes out. They said that it took 5 years to develop this range of brushes and 30 people to handcraft each brush. And that their unique straight and wavy synthetic fibres are used to mimic natural hairs. So the production of this brush is cruelty free and vegan friendly. And you can really appreciate the craftsmanship of the each brush from the bristles to the handle.
Tip: use the end of the handle for pressing false lashes closer to your lash line, works every time!
The 134 Large Powder Fan Brush (CA $55 / US $48) is large fan brush that is mainly used for powder. It has wavy fibre and is very soft to touch. It didn't shed (or bleed) when I wash it. The build of this brush is very top heavy (brush head is a lot heavier than handle). It works out, because it was tilted when lay flat and helps drawing water out from the hair after washing it.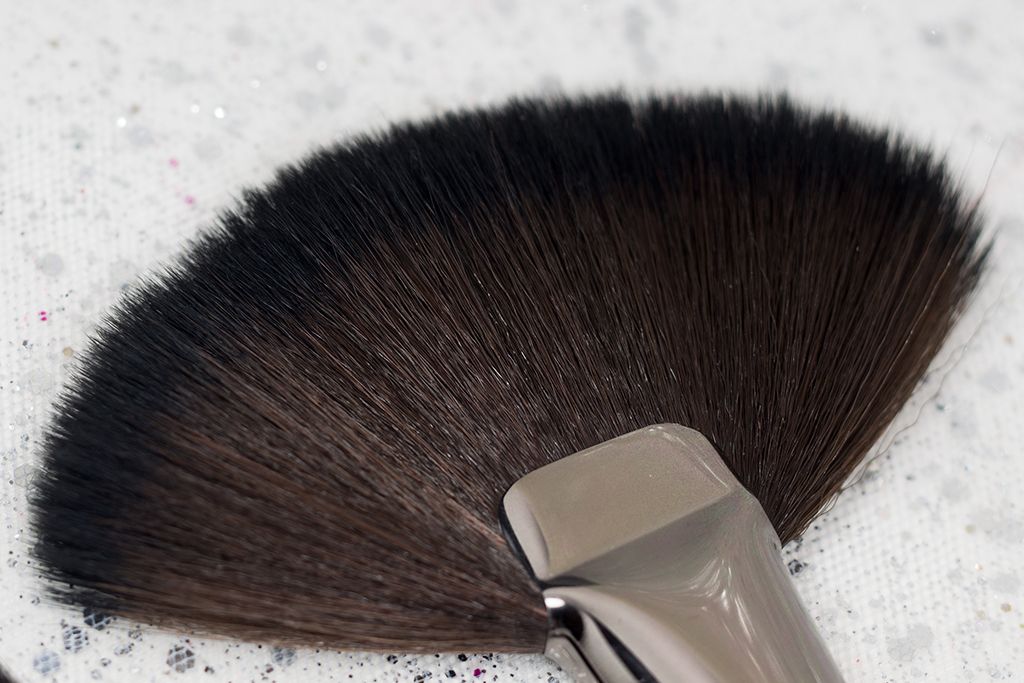 The great thing about this Large Powder Fan Brush is that it's multipurpose:
Sweeping fallouts of eyeshadow near my under eye area
Applying setting powder under my eyes
Contouring my cheeks with a matte bronzer
Highlighting high points of my face
Dusting blot powder all over the face
While it works pretty well on all 5 purpose, I find that it excels in #3 and #4 in particular. If you struggles with contouring, you may want to give this a try. It magically does the work for you. But make sure to test it out in store before buying, just so you get the feel of it and learn how to use it from the MUAs, they're there to help!
But the most impressive brush from them, yet, has got to be the 242 Large Blender Brush (CA $35 / US $30) because it is by far the softest brush I have EVER tried. It's softer than any MAC eye brushes I've used. I think the secret of the softness is not only the high quality synthetic wavy fibres, it is also the right about of density. It's not too flimsy, yet not too stiff so it helps to blend things out.
I've used it alone for the entire look and it works seamlessly. I would pounce a shimmery nude over the lid and blend a contour colour along the crease. And because it has enough stiffness, it allows me to intensify the look by darkening the outer corner out using a dark brown shade. It's a minimal simple 5 minute look.
It's another great multi purpose brush that works great with cream products too. But my favourite way to use it would be, as it name suggests, blending. Even though it says it's a large brush, it's suitable for most eye shape (if you don't have much lid space, try the 218 Medium Blender Brush (CA $29 / US $25) instead).
I'm loving the handle of these MUFE Artisan Brushes
Overall, the two brushes I have tried from the MAKE UP FOR EVER Artisan Brushes range are incredible and are definitely worth your money (of course if you're a pro MUA, you can get the pro card to get the pro discount too). And from all the reviews I have read, there are so many other great brushes in the range too. My next one would probably be either 110 Medium Foundation Kabuki or 102 Small Foundation Kabuki. What about you?
Until next time,
x Rica