Current Skincare Routine | March 2014 | L'Oréal Paris, Bioré, Olay, Lancôme, Biotherm, Benefit, Dior & more
March 17, 2014
• Beauty, Benefit Cosmetics, Bioderma, Biore, Bioré, Biotherm, Dior, L'Oreal, L'Oreal Paris, L'Oréal Paris, Lancome, Lancôme, Olay, Shu Uemura, Skincare

I have never talked about my skincare routine before because I constantly switch up my routine that I couldn't even keep up. I do realize it's a bad habit of me, I just can't resist the urge to try new things (it's the beauty blogger in me). But recently I find myself going back to products that I finished up, so I guess it's safe to say I'm finally getting happier with my skincare routine.
Make Up Removers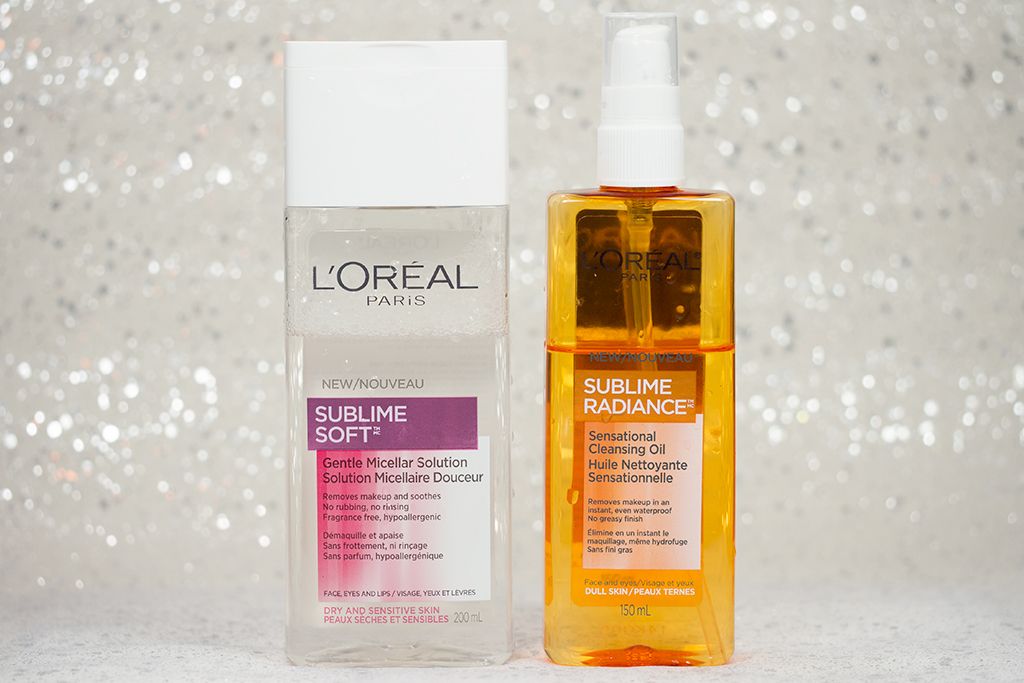 One of the more important items on the list is makeup removal products. For a few weeks now, I have been using the new L'Oréal Paris Sublime Radiance Sensational Cleansing Oil and L'Oréal Paris Sublime Soft Micellar Solution. Depending on the makeup I'm wearing that day, I would alternative between the two. I use the cleansing oil whenever I wear waterproof makeup and the micellar water for other days. (TIP: Use a Micellar Solution to create a better cat eye. Simply use a cotton swab, semi-saturate it with micellar solution and clean the edges of your eye makeup to make a "cleaner cut".)
Prior to switching to the L'Oréal Paris Sublime Cleansers I was using the Shu Uemura Porefinist
Anti-shine Fresh
Cleansing Oil
and the
Bioderma Sensibio H2O
. Both are great products but I switched them up to test out the
L'Oréal Paris Sublime Cleansers
. I do find these drugstore alternatives very comparable to their luxury counterpart. But I would switch back to the
Shu Uemura cleansing oil
because I still have a new bottle from previous purchase... oops... I do, however, will keep using the
Sublime Soft Micellar Solution
because it's just more accessible and it works basically the same as
Bioderma
.
Facial Cleanser & Toner

To this date I still haven't found a face cleanser that I am completely happy with. They generally would remove oil and dirt from my face but they usually never do what they said they would other than that (as in long term benefits such as sebum control). I'm testing the new Bioré Deep Pore Charcoal Cleanser ($6.49). I have had good experience with charcoal skincare products in the past and am having high hopes on this. Fingers crossed it will work to tame my breakouts. For now, it does a good job at cleansing my face and I use it for both AM and PM.
I'm not a religious toner user. I have been told that toners are life changing (while some say it's completely unnecessary. Honestly, I don't know have a stand on this because I haven't gotten myself into the habit of using it daily. But when I do remember, I would use the Biotherm Biosource Lotion (CA $20 / US $22). It is great at removing any excess dirt that was left and this particular toner is also quite hydrating. I just gotta get into the habit of using a toner to tell if it's needed or not.
Serums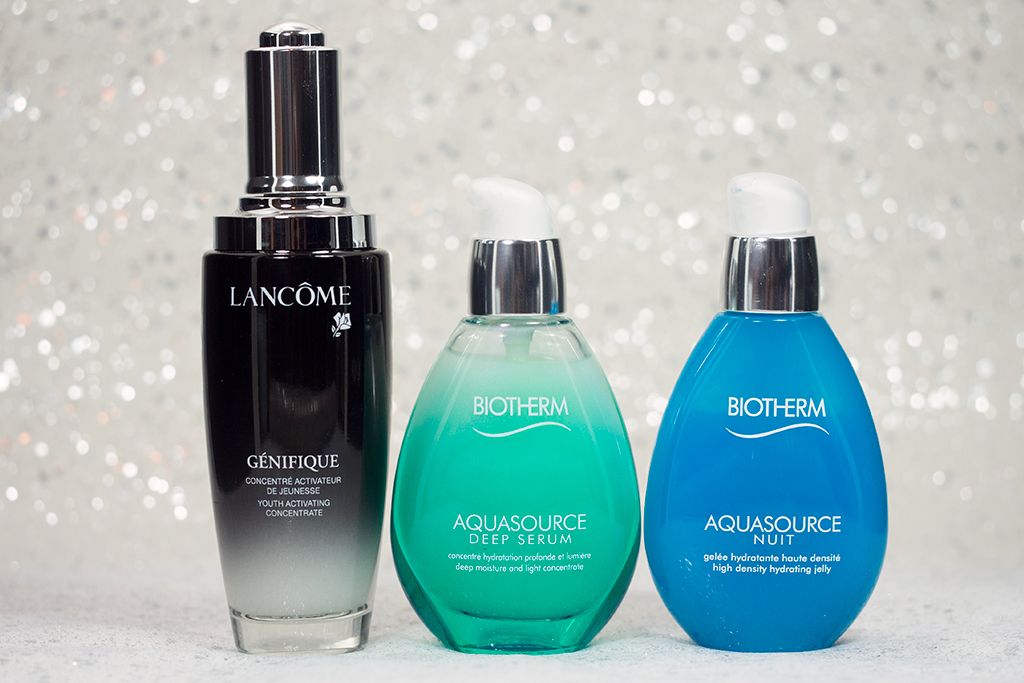 One thing that I have always liked is having a serum to my skincare routine. They are, supposedly, packed with skincare benefits. At the moment, I'm using 3, it's a lot but hear me out...
For AM and PM, I use the Lancôme Advanced GÉNIFIQUE Youth Activating Concentrate (CA $96~127 / US $84~105) for anti-aging purpose. It receives such high praise from many reviews I've read and heard. It's only my second week of using it, so I can't say I'm seeing any difference just yet. But it hasn't broken me out, so that's a good start.
It's still Winter in Canada and it's going to be dry for at least another month and a half, so I'm amping up my hydration serum side. I use the Biotherm Aquasource Deep Serum (CA $60) in the morning and the Biotherm Aquasource Nuit (CA $50 / US $42) at night. I started using the former at the end of last year when my skin suffered from dry patches and it was just acting up. After just one week of using it, my skin got much better so I keep on using it and I just started my second bottle. I added Aquasource Nuit to my routine after having a Valentine's Day brunch with Biotherm. This product was formulated to provide more moisture to the skin throughout the night and I have already gotten a back up :).
Moisturizers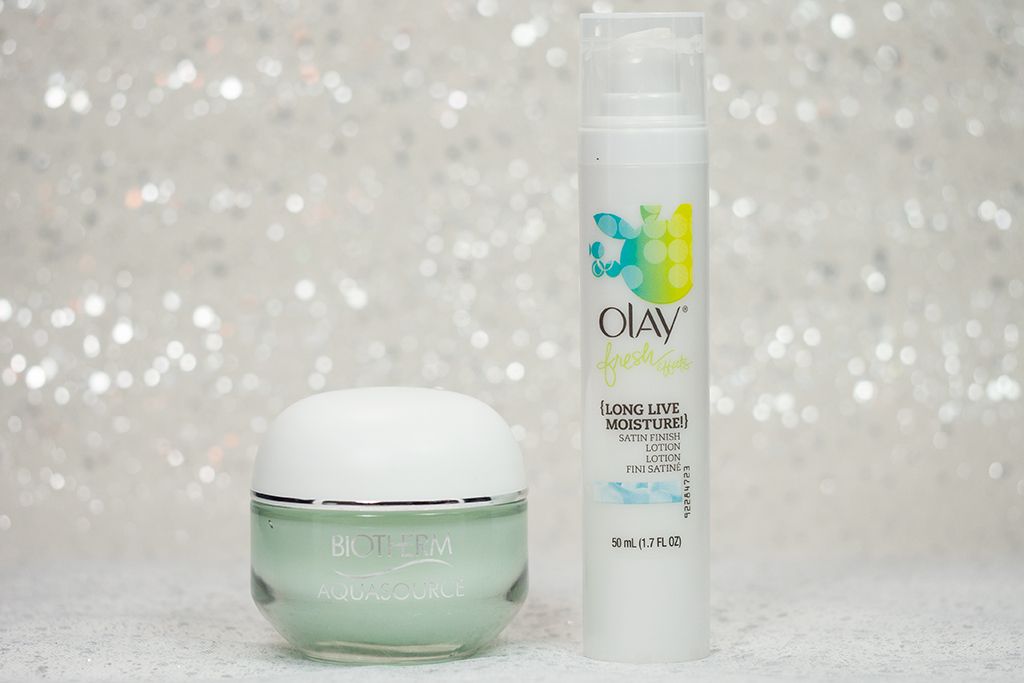 For daytime moisture, I prefer something light. Lately I've been enjoying the Olay Fresh Effects Satin Finish Lotion ($12.99). I like that it provides enough moisture (on top of Aquasource Deep Serum) and it's of a semi-matte finish. It doesn't make my skin feel greasy but it does have some shimmery particles (hence "satin finish") that I don't really care for. It would be great if it's not "satin", but it still works well under my everyday makeup.
I like to see my skin all hydrated when I wake up, so I use something more moisturizing at night. On top of the Aquasource Nuit, I am using Biotherm Aquasource (CA $47 / US $39), and this is again my second jar (a little Biotherm obsessed haha). It is a deep moisturizing gel that is good for normal to combination skin. The three Aquasource products together made a perfect trio to my routine and keeping my skin quenched during this exceptionally cold and dry winter this year.
Eye Creams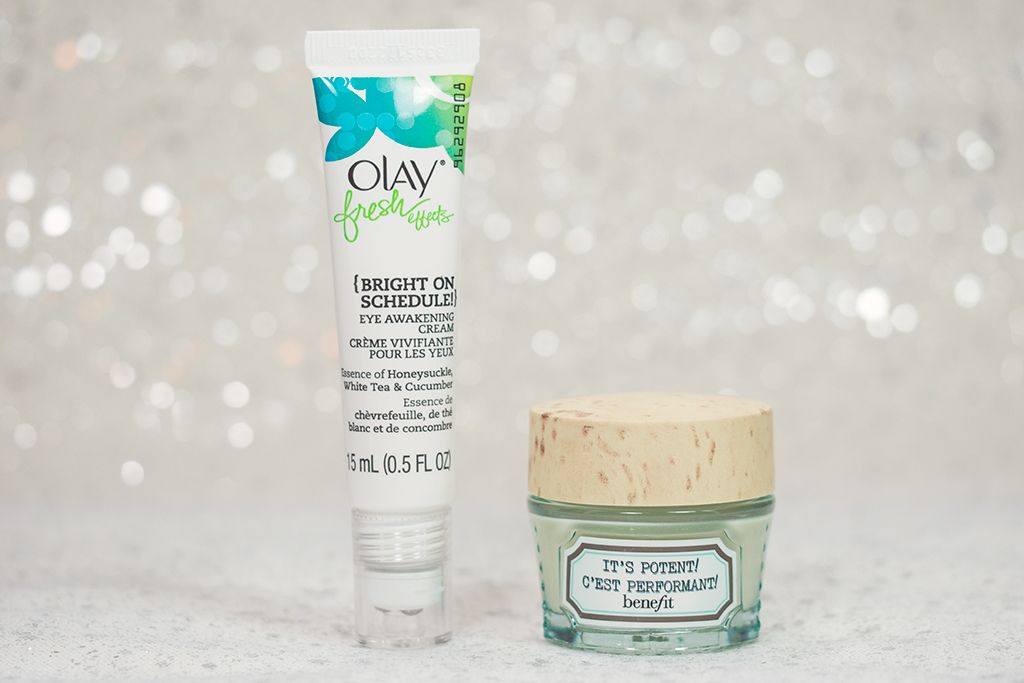 4 out of 5 weekdays, I look like I robbed someone during the middle of the night that I got no sleep at all. So I definitely need a pick me up. I'm trying out the Olay Fresh Effects Eye Awakening Cream ($12.99). It's an eye cream with 3 metal rollerballs to massage the product under your eyes. I use it every morning and it feels really light and refreshing. I think there are some opalescent particles in the cream to make your eyes look a little brighter.
At night, I use the Benefit It's Potent! Eye Cream (CA $36 / US $34). It feels quite soothing on the eyes and it absorbs quite quickly comparing to other eye creams. It's hydrating and it doesn't clog pores but I don't think it does anything other than that. I'm still searching for the perfect eye cream, while the ones I'm using right now are good, they're not awesome enough for me to run out and get a back up.
Specialty

I'm calling it a specialty item because I don't really know what it does. I followed the instruction on its packaging and use it as the final step of my routine. It is the Dior Capture Totale Dream Skin (CA $115 / US $110). It is supposed to be an anti-aging skin tone and skin texture corrector. I haven't seen the long term benefit yet, but the matte finish that it gives create a good base for makeup. On a good skin day, I can get by with just Dream Skin and undereye concealer. Again, not so sure what it is but so far so good.
I know this is quite a bit of products. I tried to simplify but it just look long when you list everything out. Like I've mentioned, I'm still looking for a good cleanser that does exactly what it delivers and a good eye cream to combat the signs of aging. If you have any recommendation for me, please let me know in the comments. I'm open to suggestions!
How's your skincare routine looking like? I'd like to know!
Until next time,
x Rica
*Disclosure: Some products mentioned in this post were provided to The Office Chic for review consideration. As always, all the opinions expressed here are my own and are in no way influenced by any advertiser, affiliate, public relations firm or brands.