Dior Addict Fluid Sticks are more than a gloss or a lipstick | Review, Photos & Swatches

I might have a slight problem with lippies at the moment. I want to be like "I go through phases of loving blushes, lipsticks, eyeshadows", but the truth is I am just a lip product junkie. That's it, it's out there. And when I saw the Dior Addict Fluid Sticks (CA $36 / US$35) coming out, oh man, let me tell you how excited my face was. Now some of you may think, "Rica, I thought you don't like glosses". Yes, that is true (although I may be converting but that's for another day), but these are not exactly lip glosses or a lipstick. It is, as its name suggests, a fluid lipstick.
From L to R: Mirage, Aventure, Pandore, Wonderland
From L to R: Mirage, Aventure, Pandore, Wonderland

Dior says that it combines the shine of a lip gloss and the pigmentation of a lipstick. Well, right on, Dior. There's no better description than that. But let me add a little further to it. In just one swipe, you will get an opaque application—that's how pigmented they are. It is not as weightless as a lipstick, it feels slightly sticky on, which resembles a gloss. But with that it comes with greater lasting power; it doesn't budge for several hours. I didn't find it staining my lips, which I like because then I can change up my lip colour throughout the day.
I love that it also incorporates the shininess of a gloss. This makes my lips look full and "juicy", which I dig :P. The formula is quite fluid, which means I need to smooth it out a little bit sometimes. The sponge tip applicator does a great job at blending the colour. The curves of it hugs your lips quite nicely and it also have a pointier tip to make application near the edges easier.

The packaging of these are also very chic. They have the glass lip tube like the Dior Addict Gloss and I love that they shape the interior like a lipstick bullet, it's very cute. I'm also so glad that they have the names attached with the colour. Unlike their Dior Addict Lipsticks, which have the names attached to the packaging (when you open a few Addict Lipsticks at the same time and don't know which cap goes on which... the horror).
I tried out 4 shades with the same naming as the limited edition Dior Addict Lipsticks and Dior Addict Extreme Lipsticks I previously reviewed. I would consider them sister shades but they're not the same across the 3 formulas.
Mirage is a peachy nude. I find that it is more peachy than its Dior Addict counterparts. For a light shade, it is very pigmented and requires little effort to smooth out. It's a great Spring/Summer daytime colour (I can also see it transition into Fall time too).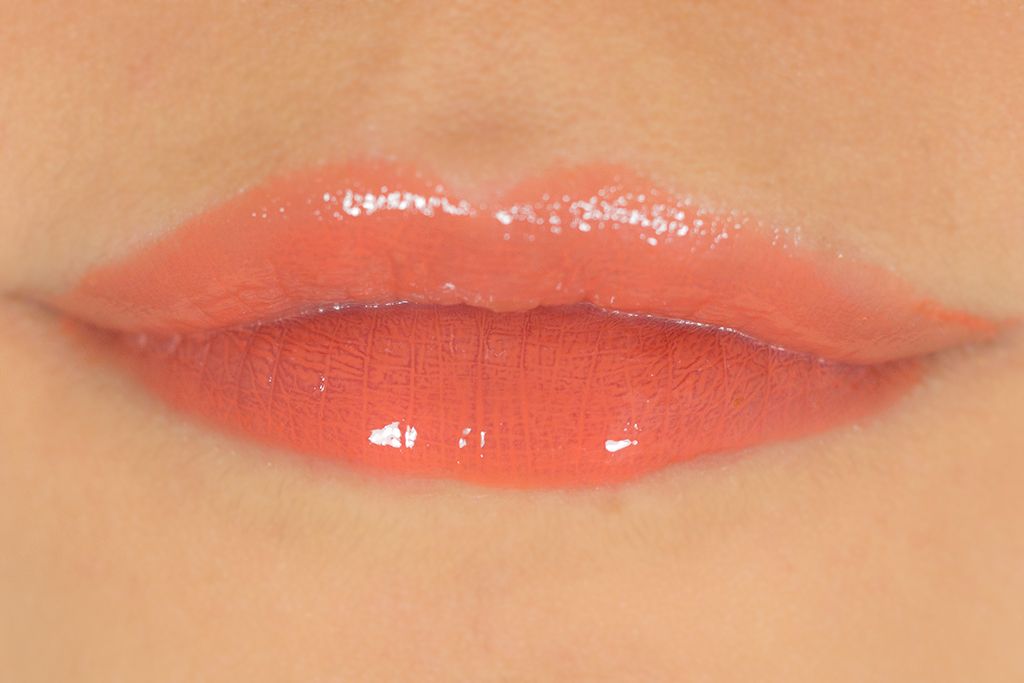 Aventure is satsuma or tangerine orange. It's pretty much a must have colour for Summer. I love orange lips (especially on others), and I'm slowly trying to ease myself into orange lips. I like that I can sheer this out just a little to make myself feel more comfortable in it. Here I come orange lip trend!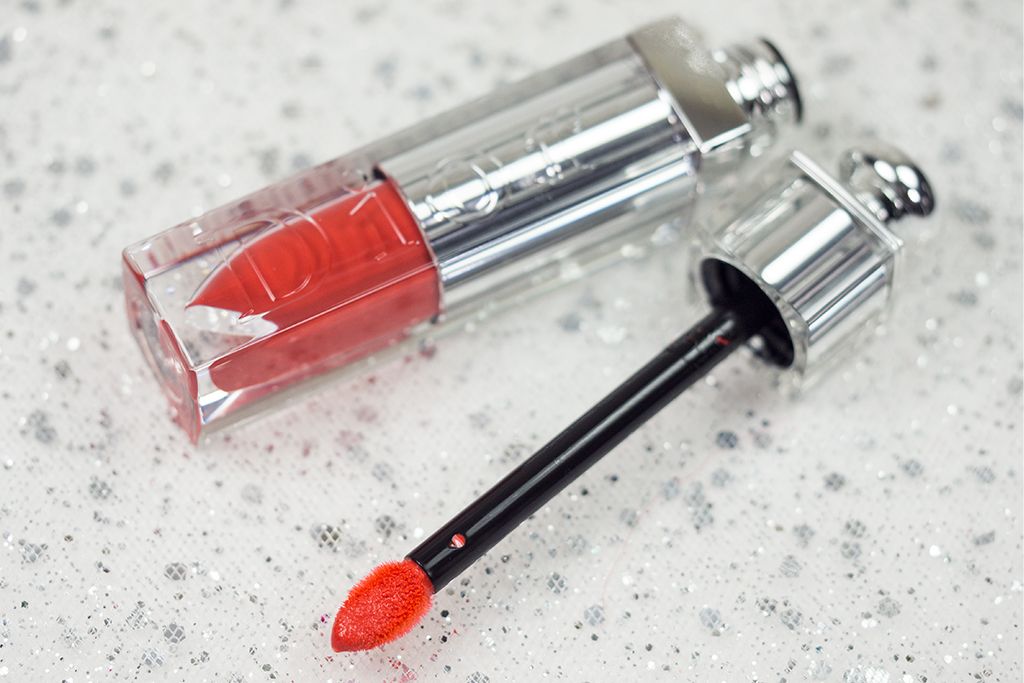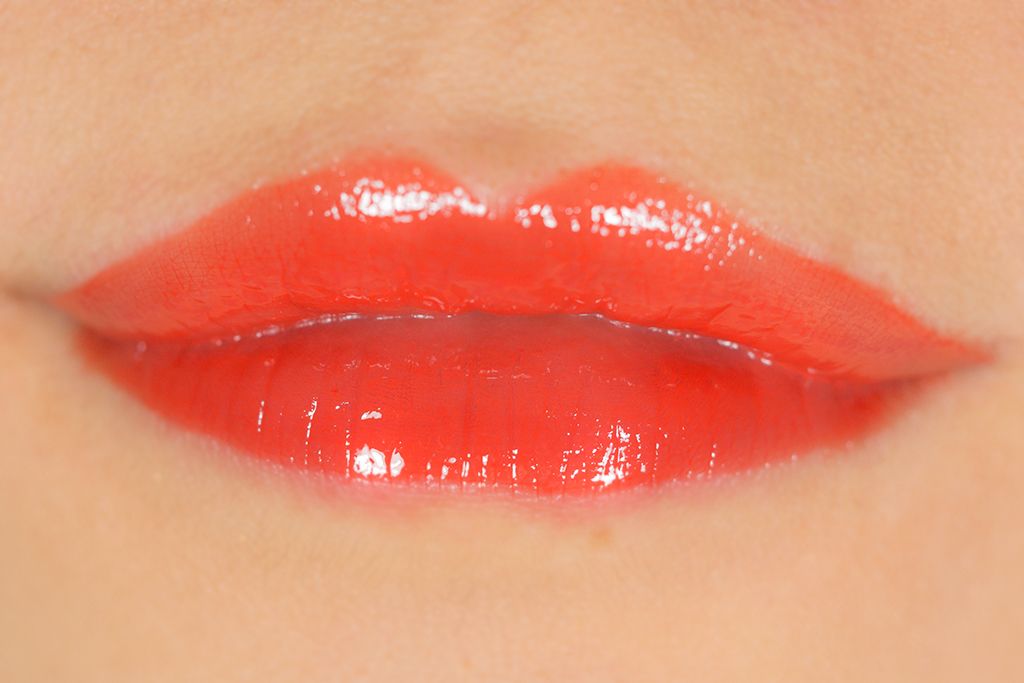 Pandore is classic pink red. It's great if you want your teeth to look a bit whiter. I also find this type of red more flattering on my skin tone. If you have similar skin tone as me and want a red that would suit you, try this one out.
Wonderland is a bright fuchsia pink. While it's quite bright, it is not neon-in-your-face. I like to sheer it out a little bit because it gives a more jelly effect. It is very pigmented without sheering it out, so rejoice bright lip lover, this one is for you.
I'm thoroughly impressed with this new lip launch by Dior. It's rare that any products live up to all its claim, but when it does, you know it sure is a keeper. Shine gloss + opaque colours all packed into one Dior Addict Fluid Stick. In a few years, this would probably become a classic cult favourite for its longwearing property and spectacular pigmentation. They come in 17 shades and I read that other lighter colours are pretty awesome too (I gotta swatch Kiss Me and Rieuse).
From L to R: Mirage, Aventure, Wonderland, Pandore
What do you guys think? Are shiny fluid lipstick your cup of tea? Let me know.
Until next time,
x Rica
*Disclosure: Products mentioned in this post were provided to The Office Chic for review consideration. As always, all the opinions expressed here are my own and are in no way influenced by any advertiser, affiliate, public relations firm or brands.