Lancôme Lip Lover: My Latest Obsession | Review, Photos & Swatches
May 1, 2014
• Beauty, Lancome, Lancôme, Lip Balm, Lip Gloss, Lip Oil, Lips, Liquid Lip Balm, Product Photos, Review, Sephora, Swatches
Lancôme Lip Lover - From L to R: Rose Ballet, Rose Attrape-Coeur, Lip Lover, Corail Cabriole
I have been wanting to talk about the
Lancôme Lip Lover (CA $27~29 / US $23)
for a bit over a month now. The reason I didn't get around to it is because I keep buying more and waiting for them to shipped to me. I realized it's time to just make a post about it now that I accumulated 4 shades because the wish list is just never ending.
Remember earlier this year I talked about how much I enjoyed L'Oréal Paris Colour Riche Extraordinaire? The Lancôme Lip Lover is basically the same thing but better. It is a blend of liquid lip balm and gloss. It provides long lasting moisture that I could almost use as lip balm (except my lips need more moisture in the winter, but any other time, I would definitely use it as a lip balm). It also has great pigmentation and high shine that gives plumped-looking-lips. The finish is almost milky and creamy, which I love. Ahhh, I'm obsessed!
I first got hooked with the shade Rose Ballet, so I took advantage of the recent Sephora sale and got 3 more (and I still want more). The downside of the lip love is that even though it's smoothed and creamy, your hair will still get caught when the wind is blowing hard but not as bad as a regular lip gloss. It also doesn't have the best lasting power as far as the glossiness is concerned. The colour however will stay on longer. But I definitely have to reapply after lunch because it will wear off after a meal.
The button release mechanism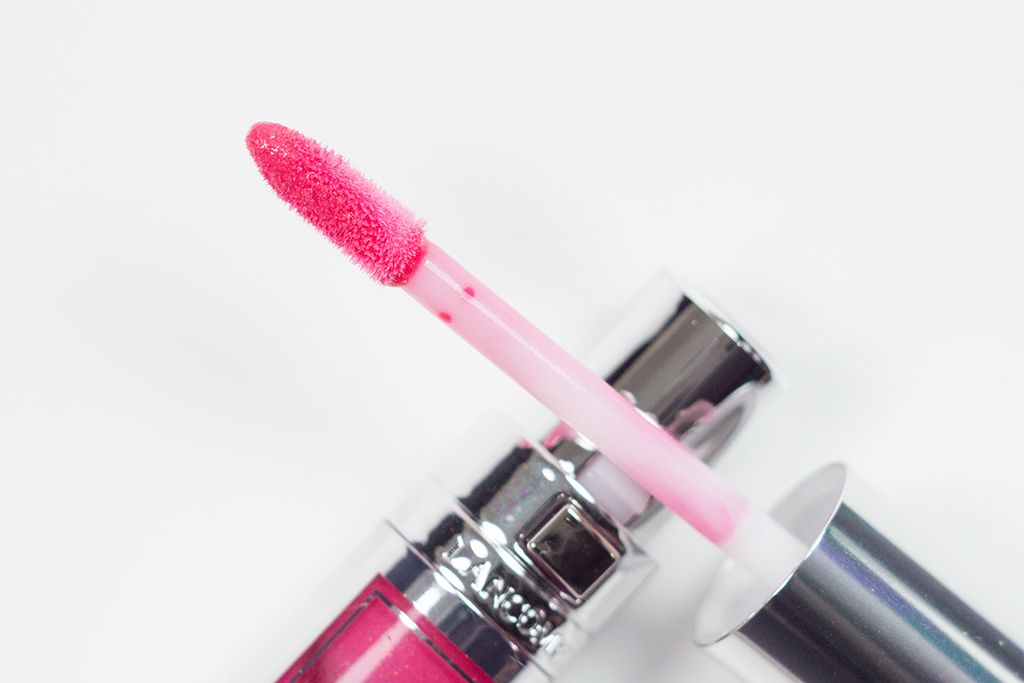 The applicator
Another notable feature of the Lip Lover is the packaging. It comes with a press and release mechanism to take the applicator out, and you just push the applicator back in to close it. So you don't have to worry about forgetting to screw it in. I also really like the applicator it comes with because it is slim which offers precision and also glides comfortably on your lips.
Lancôme Lip Lover Swatches - From L to R: Rose Ballet, Rose Attrape-Coeur, Lip Lover, Corail Cabriole
313 Rose Ballet is a light rosy pink nude colour with minimal shimmer. It is the perfect nude pink for my lip colour. If I can't decide what to wear on my lips, which happens at least once a week.
316 Rose Attrape-Coeur is a bright rose pink with soft shimmer. It is more pigmented compared to Rose Ballet, and it's a great everyday bright colour for not being over the top but still bright enough for it to be noticeable.
337 Lip Lover is a bright berry pink and it is the title colour of the Lip Lover campaign. It looks absolutely beautiful on Lily Collins, and that's what drawn me to buy it. It is a quite sophisticated shade in my view, so I will be using it for night out :).
336 Corail Cabriole is a bright coral pink colour with noticeable shimmer. It is also a more pigmented shade. We have seen orange lips all over the SS2014 runway, it is the it-lip-colour of the season. I am not too comfortable with orange lips, yet, so this coral pink is the great for me.
All in all, I really enjoyed these
Lancôme Lip Lovers, I am tempted to get more shades (I have my eyes on Orange Menage). They are now available at Lancôme counters and lancome.ca. I purchased mine from Sephora.com but yet to see them in Canadian stores (they're already at the US stores). I strongly recommend you to go swatch and see for yourself. If you're like me who love a glossy lip colour that is not sticky but moisturizing, chances are you will like it as much as I do.
Until next time,
x Rica
*Disclosure: Some products mentioned in this post were provided to The Office Chic for review consideration. As always, all the opinions expressed here are my own and are in no way influenced by any advertiser, affiliate, public relations firm or brands.