Shu Uemura Eye Event Collection | Enjoy Makeup this Summer & Instagram Contest | Review, Photos & Swatches
August 5, 2014
• Beauty, Contest, Eyeliner, Eyeshadow Palette, Eyeshadows, Japanese Beauty Products, Make Up, Makeup, Mascara, Product Photos, Review, Reviews, Shu Uemura, Swatches
Shu Uemura wanted women "to enjoy make-up more freely" and have fun playing with colours. With that in mind, the brand has created a new line of eyeliners called Drawing Pencils that are inspired by their own Aterlier's professional palette. These pencils feature a soft blend able formula that allows you to mix and match, draw and blend, while also provide a great colour payoff. There are in total of 21 shades and 4 textures (matte, pearl, metallic, glitter).
I tried out 4 shades (from top to bottom):
M black 01: a matte jet black
G Silver 92: a glittery metallic silver
M red purple 11: a matte burgundy red
ME purple 71: a metallic purple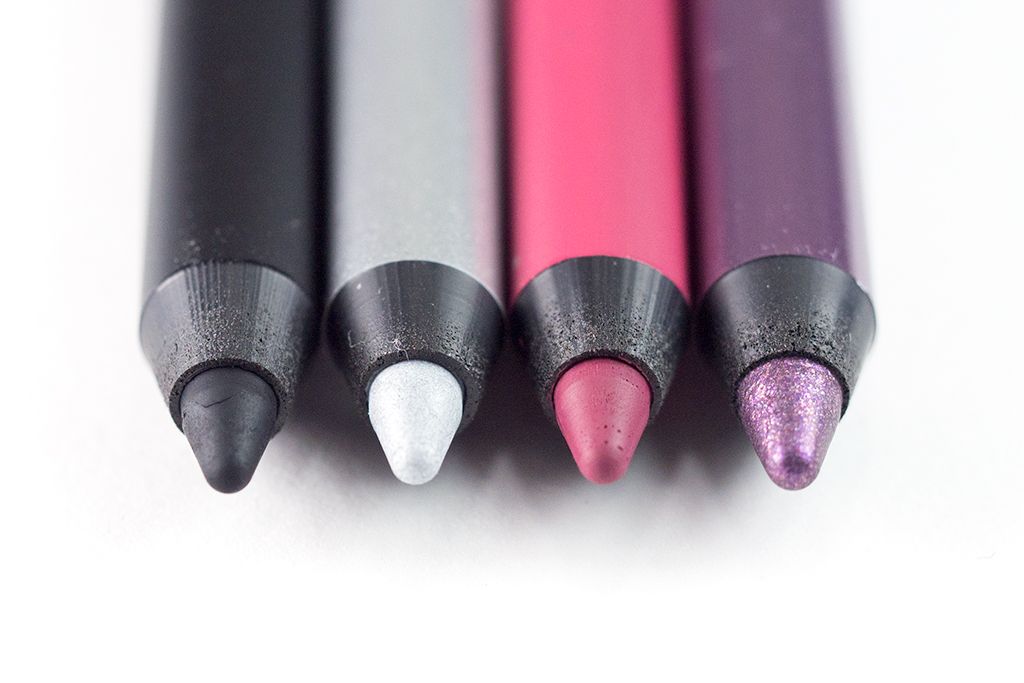 From L to R: M black 01
, G Silver 92
, M red purple 11 & ME purple 71
Swatches from L to R: M black 01
, G Silver 92
, M red purple 11 & ME purple 71
All 4 shades are creamy and easy to blend. This makes application and layering easy. I love using the M black 01 for tight lining because it is very creamy (doesn't tug my eyes) and long lasting like it claims to be. For a fun look, I would opt for ME purple 71 because the metallic finish is quite captivating. I can wear it alone or top it with a satin purple shades, but I prefer the former. As for M red purple 11, I haven't quite figure out how to rock it as a main colour, but it works really well when I tried to use it as a base for a burgundy smokey eyes. As for G Silver 92, I would use it on the inner corner to brighten my eyes, or take it all the way on the bottom lash line for a more dramatic effect.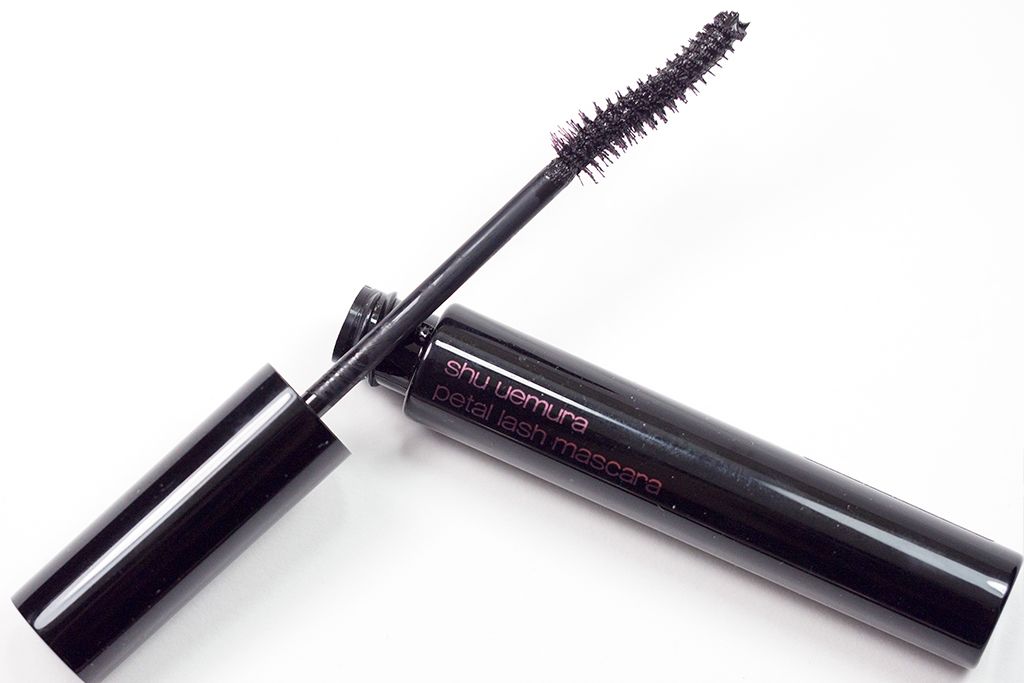 Shu Uemura Petal Lash Mascara
Also from the Eye Event Summer collection, Shu Uemura also released a new mascara—Petal Lash Mascara. This is an all in one mascara that features a small curvy brush to help you get to the smallest lash and let it, as they put it, bloom. It does curl, lengthen, and volumize like it claims; however, it's not ultra dramatic effect but I love it for everyday because it stays and doesn't smudge. It is a great everyday mascara if you want are looking for an all in one waterproof long wearing mascara. To top it off, the formula has a pleasant sakura scent but the scent goes away quickly in case you're sensitive of it.
Shu Uemura Petal Lash Mascara - the brush
Shu Uemura Petal Lash Mascara - before and after
Last but not least, Shu Uemura Atelier has added some new eyeshadows which target specifically to match Asian eyes. They have put together 4 new Prêt-à-palette, each offers 1 matte base, 2 matte shades to define, and 3 colours to choose from. I tested out the pink hues palette, and while I might not be very comfortable with the bright pink shades, other shades are quite easy to wear in my everyday look. I especially like ME light pink 126, which is a icy pink colour.
This collection is available online at shuuemura.ca or shuuemura-usa.com for US customers. You can also find them in stores at Holt Renfrew in Canada. If you plan to order online, use code DRAW15 to get 15% off your entire purchase :). If you still can't get enough of Shu's makeup, they are having an Instagram contest right now. Simply Instagram your Summer makeup look and tag @shuuemurausa and #eyeloveshu to enter to win $1,000 worth of Shu Uemura makeup! Good luck!
Until next time,
x Rica
*Disclosure: Products mentioned in this post were provided to The Office Chic for review consideration. As always, all the opinions expressed here are my own and are in no way influenced by any advertiser, affiliate, public relations firm or brands.