Bold Eyebrows On a Budget | Maybelline EyeStudio Brow Drama & L'Oréal Paris Super Liner Brow Artist
October 14, 2014
• Beauty, Brow Gel, Brow Pencils, Brows, Demo, Drugstore, L'Oreal Paris, Maybelline, Product Photos, Review, Swatches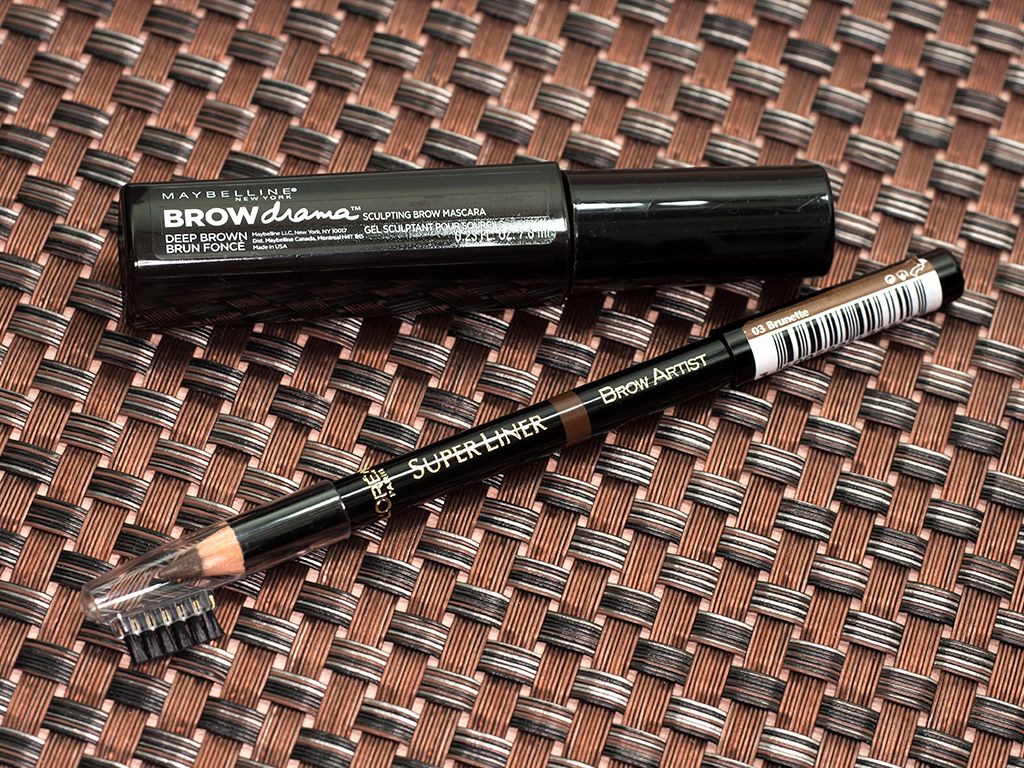 In a world where every beauty guru is obsessed with Anastasia Beverly Hills Brow Wiz and Benefit Gimme Brow (which are both fab btw), some may feel a bit lost when they try to spend less than $25 on a brow product or two.
I'd like to think there is always a more affordable way to do most things, including taming your eyebrows. Here's what I used:
L'Oréal Paris Super Liner Brow Artist (CA $11.99 / US $9.99), also known as the Brow Stylist Sculptor in the U.S., is a two sided brow fixer with eyebrow pencil on one end and a finishing wax on another. It also comes with a handy brow brush on the cap. Available in 3 shades (Blonde, Brunette, and Deep Brunette), I use the shade Brunette. The crayon side is a bit soft and takes sometime for me to get used to because I usually use a brush and wouldn't need to worry about the pressure. I absolutely love the wax side, it will tame all those unruly brow hair for you! The brush that it comes with is also great for blending out the colours.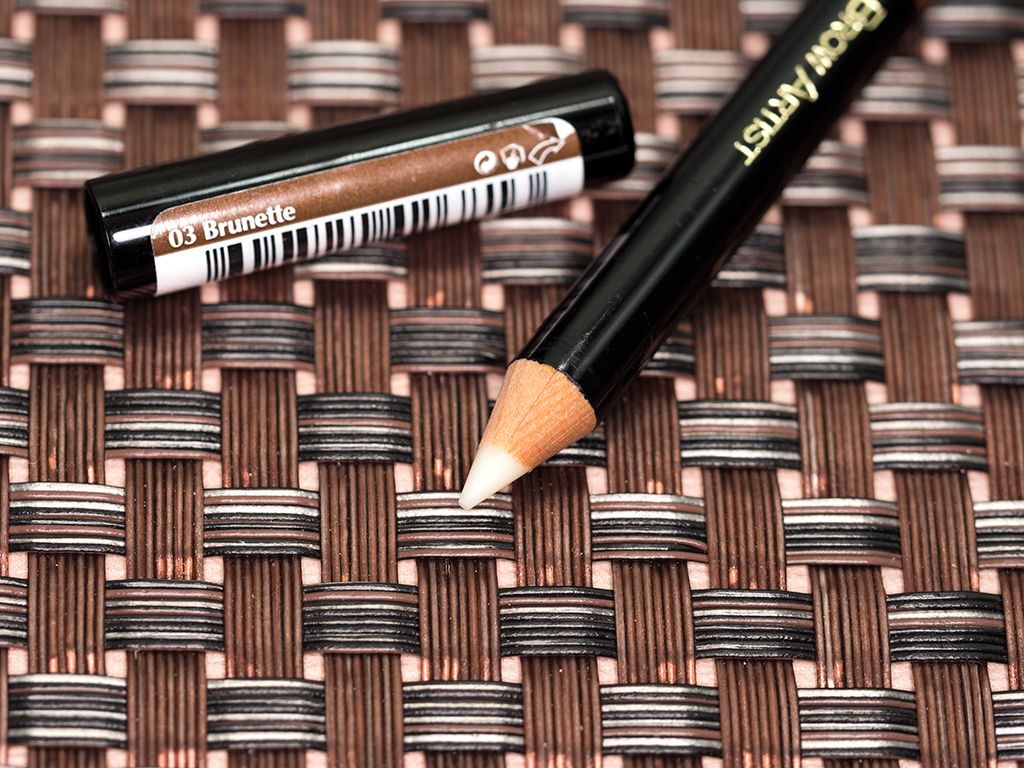 Maybelline EyeStudio Brow Drama (CA $11.99 / US $7.99) is brand new to the drugstore this month. It is called a Sculpting Brow Mascara, essentially a tinted gel mousse designed to get give your brows a fuller and a more sculpted look. This is also available in 3 shades (Blonde, Soft Brown, and Deep Brown) and I use Deep Brown. It comes with a rather large ball brush for your brow but it's pretty easy to use. It keeps my brow hair in place and add some volume. It also doesn't take long to apply, so if you're in a hurry but still want your brows done, this is it.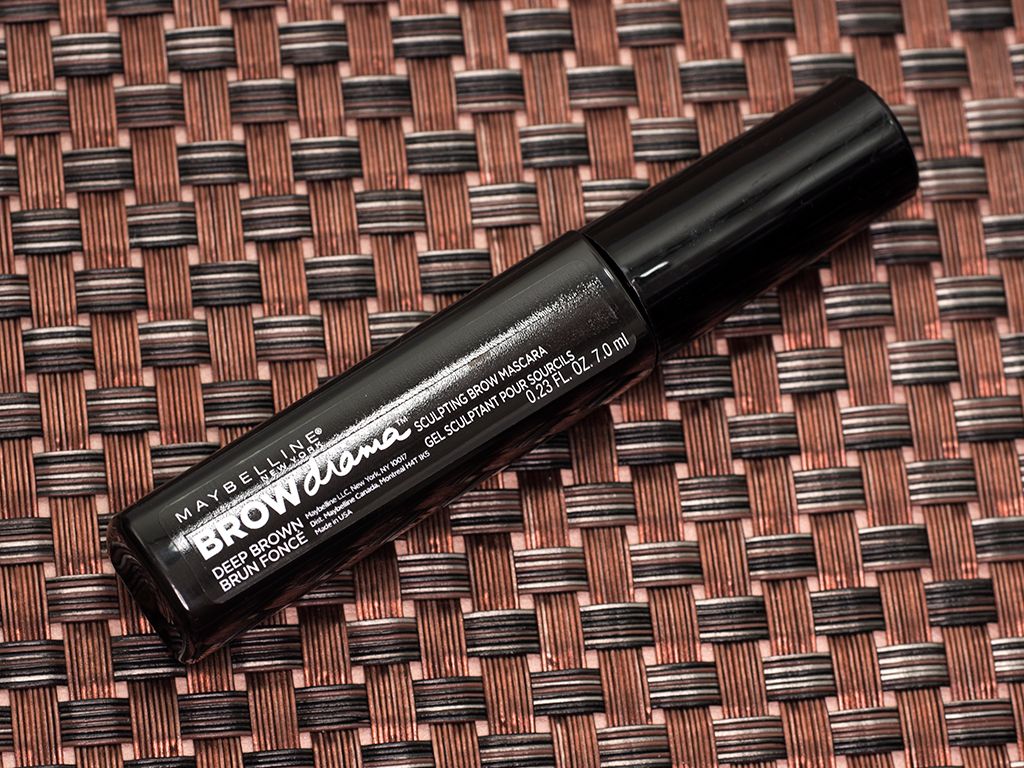 Swatches (L to R): L'Oréal Paris Super Liner Brow Artist in Brunnette &
Maybelline EyeStudio Brow Drama in Deep Brown
As you can see in the picture below, I got really sparse brows and my brow hair is really thin, so I could really use a lot of volume from both of these products. Here's what I would do:
(1) Start by filling your brows in using the crayon end of the L'Oréal Paris Brow Artist from the head of the brow and move outward in short strokes. The crayon is actually quite soft, so be careful not to apply too much pressure.

(2) Next use a spooly brush or the brush that is comes in to brush out your brows so the strokes look undetectable and it will soften the look.

(3) Turn to the wax side of Brow Artist keep the brow hair in place and fix any boo boos.

(4) Finally, set the look and add more volume using the Maybelline Brow Drama by brushing it through your brows. It also make the look appear more natural.

(Optional) Go back to the spooly to brush it out if it's needed.
Whether you're on a budget or not, these two products are great for your day to day brow routine. Now you may ask, "do I need both?" Well, that depends... If you have sparse brows and thin brow hair like mine, then I'd say, "yes, absolutely". But if you have nice full brow, than you may just need the Maybelline Brow Drama. Or if you have, say, a spot where you don't have much brow hair, then the L'Oreal Paris Brow Artist will be a great fix.
What is your brow routine?
Until next time,
x Rica
*Disclosure: Products mentioned in this post were provided to The Office Chic for review consideration. As always, all the opinions expressed here are my own and are in no way influenced by any advertiser, affiliate, public relations firm or brands.