Dior 5-Couleurs Eyeshadow Palettes Are Better Than Ever & Also Perfect for Thanksgiving
October 13, 2014
• Beauty, Dior, Eyes, Eyeshadow Palette, Eyeshadows, Fall, Fall Collections, Look Book, Looks, Product Photos, Review, Swatches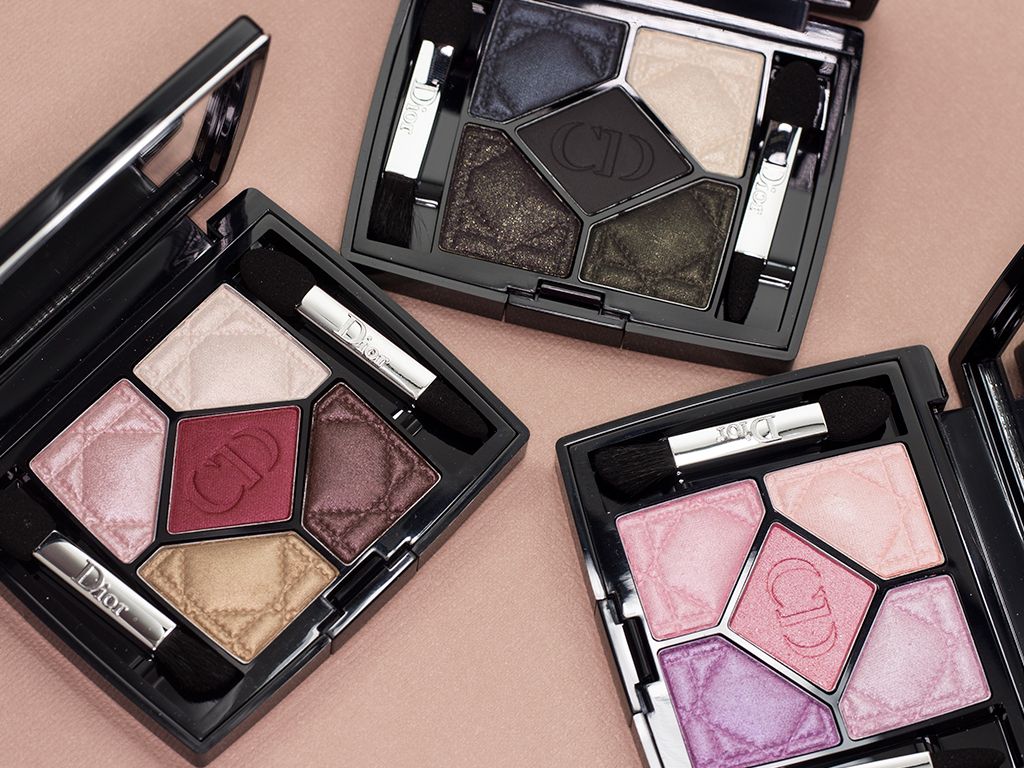 Happy Thanksgiving to all you Canadians out there! Hopefully you get to spend some time with your family during this long weekend... And maybe stuffed by the stuffed turkey... get it?
While I didn't have a family-full weekend, I did manage to spend some quality time with my beau (he is family too). And I didn't forget about the two person feast: we got a rotisserie chicken and I am making some kale salad, some mash, a main with squash and quinoa for tonight :D.
Another thing that I didn't forget is Thanksgiving makeup! The day that I'm obliged to wear cranberry eyeshadow, and that's what I did. I pull out my Dior 5-Couleurs Couture Colours & Effects Eyeshadow Palette in Trafalgar (CA $61 / US $60) for this occasion.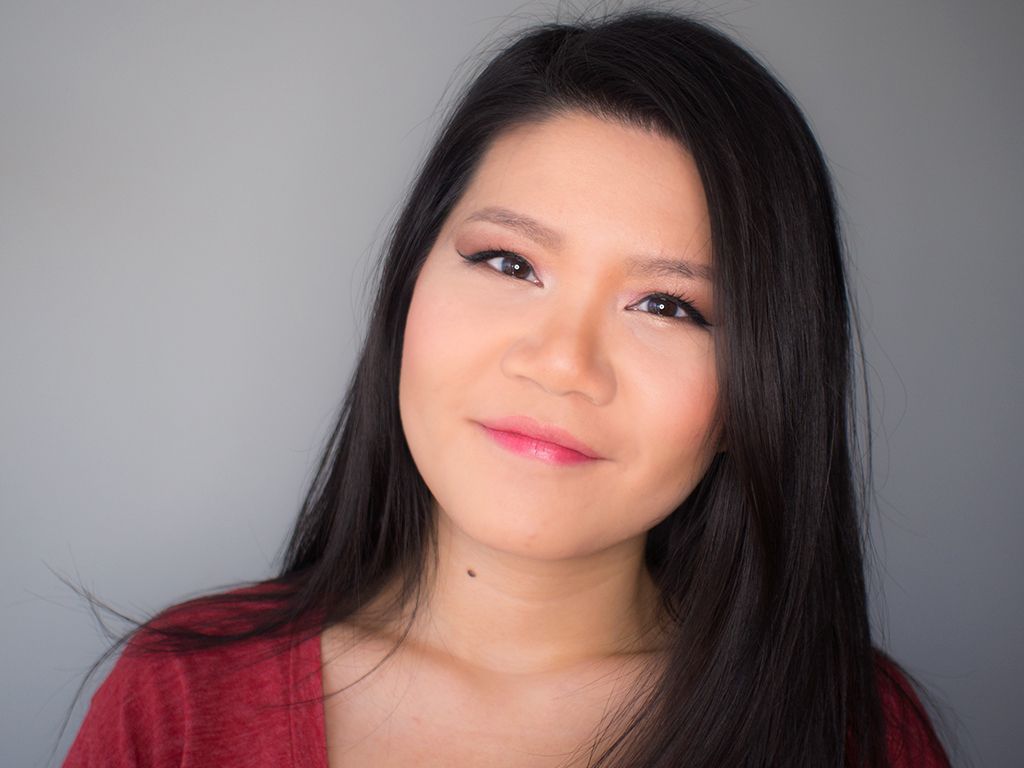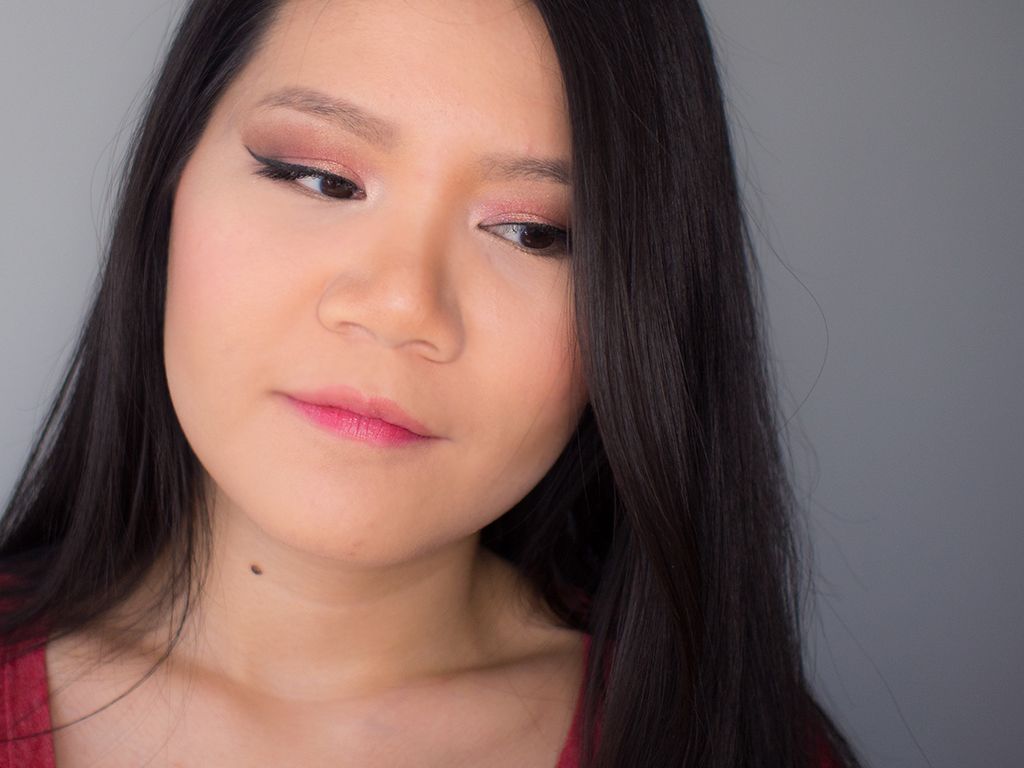 To achieve this look, in the Trafalgar palette, place the centre cranberry red colour all over the lid up to the crease. Then, using the burgundy brown shade, define the crease and blend it out. Apply more of the same shade to the outer corner to intensify the look. Next, to add some shine to the look, place the gold shade to the centre of the lid. Soften the look by applying the light pink on the lid towards the inner colour. Finally, highlight the eyes with the shimmery white shade, brush it along the brow bone and on the inner corner of the eyes.
Finish the look off with your favourite liquid eyeliner and mascara (I used shu uemura calligraph:ink and Dior Diorshow Iconic Overcurl Mascara).

Tip: Before I start, I taped a Post-it flag along the edges of my eyes to create that straight line. It's less stick than tape so it doesn't hurt and it's also easier to remove.

Rest of the face: YSL Fusion Ink Foundation SPF 18, It Cosmetics Bye Bye Undereye Concealer, Urban Decay Naked Skin Powder, Too Faced Bulletproof Brows, Benefit Hoola Box O' Powder (as contour), Hourglass Ambient Lighting Blush Palette (Incandescent Light as blush), Dior Rouge Dior Couture Colour Lipstick in Rouge Massaï (CA $37 / US $36) (as a tint).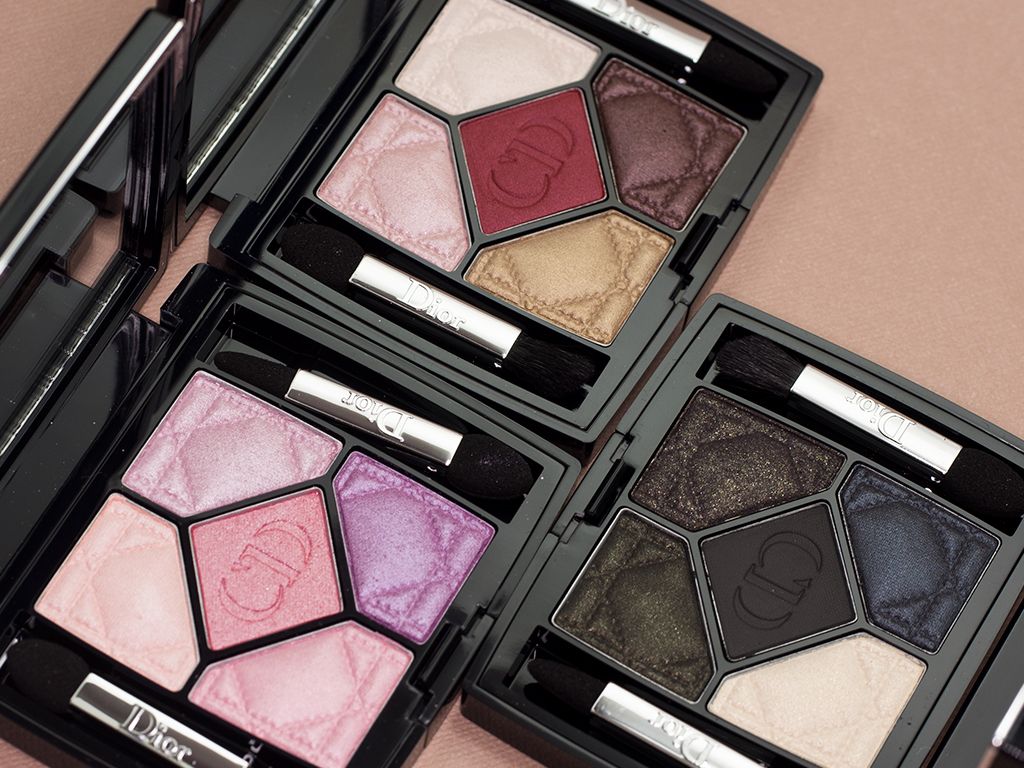 I have to confess that I never had much luck with the bolder colours in Dior eyeshadow palettes. They're always a bit sheer and just not as great for the money you're paying for. But the new ones included in the Dior Fall Look Collection this year have superb quality. All the ones I have tried have great pigmentation (except the lighter glittery shades, which maybe by design) and stay put throughout the day with a primer.
The palettes in this collection have been reinvented and reformulated. The choice of colours are inspired by Dior fashion with colours in a variety of finishes: matte, satin, iridescent or ultra-glitter. Each palette are set up in a way so that you can use the upper trio for a natural look and the lower trio for a sophisticated look (i.e. a day time look and a night time look). But of course, you can combine all 5 colours like I did here.
Dior 5-Couleurs Eyeshadow Palettes in Pied De Poule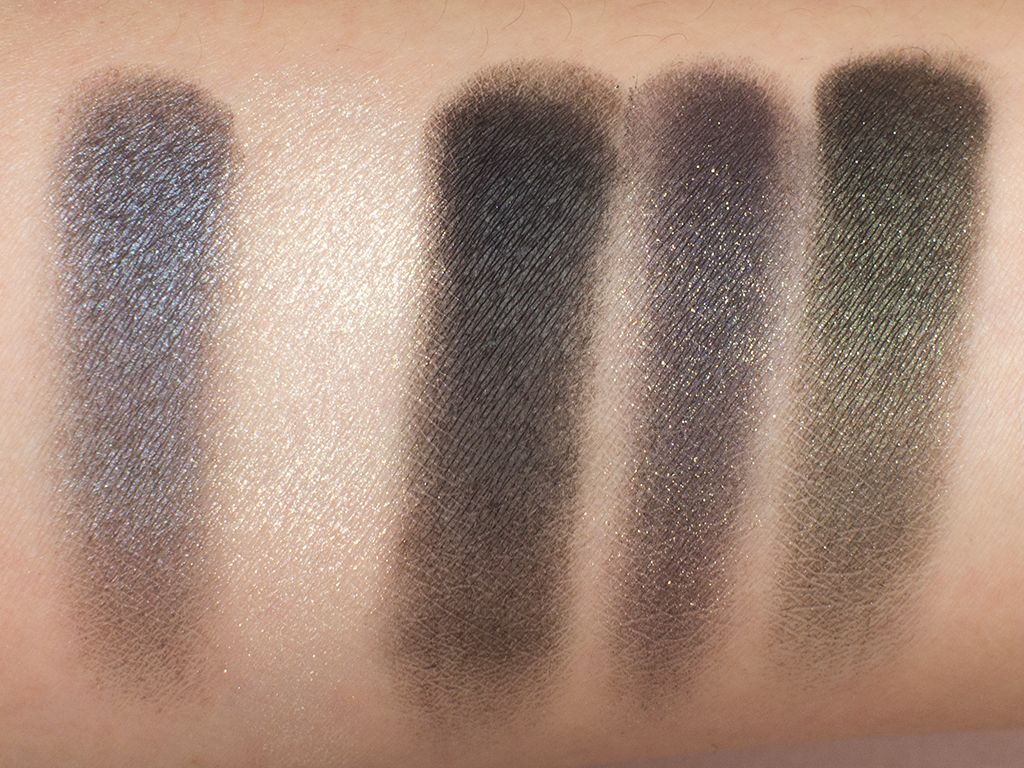 Dior 5-Couleurs Eyeshadow Palettes in Pied De Poule - Swatches
Dior 5-Couleurs Eyeshadow Palettes in Rose Tutu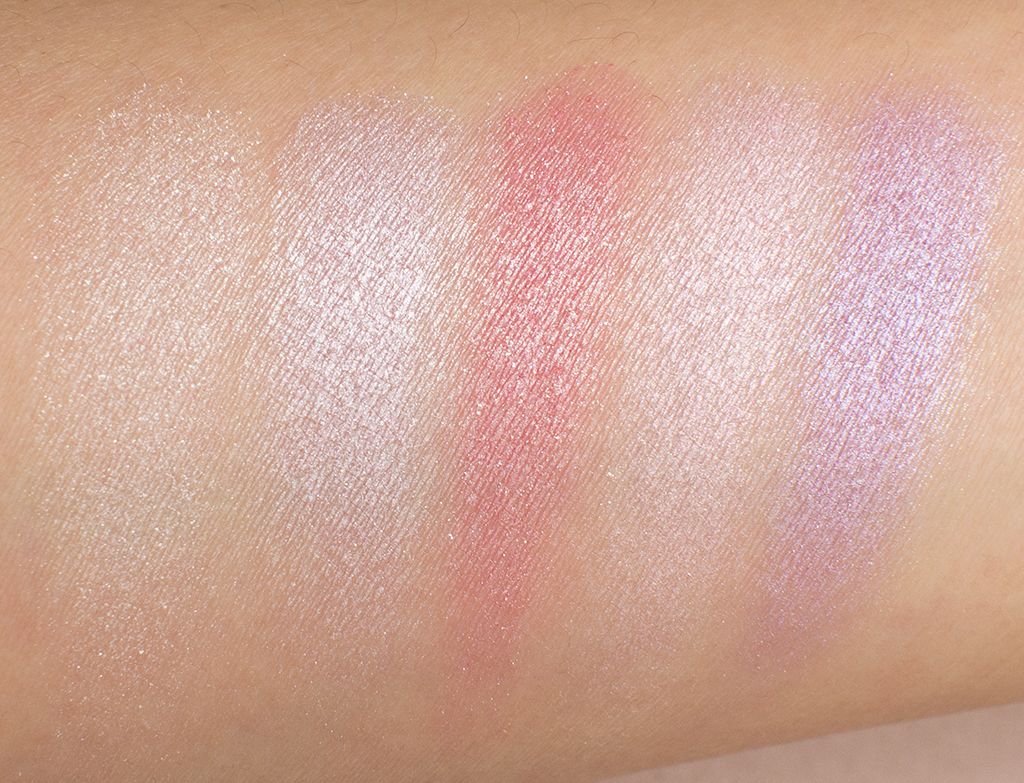 Dior 5-Couleurs Eyeshadow Palettes in Rose Tutu - Swatches
Dior 5-Couleurs Eyeshadow Palettes in Trafalgar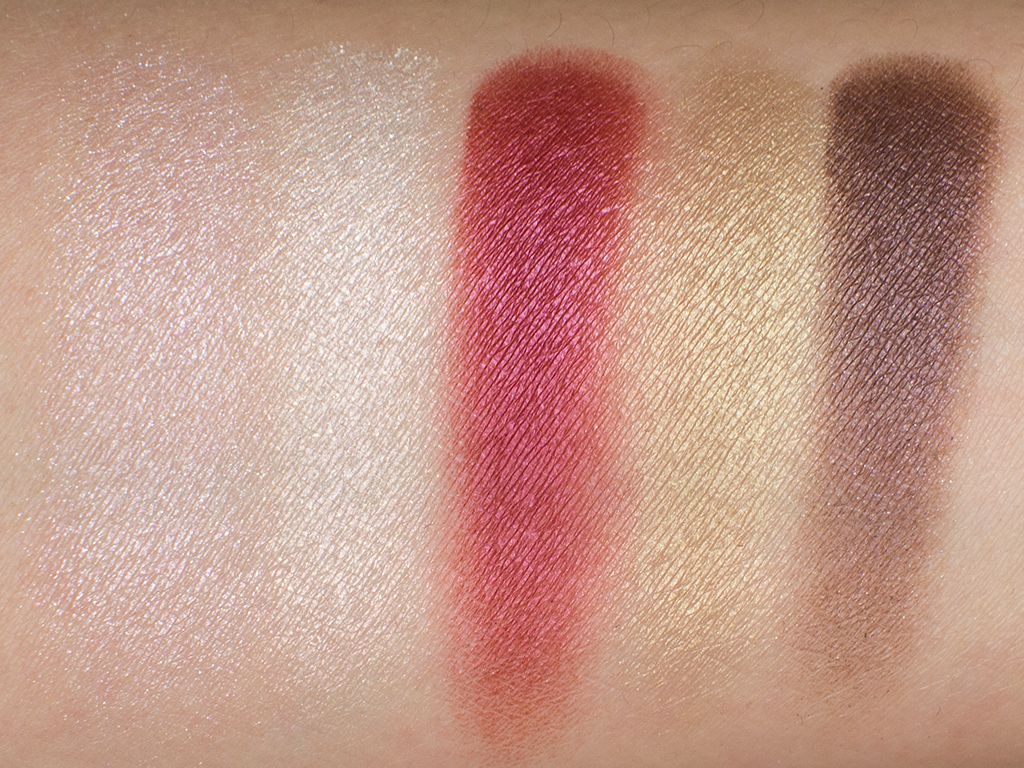 Dior 5-Couleurs Eyeshadow Palettes in Trafalgar - Swatches
I really enjoyed playing with these palettes in the collection, and overall, I give them an B+ (that one glittery shade and the price point though...) with individual rating: Pied-De-Poule (A-), Rose Tutu (B), and Trafalgar (A-). Other than the 3 shown here, the collection also includes Bar and Carré Bleu, both of which look beautiful. I would love to try Bar out just because of the colour combination (it's a neutral palette with a peach shade).
If you have been wanting to try out Dior eyeshadows but haven't bitten the bullet, you may wanna try it now. If you're like me, was not entirely happy with their past eyeshadow palettes, these will definitely change how you feel (going forward anyway).
Do you wear special makeup for Thanskgiving (like me and cranberry red)?
Until next time,
x Rica
*Disclosure: Products mentioned in this post were provided to The Office Chic for review consideration. As always, all the opinions expressed here are my own and are in no way influenced by any advertiser, affiliate, public relations firm or brands.