In My Makeup Bag Lately | September 2014
October 2, 2014
• Beauty, Benefit, Dior, Favourites, Hourglass, L'Oreal Paris, Lancôme, Laura Mercier, Make Up, Marc Jacobs, Revlon, Urban Decay, Yves Saint Laurent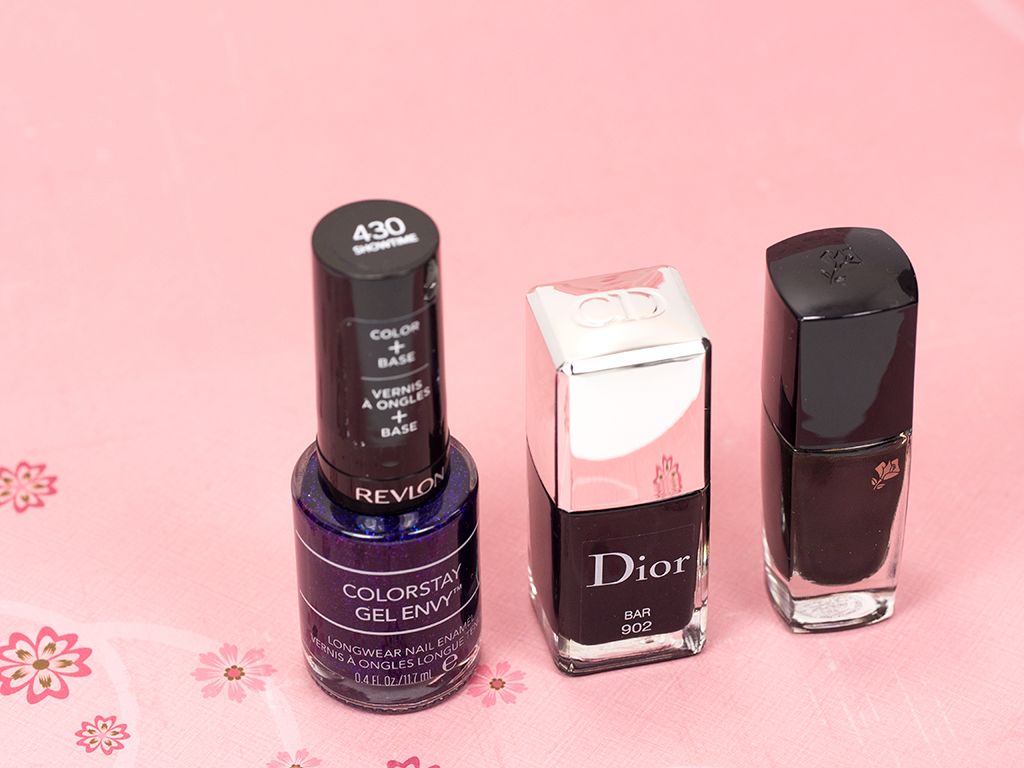 Sometimes you gotta keep things interesting, especially with makeup. So I have been changing things with my routine to make sure my products get some love. Okay, maybe I gave out too much love because the list is quite long this month.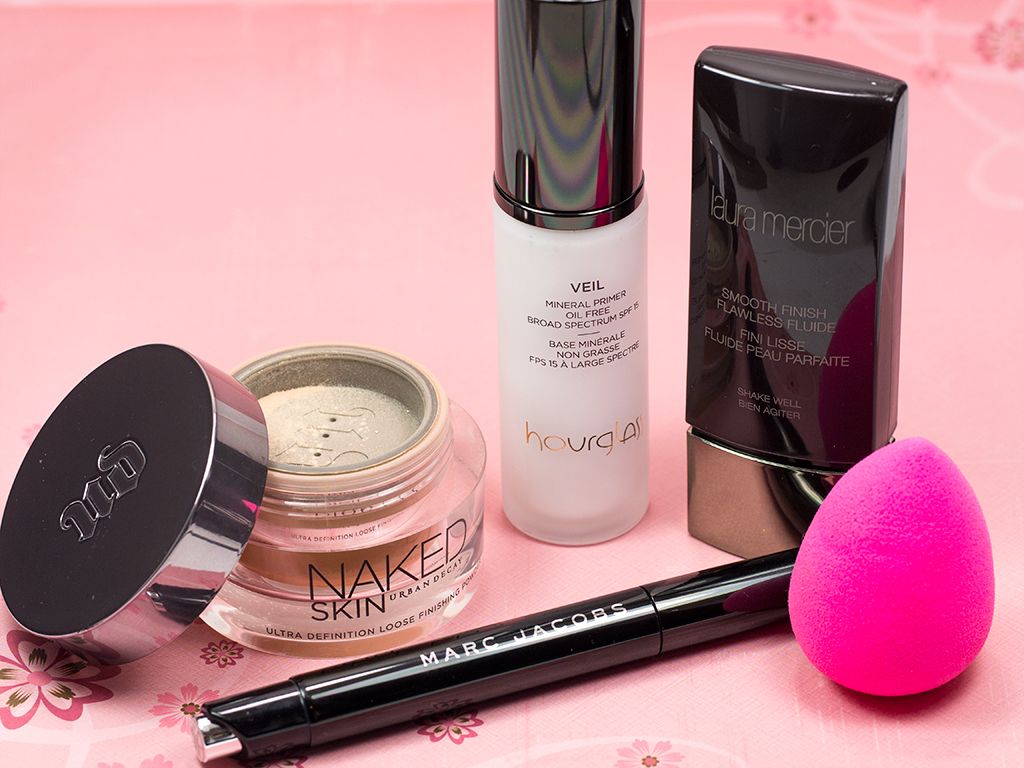 I think you already know about my oily skin complex and what I would do to try to stop the shine on my forehead. That's right, I'm still loving Hourglass Veil Mineral Primer Broad Spectrum SPF 15 (CA $60 / US $52) and Laura Mercier Smooth Finish Flawless Fluide (CA $59 / US $48). You can read about my favourite primers here and my favourite foundations here.
For my vampire dark circles, seriously it's bad, I turn to Marc Jacobs Remedy Concealer Pen in Wake Up Call (CA $47 / US $39) to cover them up. This concealer is light and liquid-y in texture but it stays in place. My lazy self has turned to the BeautyBlender (CA $26 / US $19.95) to apply foundation and concealer, because it's the fastest and easiest way to do so.
To set, the Urban Decay Naked Skin Ultra Definition Loose Finishing Powder (CA $40 / US $34) has been so great for prolonging the wear of my base makeup. It's super smooth and it won't look too powdery.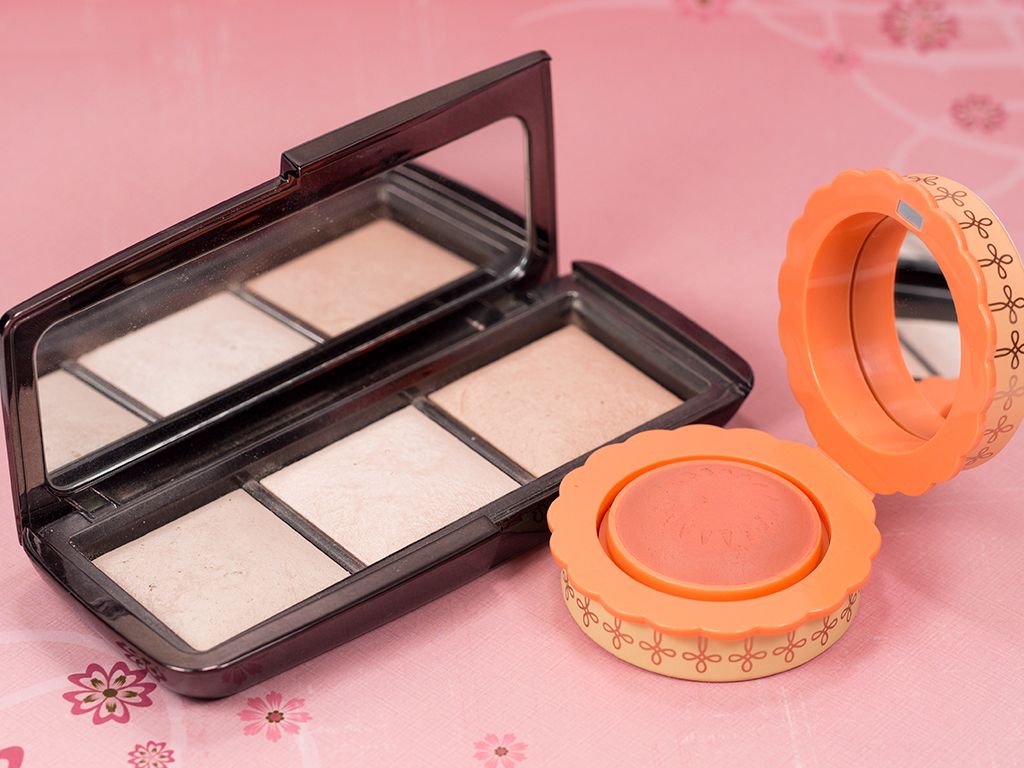 I have been going to an old-ish favourite, Hourglass Ambient Lighting Palette (CA $67 / US $58), for my highlight and Fall-bronzing. Never thought I would give the 3 shades in it an equal amount of love, but I did—Incandescent Light for a subtle highlight; Radiant Light for bronzing; and Dim Light to blur the skin.
I'm also stuck on Benefit Majorette (CA $36 / US $28). This peachy pink cream blush can be worn alone or with other blushes to help your cheek pop. For me, I quite enjoy just wearing it on its own because it has great stay power and gives natural glow.
Being a neutral-eyeshadow girl at heart, I tried the Urban Decay Naked2 Basics Palette (CA $35 / US $29), and it's an instant love... surprise, surprise. All these cooler neutrals are so beautiful and of course these shadows are buttery soft. I still can't decide if I like the original or this one more. I have also been trying the L'Oréal Paris Colour Riche Luminous Ombrés in Perpetual Nude (CA $11.99 / US $9.99), a relatively new drugstore gem. These shadows are so smooth and they give good pigmentation.
You can't neglect the tools when it comes to eyeshadow application, and the MAKE UP FOR EVER Artisan 240 Medium Round Shader Brush (CA $32 / US $28) is my new fave. I use it for applying colour, blending out the edges and "erasing" mistakes—so versatile!
For mascara, I can't seem to let go of the Dior Diorshow Iconic Overcurl Mascara (CA $35 / US $28.50). This month though, it's not the waterproof version but it works just as well.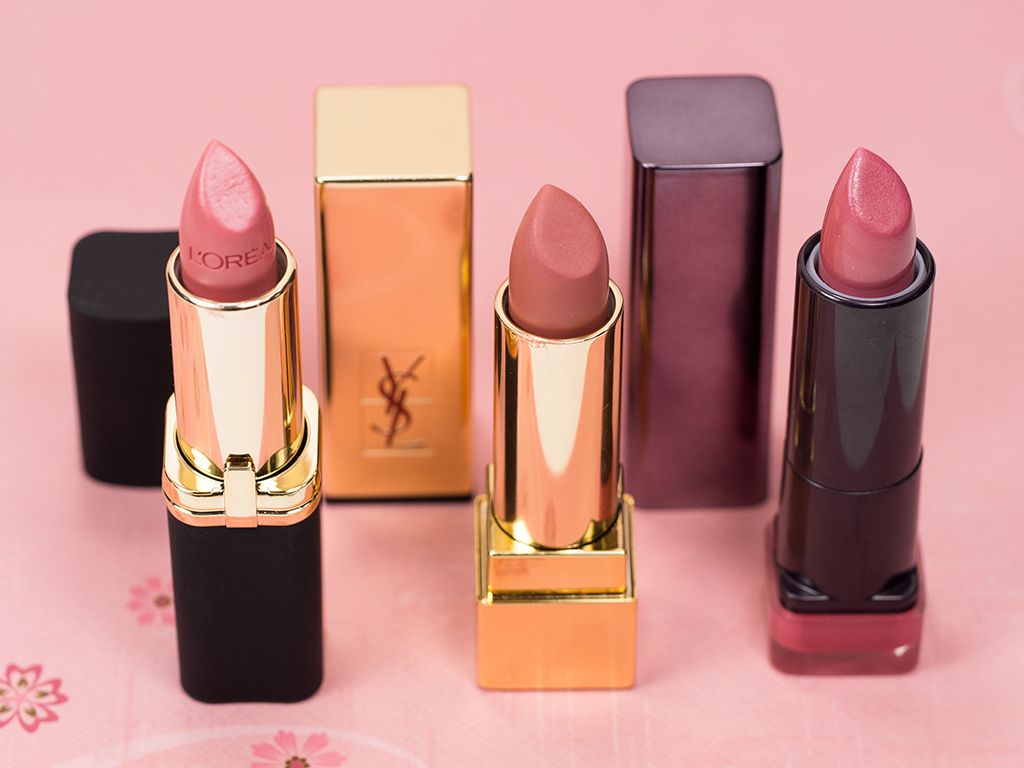 Pinky/rosy nude has made a comeback in my pre-Fall makeup routine. It all started with YVES SAINT LAURENT Rouge Pur Couture the Mats in 210 Nude (CA $39 / US $35) that I deemed the perfect rosy nude for me. Then I got hooked to the L'Oréal ColourRiche Collection Exclusive Nude in The Julianne Nude (CA $10.99 / US $7.99), which is such an awesome pink nude! And then there's COVERGIRL LipPerfection Lip Color in Darling (CA $7.99 / US $6.99), with which I rekindled after I organized my lipstick drawer. I love these hues because they are so easy to pull off and perfect for every occasion.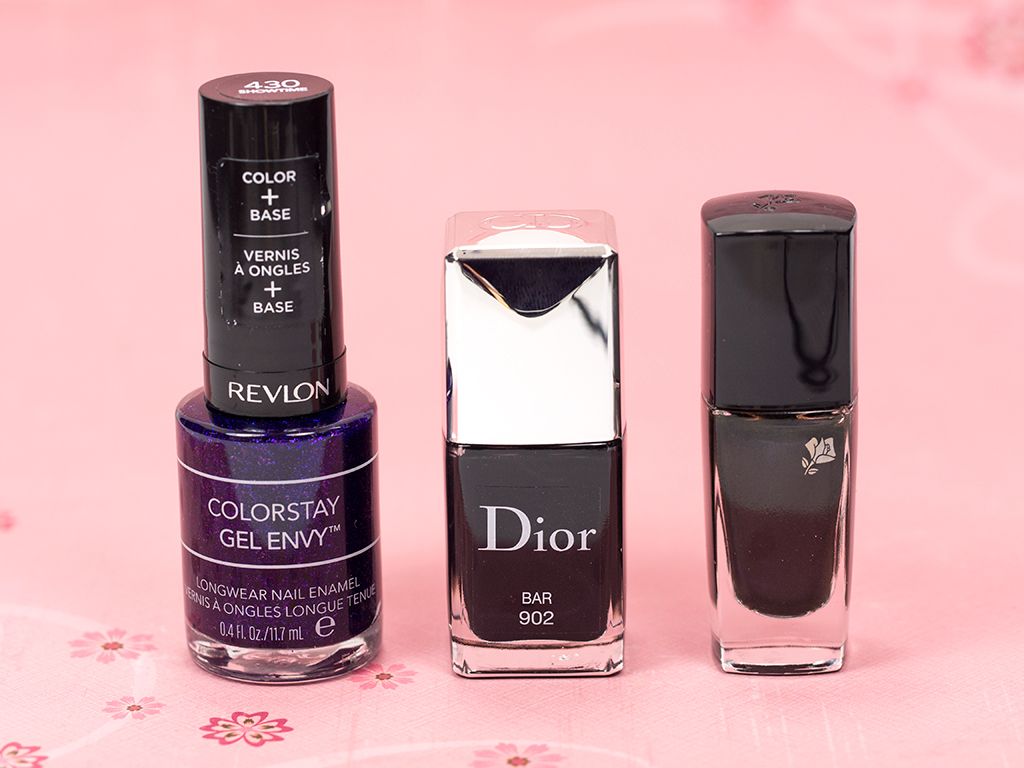 My taste in nail polishes seems to be a month ahead, because I've been gravitating towards the Fall/Winter dark nails since end of August. To go the extreme, I really love Dior Vernis Gel Shine and Long Wear Nail Lacquer in Bar (CA $26 / US $25) from their Fall collection. It's a black nail colour with very minimal shimmer, but this might just be what made it stood out to me. Another interesting colour that called for me was Lancôme Vernis in Love in Tourmaline Noir (CA $18 / US $15). It's a dark khaki but under different lights it looks like a black with iridescent green. I also like the Revlon ColorStay Gel Envy Nail Enamel in Showtime (CA $9.99 / US $7.99). The purple colour is a lot more vibrant in person and the micro glitter shows up better than in the bottle as well.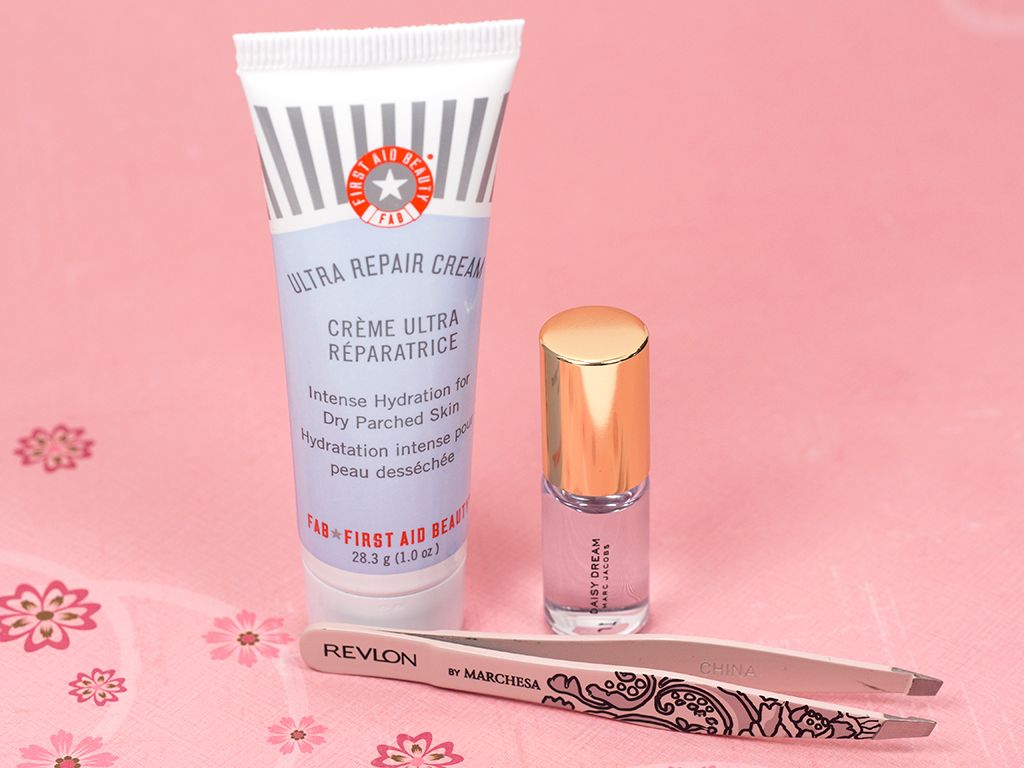 In Canada, the weather has been so temperamental last month. My hands got super dry 'cause it got so cold last month. Thank goodness for First Aid Beauty Ultra Repairing Cream (CA $35 / US $28). It saved my hands. You gotta at least try a sample to feel the magic.
Speaking of samples, I got a small rollerball of Marc Jacobs Daisy Dream (CA $85 / US $76), which I have been lusting after since the image came out. It's so fresh but mild, and it's still has the similar notes to the original Daisy fragrance.
Finally, I feel like I just keep forgetting to mention how much I adore the Revlon Designer Slant Tweezer (CA $9.99) from the Revlon by Marchesa Beauty Tool Collection earlier this year. I still see some available at different cosmetics aisle. It's quite sharp and it has been a great help in plucking my brows. The best part is that I got it on sale, plus I used a coupon, fabulous!
What have you been loving lately?
Until next time,
x Rica
*Disclosure: Some products mentioned in this post were provided to The Office Chic for review consideration. As always, all the opinions expressed here are my own and are in no way influenced by any advertiser, affiliate, public relations firm or brands.