LUSH Halloween Products Smell So Good That You Wanna Trick Or Treat at Their Store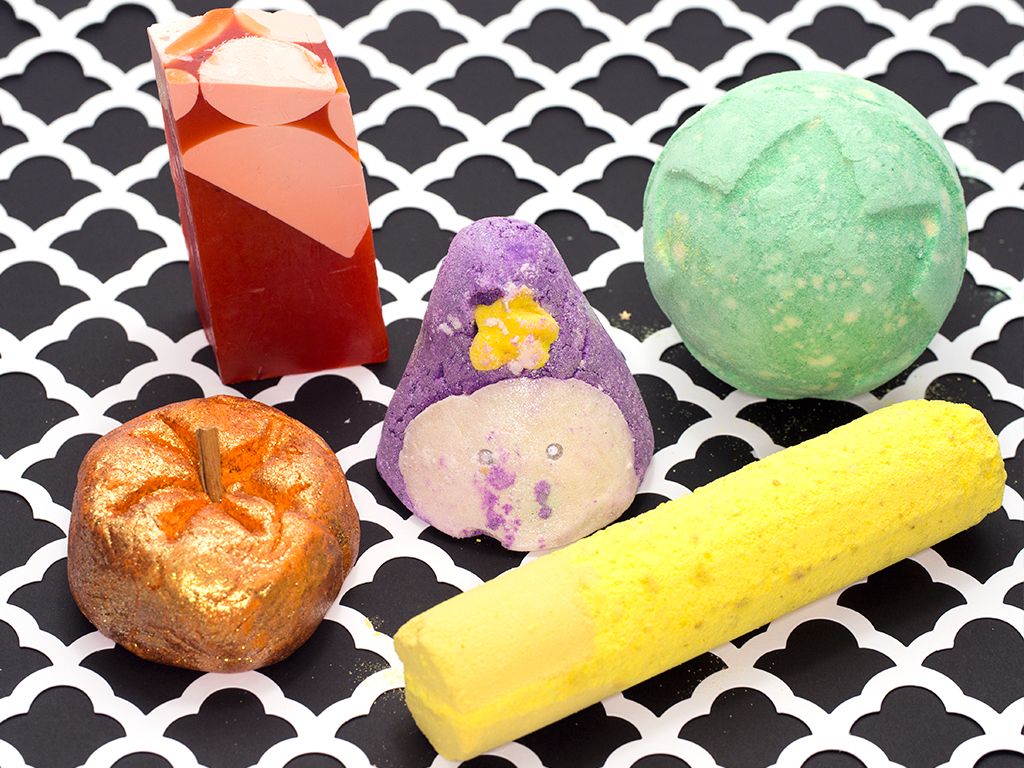 Halloween is only two weeks away, everybody is getting pumped: from kids who just want to go trick or treating, to adults who really want to win the best couple costume contest. My ideal Halloween evening, though, is to sit back, relax, watch a couple of horror movie, and have a bubble bath with LUSH Halloween Bath Treats.
While I'm no longer a little girl getting excited for free candies, I still want my treat, the grown up way... maybe not so grown up because these LUSH Halloween products are seriously adorable.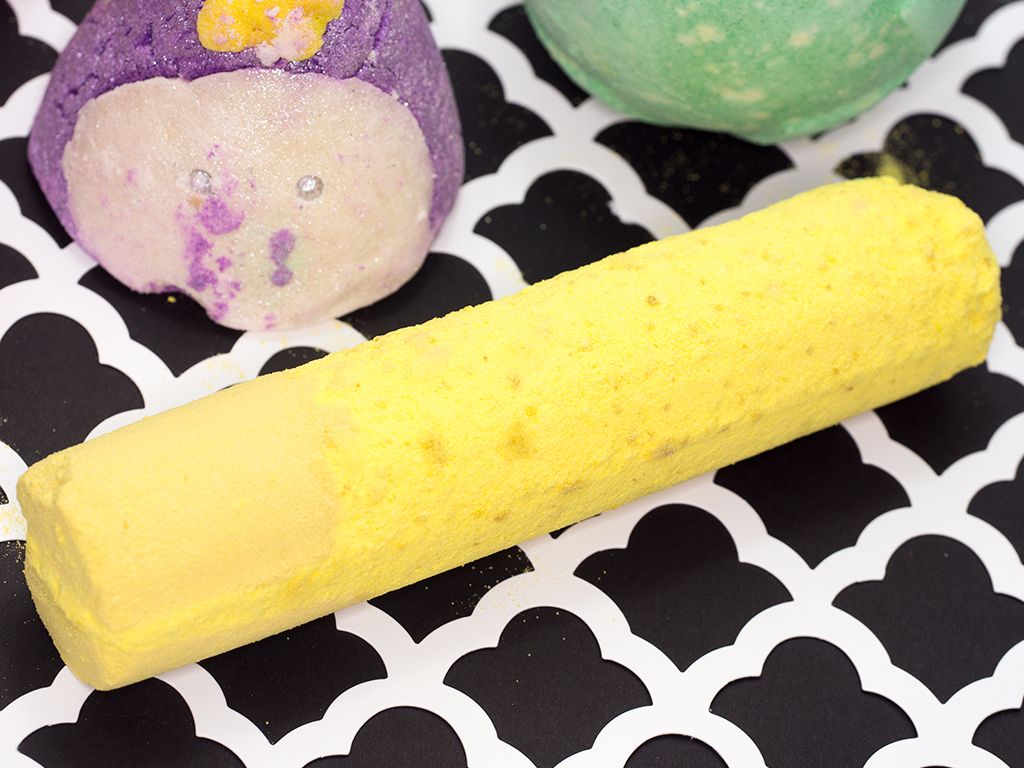 LUSH Halloween Treats 2014 - Sparkler Bath Bomb
The Sparkler Bath Bomb (CA $6.95 / US $5.95) is bath bomb in a stick form, promised to make fireworks popping sounds and shimmering colours when you drop it into water. It gives fairly intense layer of yellow foam with orange water underneath. It looks sparkly indeed because of those fine golden shimmer in the bath bomb. It also smells like rose and lemon (also the Rose Jam shower gel that everybody loves for the Holidays). It's one of the most fun bath bomb I have tried, mainly because of the "sparkling effect" and it reminds me of pop rocks. I definitely wanna try Northern Lights Bath Bomb (CA $6.95 / US $5.95) now because of the awesome blue and purple colour and the starry sparkle.
LUSH Halloween Treats 2014 - Lord of Misrule Bath Bomb
The Lord of Misrule Bath Bomb (CA $6.95 / US $5.95) is a returning favourite. It features "a spicy blend of patchouli and black pepper oils", which gives the bath bomb a little of a spicy but sweet kick that you can smell and will linger for an hour or so. When you drop it in the bath, it releases a green layer of foam. Then, it would crack and and a wine colour layer of form would bust out. It's a huge bath bomb, so if you want you could probably save it for two uses, but I don't feel that it's as easy to break as the Sparkler Bath Bomb or the Northern Lights Bath Bomb.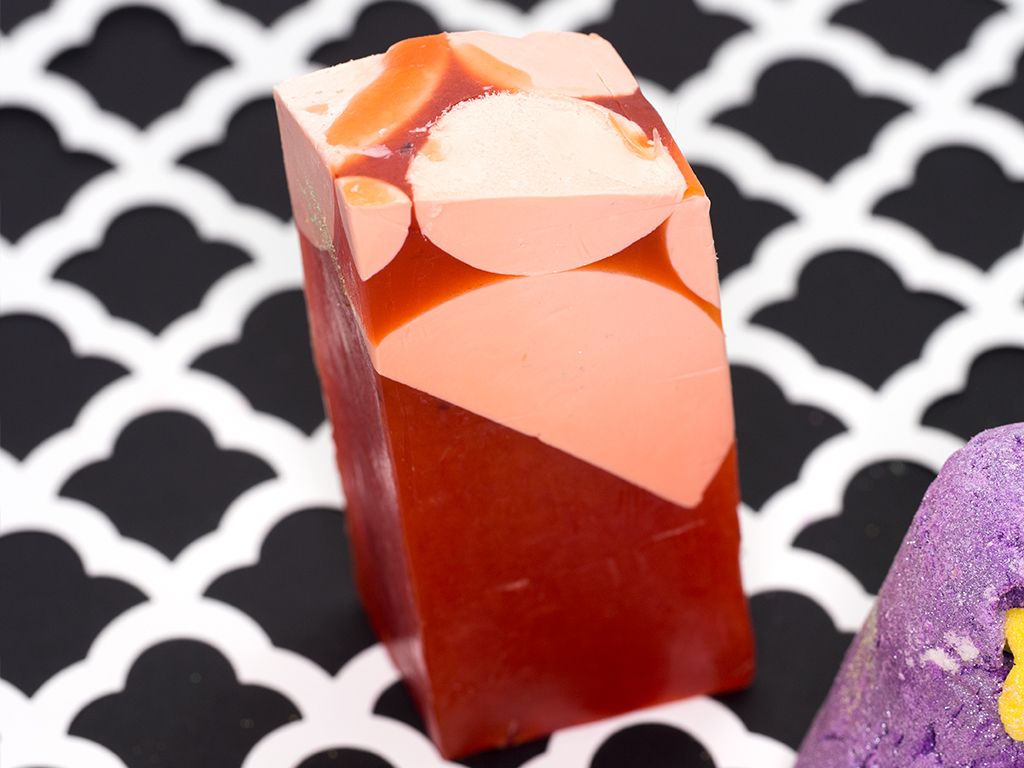 LUSH Halloween Treats 2014 - Fairy Ring Soap
When the Fairy Ring Soap (CA $7.95 / US $6.95 per 100g) arrived in the mail, I was a tad bit confused because I thought it would look like a fairy toad house. Then, I remember, oh ya, they it cut it up, silly me lol. I just wish it comes in a fairy toad house... or I could buy the entire block of it... The Fairy Ring Soap lathers up really well and leaves your skin feeling soft after use. The Ylang Ylang scent it has is also very calming. The only problem though, you can't keep it on like a soap dish and leave it out. You gotta have a case or something because this soap melts very easily, maybe because of the oil content in the soap. So be sure to keep it out of heat.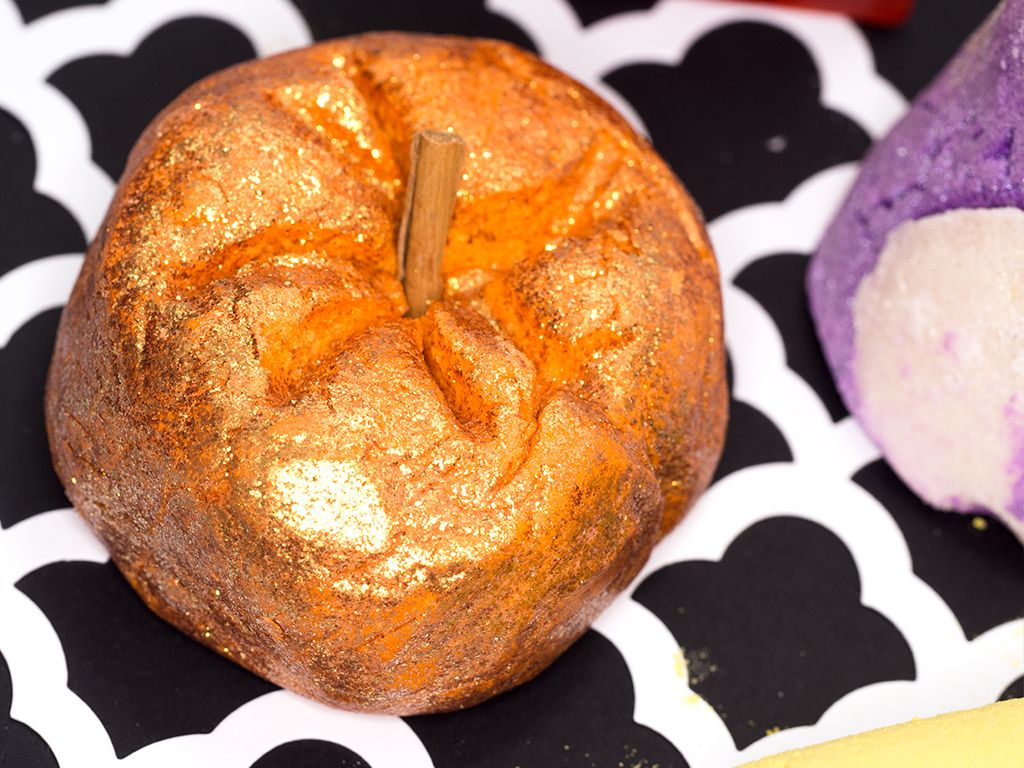 LUSH Halloween Treats 2014 - Sparkly Pumpkin Bubble Bar
You can't forget the pumpkins for Halloween, and LUSH has a sparkly one too, great. The Sparkly Pumpkin Bubble Bar (CA $7.95 / US $6.95) is a... well... a sparkly (and gittery) pumpkin bubble bar, the name describes it perfectly. There is even a cute small cinnamon stick on top to make it look more like a pumpkin! But it doesn't smell like pumpkin at all, in fact it has a more floral scent to it. It contains a blend of blend of juniperberry, grapefruit and lime oils that aims to make the room fragrant and creates an uplifting effect. It certainly did it. The scent was not overpowering yet lingers after the bath. To use it, you can't just drop it in the water like a bath bomb, you need to crumble it and run the pieces under running water and keep crumbling. Unlike bath bombs, you could easily save half for another use. As you would've imagine, it turns into a orange shimmery bubble bath.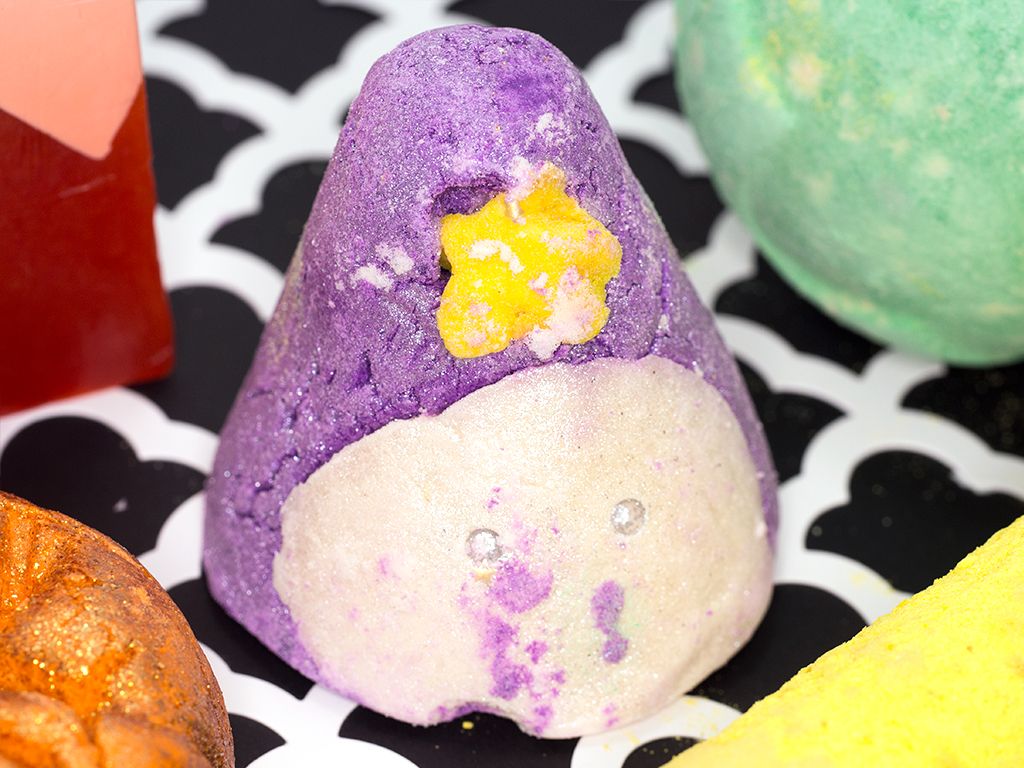 LUSH Halloween Treats 2014 - Wizard Bubble Bar
I'm saving the cutest for last, the Wizard Bubble Bar (CA $7.95 / US $6.95). This cute little shimmery purple guy right here dresses like a wizard. You know purple cloak kinda looks like wizard, right? It also has a tiny yellow star on its face, or it maybe a star on a wizard hat. Either, it's so cute, even mine was a little crooked. It smells a tiny bit spicy and invigorating. The essential oils included are tangerine, juniperberry and fennel oils to help re-energize your mood and your skin. Again, you gotta crumble it up under warm running water to get it to bubble up. The mix between purple and yellow is so pretty that I don't wanna blend them together (it depends which part of the bar you use though, you won't get that from the bottom half of it lol). I want another one just to look at.
Reviewing LUSH products has got to be one of the most enjoyable thing for beauty blogging. Now I'm all out, I must get some for October 31 because I will be de-stressing after my exam... Yep, still writing them.
Happy Halloween!
x Rica
*Disclosure: Products mentioned in this post were provided to The Office Chic for review consideration. As always, all the opinions expressed here are my own and are in no way influenced by any advertiser, affiliate, public relations firm or brands.