shu uemura Brave Beauty Eye Palettes Give You the Courage to Be Bold
October 7, 2014
• Beauty, Eyes, Eyeshadow Palette, Eyeshadows, Looks, Makeup, Product Photos, Review, Shu Uemura, Swatches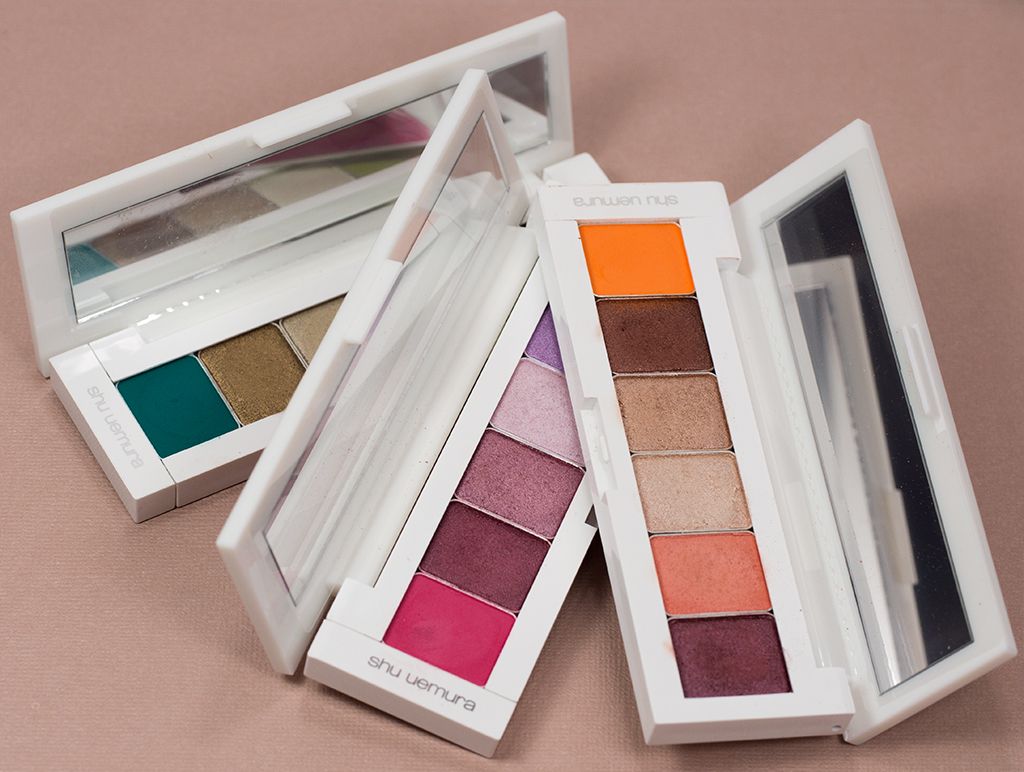 shu uemura brave beauty eye palettes
How would you categorize your day to day makeup? For me, it has definitely become more neutral in the past few years. I rarely do bold looks nowadays, part of it is because of my work, and part of it is just I'm kind of scared of it.
I remember when I first started with makeup, when I got a collection of colourful eyeshadows, I would always play around with different looks. It seems like my brave self has taken a deep hibernation.
"be brave, there is no need for hesitation, beauty is where you find it", Kakuyasu Uchide—shu uemuera International Artistic Director.
shu uemura brave beauty eye palettes
Well, challenge accepted. Looking at all of these beautiful shu uemura brave beauty eye palettes (CA $90) got me thinking, "I gotta do something fun with it", and so I did... a brave look with the brave beauty orange eye palette.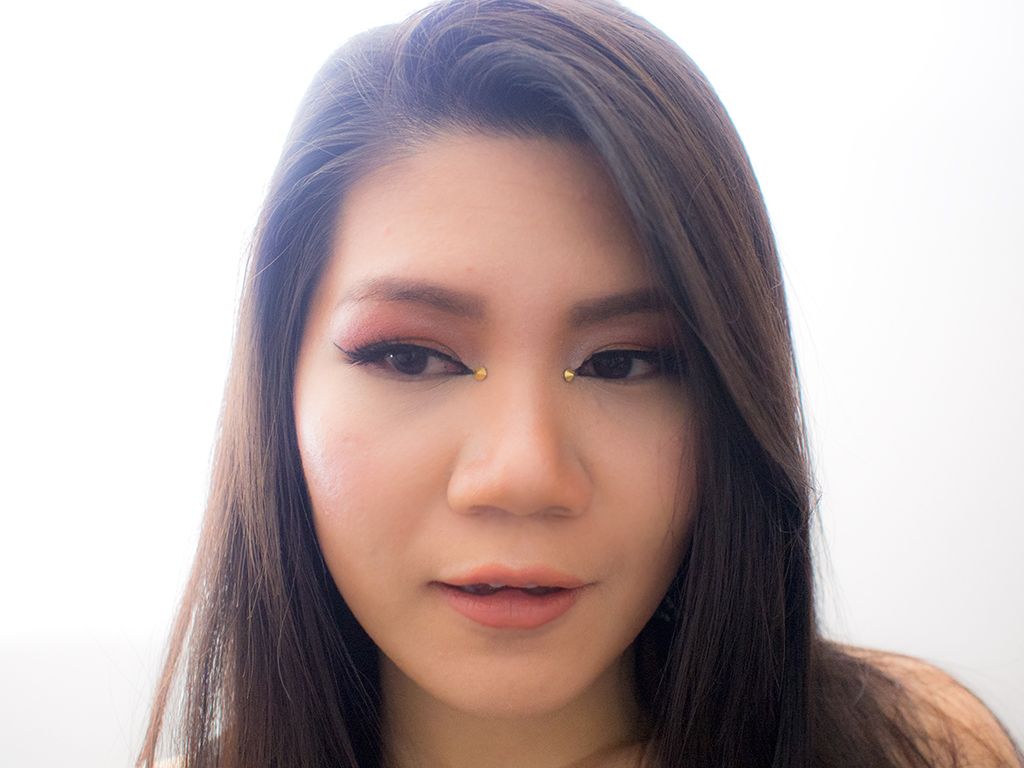 To achieve the look:
Start with the light beige in the palette from the inner corner. Then move towards the outer corner with the bright orange in the middle and the light coral on the outer corner. Dramatize the look with the plum shade and apply it from out corner to the crease, and give some definition to the eye by concentrating the deep brown on the crease. Lastly, blend out any harsh edges with the sandy beige shade.

To add more drama, line your eyes with the shu uemura Calligraph:ink (still love this stuff). Put on your mascara and apply your choice of false lashes (I used shu uemura luxe black here). Finish the look with the brave beauty face stud (CA $35).

Rest of the face: Marc Jacob Genius Gel Foundation, Benefit Brow Zing, shu uemura satin radian sticks in light pink & pink (CA $55), shu uemura brave beauty—vision of beauty rouge unlimited in beige (CA $36).
The quality of these eyeshadows in the brave beauty eye palettes varies across the board. The non-matte shades generally has good colour payoff, they are smoother and easier to blend; while the matte shades (i.e. the bright colour in each of the palette) need more work to get the desired opacity. The lasting power is pretty nice when I use the Dior Backstage Eye Primer.
shu uemura brave beauty eye palettes in green swatches
shu uemura brave beauty eye palettes in orange
swatches
shu uemura brave beauty eye palettes in pink
swatches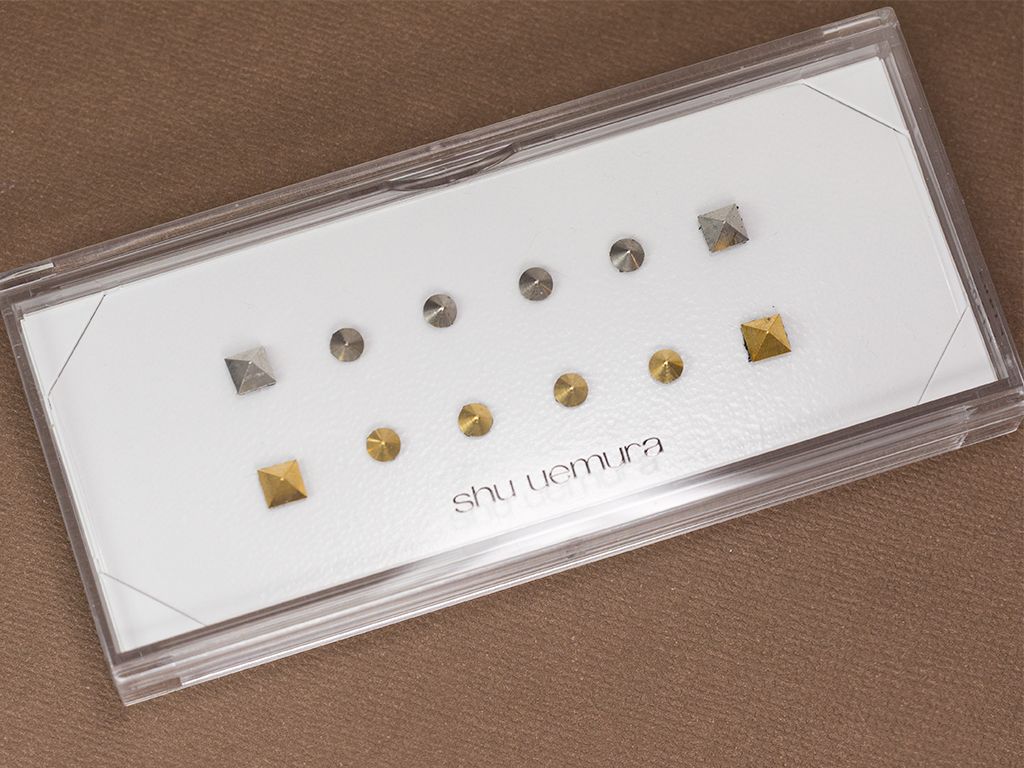 shu uemura brave beauty—vision of beauty face stud
shu uemura brave beauty—vision of beauty face stud
Among these palettes, my faovurite is the orange palette (I give it a B+) in terms of quality and usability. It's obvious that I like it considered that I did a look on it. Also, if you ignore that bright orange shade for a second, this one becomes a good every day palette lol. I While you can definitely get a pretty toned down look with the pink palette (B-) and the green palette (B) if you ignore the bright shade.
This is only vol. 1—vision of beauty—of the brave beauty series, which mean we are going to see more fun collections and artistic look from shu uemura. It's definitely fun to embrace your creative side every now and then if you don't do so already.
Are you ready to brave your beauty looks?
Until next time,
x Rica
*Disclosure: Products mentioned in this post were provided to The Office Chic for review consideration. As always, all the opinions expressed here are my own and are in no way influenced by any advertiser, affiliate, public relations firm or brands.