What's In My Travel Makeup Bag? | Part 2: Skincare | The Travel Chic
October 30, 2015
• Beauty, Bioderma, boscia, Derma Medream, First Aid Beauty, Kosmea, Life, Ole Henriksen, Origins, Philosophy, Skincare, The Travel Chic, Travel, Travel Chic, Travel Size, Vichy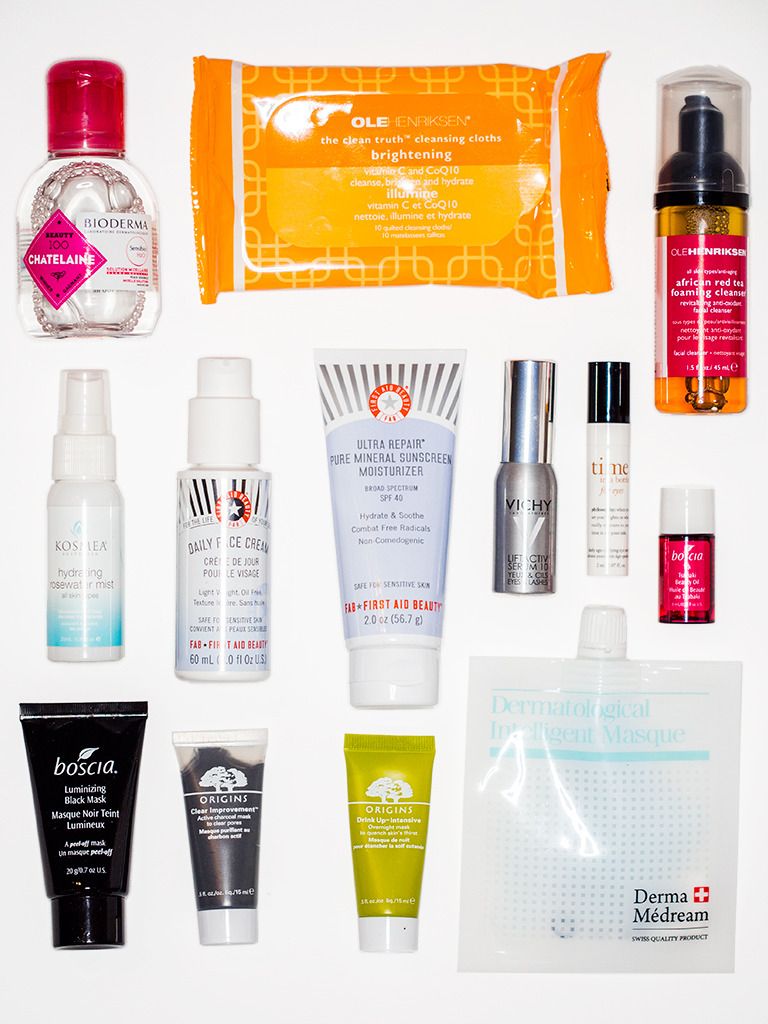 My short vacation is officially over. It's time to get back to the grind and catch up on life. There were sniffles everywhere when I was in NYC, so I knew this would happen—I caught something :/. Whilst fighting this cold, it seems like a good idea to talk a bit about the skincare I used during my New York trip.
This time around, I've done something slightly different. Usually I try to pack as much as my current routine as possible. But some of the things I'm using at the moment are quite bulky and I ran out of travel jar as well as time, so I went into my collection and dug up some past mini skincare purchases. For those that are less bulky I did bring along with me. Here's a run down:
Cleanser:
Ole Henriksen African Red Tea Foaming Cleanser
Makeup Removing Wipes:
Ole Henriksen The Clean Truth Cleansing Cloths: Brightening
Makeup Remover:
Bioderma Sensibio H2O Micelle Solution
Day Cream:
First Aid Beauty Daily Face Cream
(discontinued, new version)
Sunscreen:
First Aid Beauty Ultra Repair Pure Mineral Sunscreen Moisturizer SPF 40
Eye Serum #1:
Vichy LiftActiv Serum 10 Eyes & Lashes
Eye Serum #2:
Philosophy Time in a Bottle for Eyes
Hydrating Mist:
Kosmea Hydrating Rosewater Mist
Facial Oil:
Boscia Tsubaki Beauty Oil
Peeling Mask:
Boscia Luminizing Black Mask
Clarifying Mask:
Origins Clear Improvements
Hydrating Mask #1:
Origins Drink Up Intensive Overnight Mask
Hydrating Mask #2:
Derma Médream Dermatological Intelligent Masque
A few things I found:
The Ole Henriksen African Red Tea Foaming Cleanser is great at removing dirt and keep white heads at bay;
Those Ole Henriksen Cleansing Cloths soaked with a bit of Bioderma makes great eye makeup remover;
The Boscia Tsubaki Beauty Oil can double as body moisturizer; and
The Origins Drink Up Intensive Overnight Mask, when use lightly, is a great night cream and makes my skin feel very supple the next day.
I didn't put too much thought into what I could be missing because there is always a Sephora nearby in NYC, at least in Manhattan. I didn't actually end up getting those missing items from Sephora; instead, I just sort of make do with what I brought with me. It worked out quite well.
What's your strategy when it comes to packing travel skincare? Do you try new things during your trip? Or do you pack your usual routine?
Until next time,
*Disclosure: Some products mentioned in this post were provided to The Office Chic for review consideration. As always, all the opinions expressed here are my own and are in no way influenced by any advertiser, affiliate, public relations firm or brands.