The Non-Gloss Girl is Glossed Up with Almay Color + Care Liquid Lip Balm | Review & Swatches
May 24, 2013
• Almay, Beauty, Color + Care, Lip Balm, Lip Gloss, Lips, Liquid Lip Balm, News, Review, Reviews, Swatches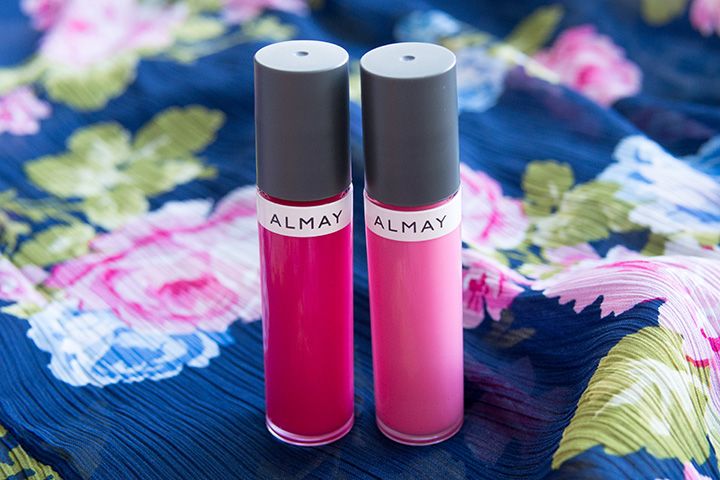 Almay Color + Care Liquid Lip Balm
I have never been a gloss girl, in fact, I ALWAYS pick lipsticks over lipgloss. But I didn't mind the new Almay Color + Care Liquid Lip Balm* (CA $8.95). Coming in 10 gorgeous shades, this moisturizing lip care formula is hitting the drugstore in Canada in July 2013 (it's already available in the U.S.).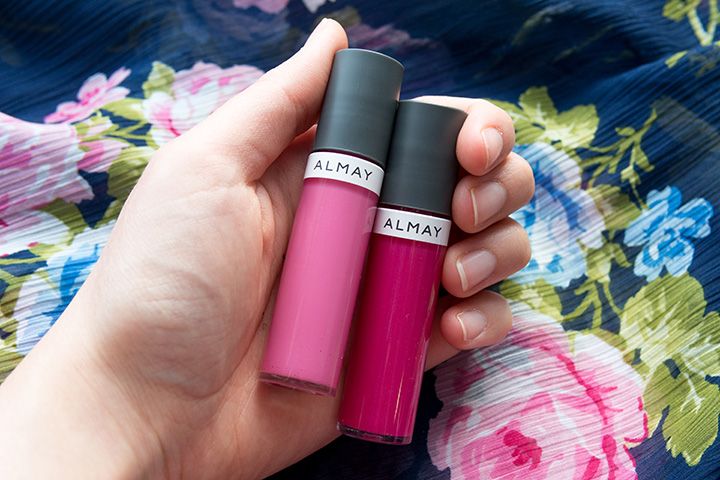 Almay Color + Care Liquid Lip Balm
The concept of Almay Color + Care hits home to me because it is designed to give the best of both worlds of conditioning lip balm and shiny lip colour. Infused with avocado oil and vitamin E, Almay claims that it can increase lip moisture by 194%. While I don't have the exact statistics of how moisturized my lips are after wearing this all day, I can say that they feel quite comfortable and nourished.
The formula glides on my lips smoothly and only a little bit sticky (you only feel it when wind blows hardly and your hair got stuck to your lips). Throughout the day, I really like to press my lips to feel that slippery feeling it gives, it makes me think that they are moisturized. Needless to say, my lips are happy to swatch them, because they're not drying like regular lippies. It also has a quite nice vanilla bean scent to it, but it doesn't taste like anything.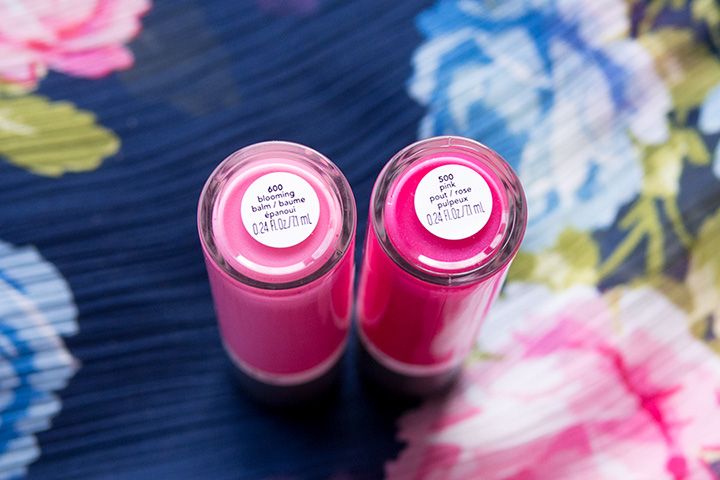 L to R: Blooming, Pink Pout
Blooming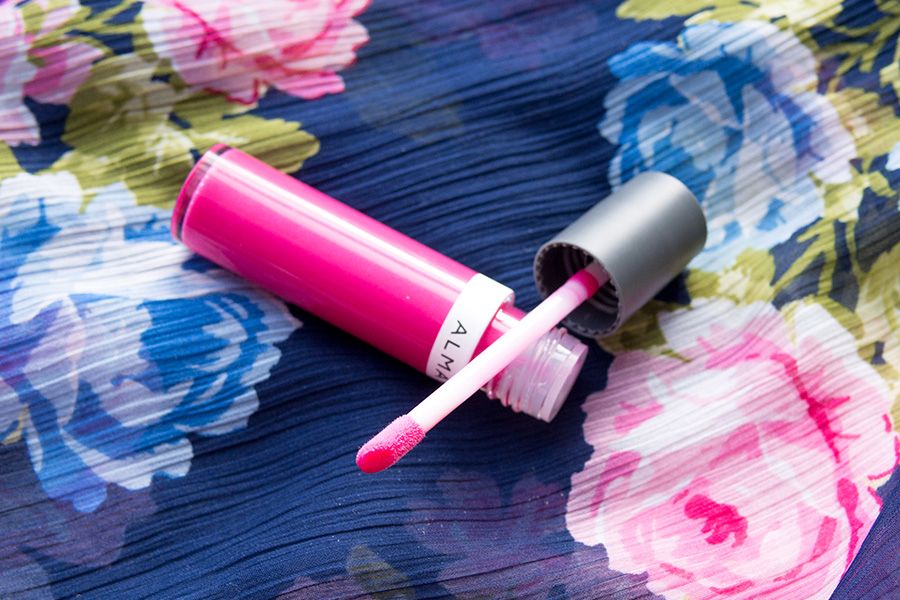 Pink Pout
The shades I finally settled on Blooming Balm and Pink Pout. I knew Blooming Balm will be the best for me because I love a sheer pink colour. This shade is my perfect everyday lip colour if I just need something to pick me up. It is more than a clear gloss because it makes my lips look pinker and fuller. Pink Pout on the other hand is much more pigmented and it's my favourite out of the two. (It is the same shade Kate Hudson wears in the promo picture.) What I love about it is that you can apply a thin layer and just give your lips a nice rosy tint. Or you can build it up to achieve a juicier and glossier effect. The option is wide open. I do wish they come in a squeeze tube or with a brush applicator instead because the doe foot applicator does not pick up much product.
Blooming Lip Swatch
Pink Pout Lip Swatch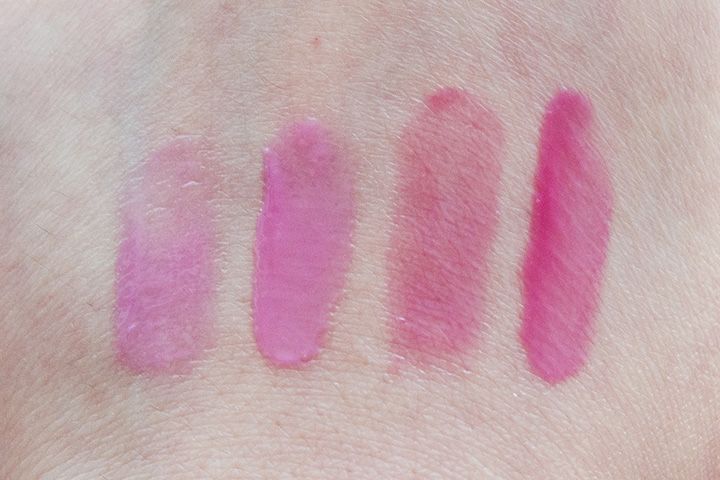 Swatches L to R: Blooming (blended, heavy), Pink Pout (blended, heavy)
Does it rival my long time favourite gloss formula - MAC Cremesheen Glass. That's a maybe. I like MAC Cremesheen because of its smoothness and pigmentation, which I think it excels at both. But I like Almay Color + Care more for its conditioning formula, and I do think I get more use out of them because I am generally not a tinted lip balm person. So a hybrid of lip gloss and lip balm won me over this time around.
Almay Color + Care Lip Balm; L to R: Blooming, Pink Pout
All in all, I do think this is a phenomenal product by Almay. It conditions my lips and provides a high gloss effect. Some shades will be more pigmented than the other (generally the darker ones give more colour). It can be build up to lustrous look, or it can be worn sheerly for the moisturized tinted effect. As a bonus, it is hypoallergenic and gluten-free! (First in the beauty industry to officially claim it!) I highly recommend you to give them a swatch. I for sure will be on a look out for them when they hit the drugstores this July, definitely going for the brighter shades though because they just have better pigmentation.
| | |
| --- | --- |
| Value: | 8/10 |
| Quality: | 9/10 |
| Longevity: | 7.5/10 |
| Practicality: | 9/10 |
| Packaging: | 8/10 |
| | |
Also, there's still some time left to enter my
Too Faced Boudoir Soft & Sexy Eye Collection Giveaway
if you haven't already! And if you're a fan of Benefit Cosmetics or you just always wanted to try out their products, check out another
Giveaway
The Office Chic is holding on
the Benefit The Rich Is Back Makeup Kit
!
Until next time,
x Rica
Twitter | Bloglovin' | Instagram | Pinterest
*

Disclaimer: Products mentioned in this post were provided to The Office Chic for review consideration (noted with asterisk). As always, all the opinions expressed here are my own and are in no way influenced by any advertiser, affiliate, public relations firm or brands.