The Office Chic Goes Ombré'd... and She Is Ready to Do It Again!
Ever since the Ombré trend has started, I have been going oooh and ahhh when I see a bang on ombré'd hair (e.g.
Rumi Neely @ Fashion Toast
,
Zoe @ Zoella
). It's very low maintenance because you don't have to worry about your roots growing out, you only need to touch up on it once the colour has faded too much or your hair has grown too long that the Ombré no longer seem natural. But I just love the casual, effortless look of Ombré hair. However, it took me nearly two years to finally jump the gun and go Ombré. The product that made me do it is the newly on the market
L'Oréal Paris Féria Wild Ombré*
dip dye hair kit.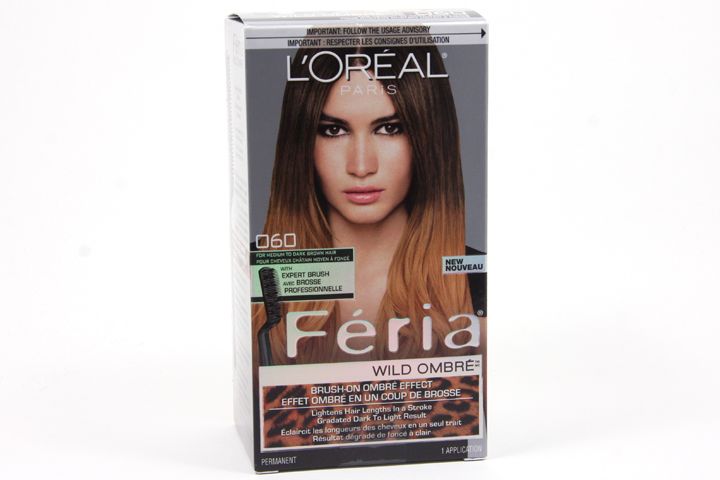 L'Oreal Féria Wild Ombré in 060 for medium to dark brown hair
L'Oreal says the Féria Wild Ombré features the following:
Expert Brush: Apply formula flawlessly with Feria's easy-to-use Expert Brush. In one stroke, it's easy to create individual Ombre looks – ranging from subtle to bold.
Lightening Technology: Feria's lightening formula blends naturally with each unique haircolour – No lines! Just a perfectly graduated colour.
Five Expert Shades: Achieve colour perfection with one of Ombre's five unique shades that blend naturally each woman's own unique haircolour.
Conditioned Hair: Conditioning shampoo deeply hydrates hair, leaving it soft and easily tamed.
L'Oreal Féria Wild Ombré in 060 for medium to dark brown hair
L'Oreal Féria Wild Ombré in 060 for medium to dark brown hair
L'Oreal Féria Wild Ombré in 060 for medium to dark brown hair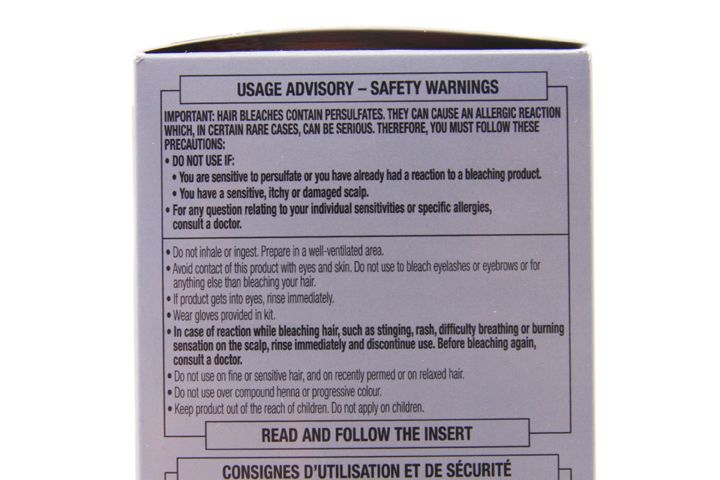 L'Oreal Féria Wild Ombré in 060 for medium to dark brown hair
I have dyed my hair before, in factor I have dyed it more than a couple times, until about 2~3 years ago, I got fed up with it. Then I started to grow out my hair and with regular visits to hair salon, I finally said goodbye to all the left over dyed hair and had a head full of virgin hair... well... for about two months LOL. It all happened because of the hair colour information session with L'Oreal Paris Official Hair Colourist
Christophe Robin
I attended last month. He shared well more than a few tips to use their new Féria Wild Ombré kit, and here's a quick round up:
Before you start, have an idea of what you're going for because you don't want to over do it. Remember less is more, you can always adjust to your needs.
Also before you start, detangle your hair because you will be using the kit brush to apply the products.
Eric Del Monaco also suggests that to start with a "colour map" for your hair, much like a face chart for your makeup.
Don't go too high when applying the product, start anywhere between your chin and neck to achieve a natural result.
Apply products to a small strand of hair.
If you want to achieve a bolder look, apply more products. For more subtle effect, use less and don't leave on as long.
After about 25 minutes, check the progress, and if it's not to the colour you want, keep checking back every 5 minutes. But make sure you do not leave the product on for more than 45 minutes (I will tell you why).
By rubbing it into, with your gloves on, you allow the hair to absorb the products.
If you know you're not going to finish using it, use half only by pouring ingridients into a separate mixing bowl or container and save the rest for next touch up.
For colour choice, if you have thin hair, try not to go too light because it would give an illusion of having even thinner hair.
In the box, it contains the following:
L to R: Instructions, Conditioning Shampoo, Shimmering Developer Créme,
Shimmering Lightening Créme, Expert Brush. Shimmering Bleaching Powder
First I mixed the three tubes/bags/packets together. Then I used, what they call, the "Expert Brush that gives the fool proof results" to apply the mixture starting from just above the end of my ears. I like that the product is transparent enough so you can see the progress when you are dying your hair. I did, however, made sure to check often to see if I went overboard. After I think it's done, I kept my gloves on rinse my hair thoroughly and I used the shampoo that came with the kit to wash my hair.
A closer look to the Ombré'd part: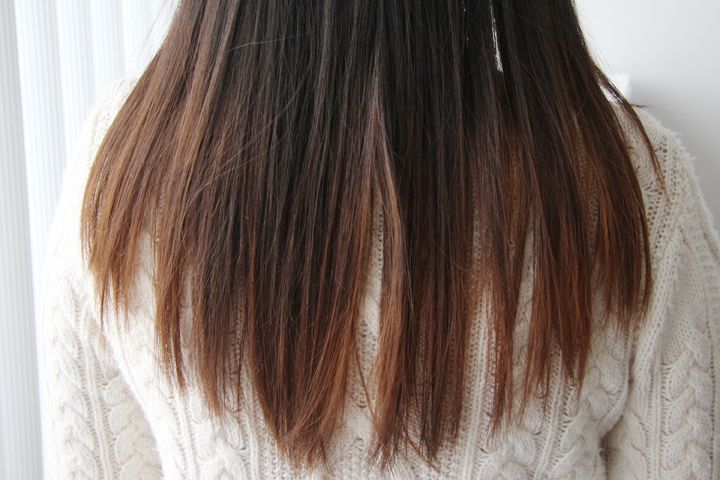 And now I will tell you why you should not leave it on for more than 45 minutes. When I first applied it, I actually didn't apply enough, so the lightening effect was not so apparent. I had to reapply more and ended up leaving it on for more than 45 minutes. Doing so did damage my hair and I ended up trimming some split ends off the next two days. But that's just me not reading the instruction and trying my luck (I was really impatient).
Now if you're going to try it, please make sure to read the instruction carefully and learn from my mistake. Here's also a helpful video with Christophe where he briefly explained the steps to use the kit:
Hopefully with the tips and tricks in this video and in the notes I jotted from the information session, you will achieve an even better result than I have. Overall, I do like the end results, despite I left it on for too long and got some hair breakage. But I am not going to let this one time mistake to discourage me, in fact, I am going to try it again. In May 2013, they will have a new colour 065 available, which is the colour that want to go for, and it looks something like this but darker...
Till then I am going to take care of my hair, condition and prepare it (post to follow on what products I used) for my next hair colour adventure! Stay tuned for my next hair colour update =D
Until next time, take care (of your hair)!
x Rica
Disclaimer: Products mentioned in this post were provided by PR representatives for review consideration (noted with asterisk). As always, all the opinions expressed here are my own and are in no way influenced by any advertiser, affiliate, public relations firm or brands.