The Rich is Back! | Benefit Cosmetics x Matthew Williamson High Fashion Makeup Kit | Flash Sale
May 17, 2013
• Beauty, Benefit Cosmetics, Fashion, Flash Sale, Makeup, Matthew Williamson, Media Coverage, Product Launch, Sephora, Toronto Eaton Centre, Value Kits, Wishlist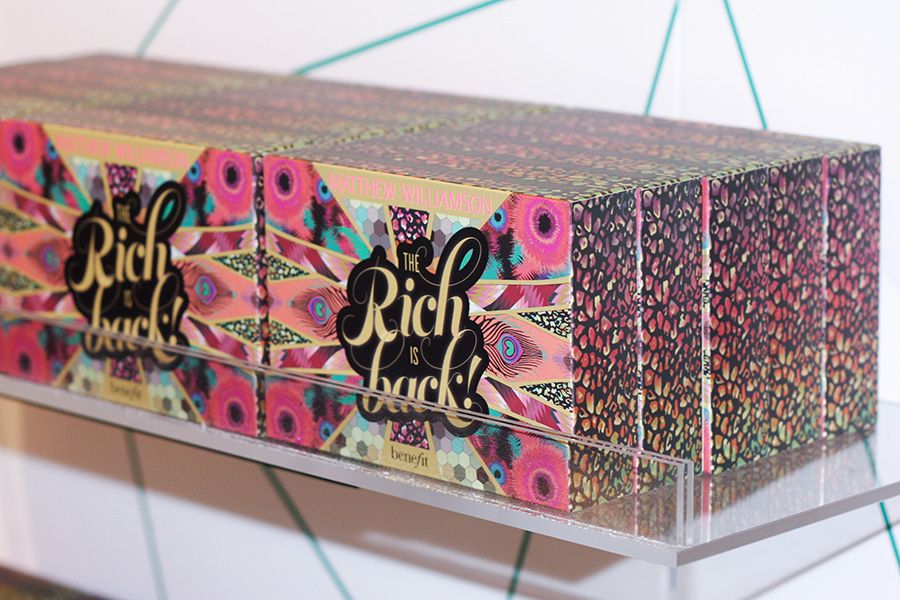 Benefit x Matthew Williamson The Rich is Back Makeup Kit
The Rich is Back! Benefit Cosmetics have collaborated with British fashion designer Matthew Williamson to create a limited edition high fashion makeup kit (CA$40). Being the queen of makeup kits, it is actually their first fashion collaboration and this kit is debuting in store and online on June 10, 2013. But us Torontonians got a sneak peek last week at the One Day Flash Sale at Sephora in the Toronto Eaton Centre. Being a fan of Benefit for years, I couldn't miss it (plus I work close enough so it works out perfectly).
One Day Only Flash Sale on May 10 with exclusive Benefit bangle as gift with purchase
Here's the beauty — The Rich Is Back! Make Up Kit. I just love the packaging. I wish I have a poster like that at home!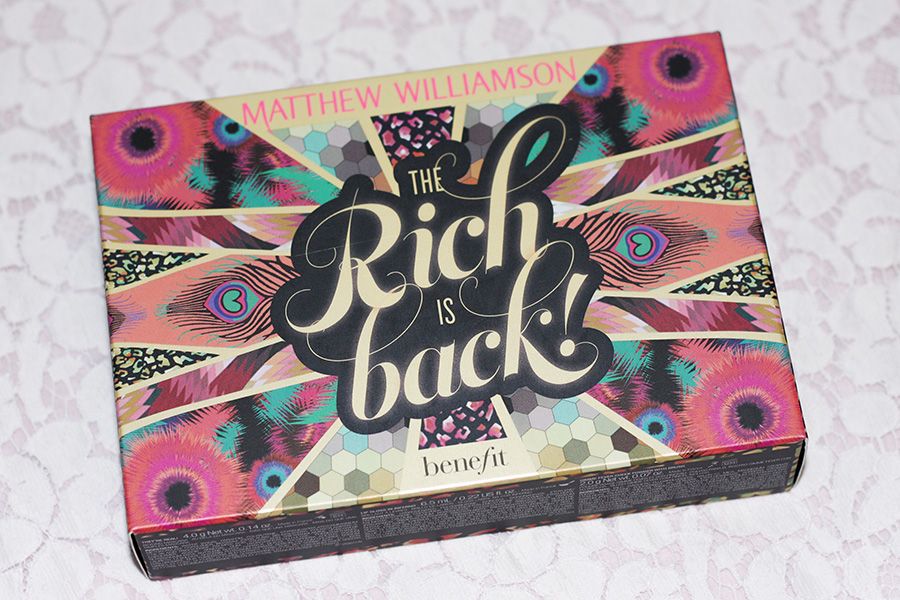 The Rich is Back Makeup Kit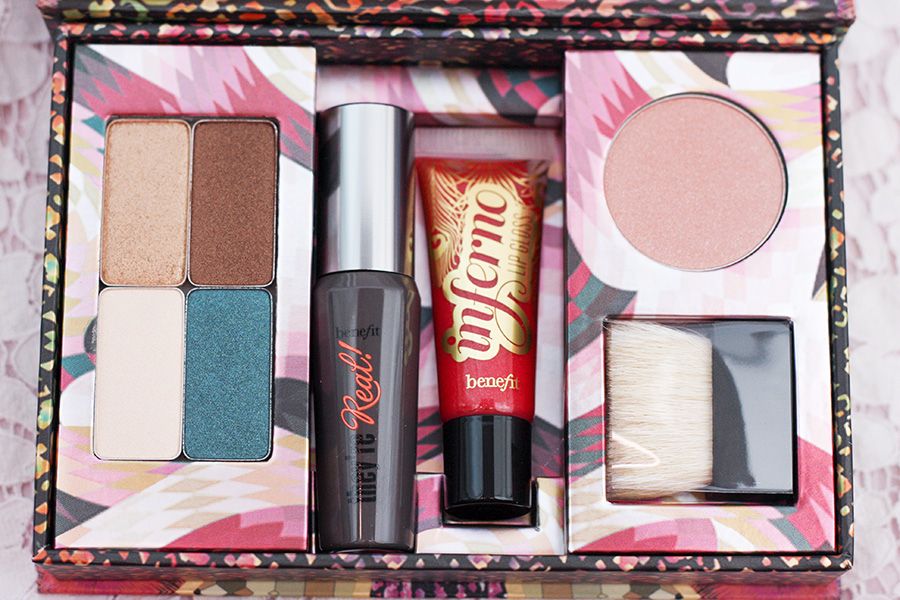 The Rich is Back Makeup Kit contents:
Eyeshadows from L to R, T to B: Solid Gold, Get Down Brown, Disco Dust, Feel So Teal
They're Real Mascara, Inferno Lip Gloss, Gimme Fever Cheek Powder, and brush
It contains
Solid Gold eyeshadow: A shimmery gold
Get Down Brown eyeshadow: A neutral copper brown with satin finish
Disco Dust eyeshadow: A shimmery vanilla colour with pinkish golden sheen
Feel So Teal eyeshadow: A dark teal with tiny blue glitter reflects
Gimme Fever Cheek Powder: A warm blush pink with golden shimmer.
Inferno Lip Gloss: A berry red with golden shimmer

They're Real Mascara
Along with the makeup kit, there are also limited edition matching High Beam and Benetint... I just want them for the packaging, I love the design of the cover art!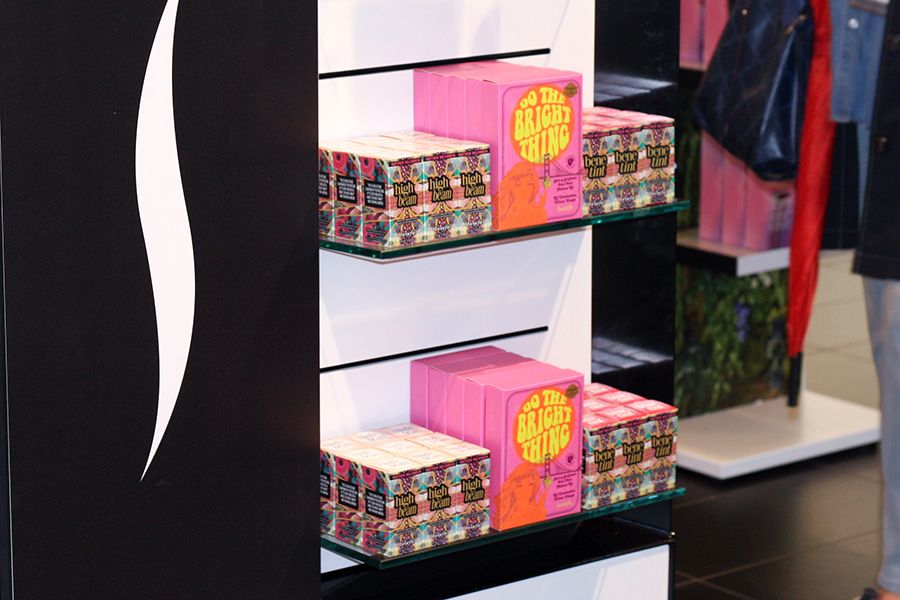 Special packaging of High Beam and Benetint
At the flash sale, they had a hot male model with a hand-painted "jacket" with prints inspired by the cover art of the makeup it, and a DJ to pump the music up. They were also offering touchups and one-on-one session on how to use the makeup kit.
DJ in the house...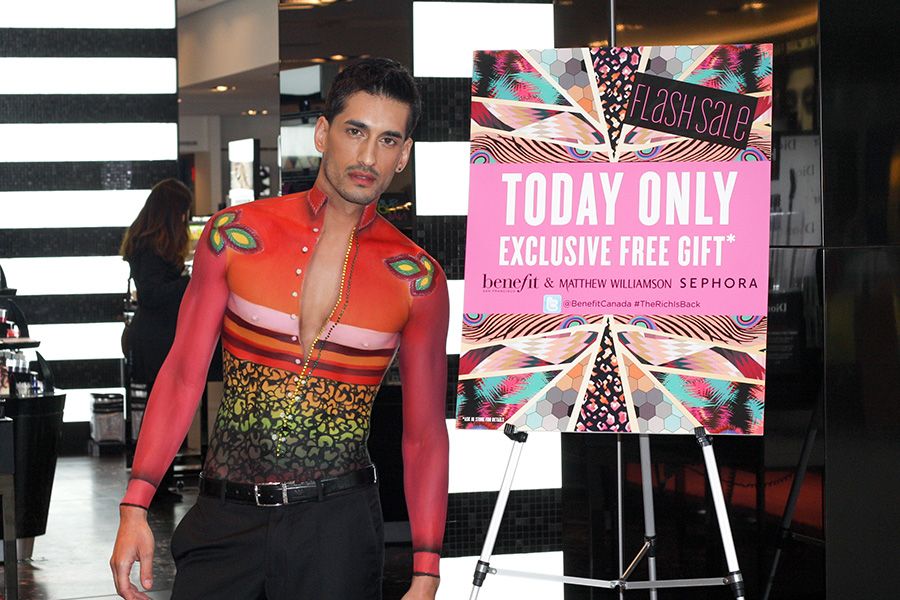 The Rich is Back Makeup Kit inspired body painting on this gorgeous model!
Touch Ups and One-on-one how-to session
Not only did we get a chance to preview what's coming in June and to own it, Benefit also sent their Global Makeup Master — Jose Rivera to Toronto to talk a little more about using the makeup kit. I went relatively early, so I got to catch Jose working on a model and also getting a touch up myself.
Jose said this makeup kit is great for everyday makeup and a night out because it has 3 neutral eyeshadows and a dark teal colour for the pop of colour. For daytime makeup, you can use the top two shadow (Solid Gold and Get Down Brown). For nighttime, you can add the teal shade (Feel So Teal) to intensify the look.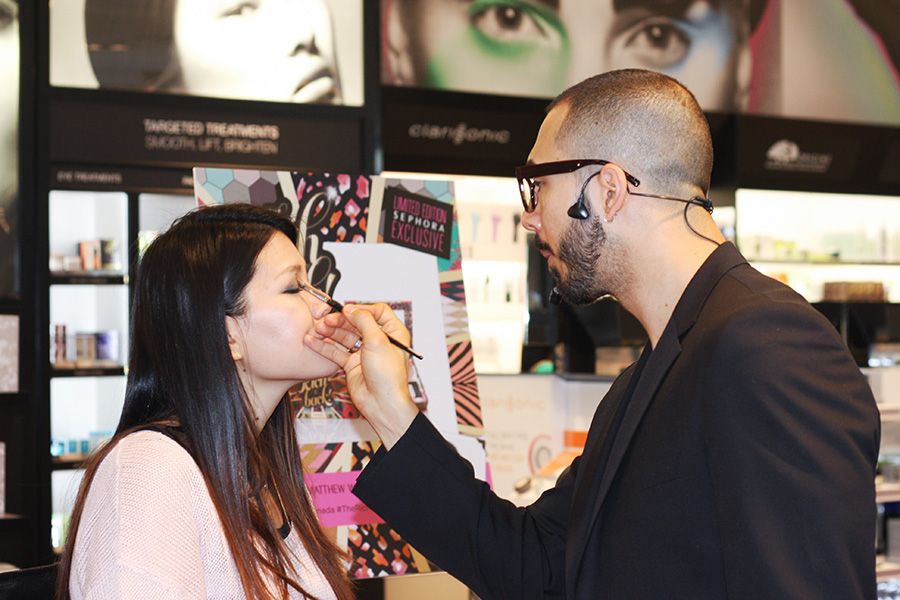 Me getting touch ups
Benefit Gaby and a photo of Matthew Williamson (left) with Jose (right)
Jose and myself
Benefit pink brush belt... who doesn't love pink?
I got some tips and tricks to use the palette that I will be sharing in my review of the makeup kit. In the mean time, let's talk about touchups. I have bad under eye circle and it always creases on me. Jose told me that to touch up under eye concealer, first thing is to rehydrate the area. He sprayed a little bit on toner on a makeup sponge (that mimics the texture of skin), and gently patted under my eyes to prep for a touchup. He then used a foundation brush with the Benefit Fake Up Concealer in Light and press the concealer on my under eye area. He said he prefers using a brush to fingers because it does a more precise job.
I might have already tried the makeup it right away and I might have took some pictures of it...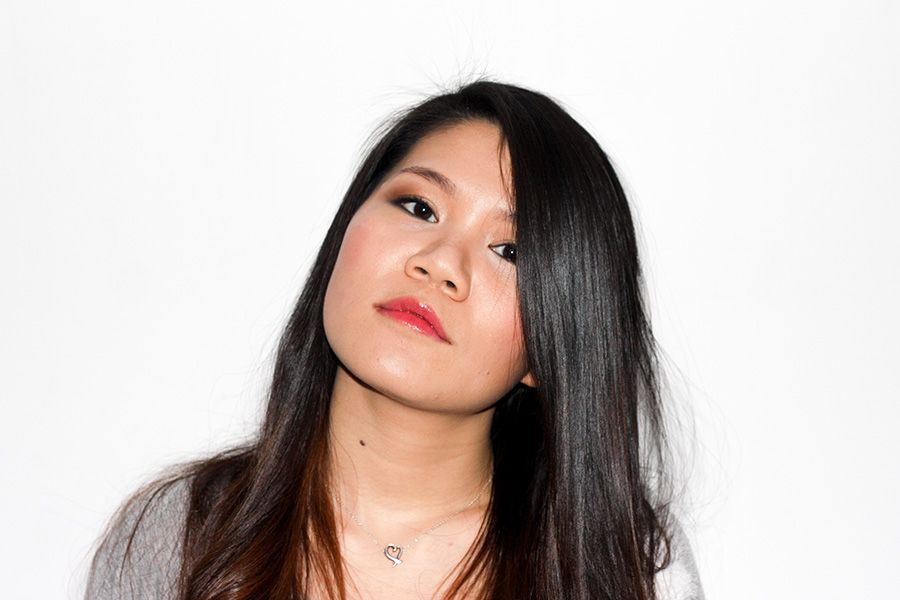 My Benefit Face: Hello Oxygen Foundation, Boi-ing Concealer, Hello Flawless Powder
Cheek: Posetint, High Beam, and Gimme Fever Cheek Powder (from the Rich is Back)
Eyes: all eyeshadows from the Rich is Back and They're Real mascara
Lips: Posetint and Inferno Lip Gloss
(from the Rich is Back)
Excuse me if I look mean in here, I guarantee you that I am much nicer in person :)... Hair might be even messier though :P
While at Sephora, we were allowed to take pictures of the Benefit display. How often do we get to take pictures without being sneaky at Sephora? Never! So I jump on the opportunity and took as many shots as I can! Ha!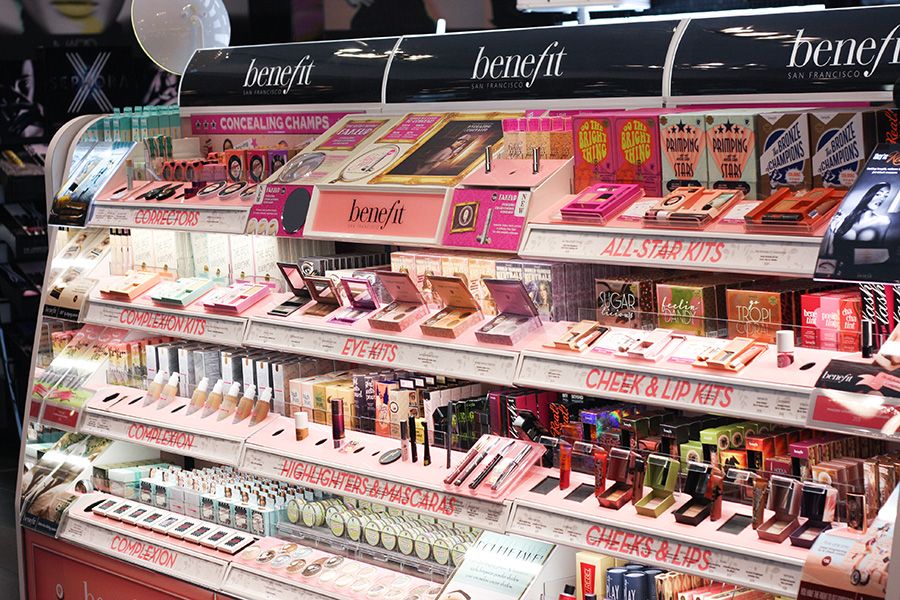 Benefit Cosmetics Display at Sephora
Benefit All-Star Kits
Benefit Cheek & Lip Kits (I love my Go TropiCoral kit I got last year when they had the flash sale)
Benefit Fake Up Concealer (hydrating and crease-control, sounds like my cup of tea)
Benefit Eye Kits (nude eyeshadows are calling my name)
Benefit Creaseless Cream Shadows (still haven't tried Skinny Jeans yet :/)
Benefit Longwear Powder Shadow
I wasn't joking when I say I've been a fan of Benefit for years. I used to use Dr. Feelgood back in high school and now that I have grown up, I'm using Porefessional. Let's not forget my HG blush, Hervana. Now I'm still slowly and steadily expanding my Benefit Box O' Powder collection (Hoola, Dallas, and Dandelion are on my list) and my Benefit Makeup Kit collection. After browsing around, my Benefit wish list has expanded, and here is what currently on my Benefit wish list:
I know my list is quite long... I'm slowly working through it. Gonna start with BADgal Liner (probably tonight) because Jose recommended it for an easy smoky eyes, and he said it's great to use with the palette! If you haven't tried Benefit before, I recommend checking out their value kits because you get to test out multiple products at one go for the same price as one product. I really want to try out their new longwear powder shadows, so going for any of those World Famous Neutrals Kits is a no brainer.
The Rich Is Back Makeup Kit is limited edition and will be available starting on June 10, 2013 at Sephora, Benefit boutiques, and their website. Will you be heading to Sephora to check out the makeup kit?
Don't forget to enter my blogaversary / 100th post / blog makeover
GIVEAWAY
! I'm giving away a
Too Faced Boudoir Soft & Sexy Eye Collection
!
Until next time,
x Rica